Making small sustainable changes to your summer can have significant positive impacts on the planet and its beings. We invite you to keep the UN Sustainable Development Goals (SDGs) in mind this season and go green with us so we can enjoy this summer, and all the summers ahead. 
From natural BBQs, to recycled wrapping paper, to reef-safe suncream, to responsible consumption, we have a range of helpful resources, tips and ideas for you so that you can have a SUSTAINABLE SUMMER!
Having a more sustainable season doesn't mean letting go of all our favourite traditions; we just need to stop and think about whether there's a better way to do them. 
Follow our #uqsustainablesummer series on Instagram and Facebook.
---
Summer essentials
Reef-safe sunscreen
Slip, Slop, Slap, Seek, and Slide into summer. Keep yourself safe from the sun, and keep our reefs safe from nasty chemicals. Australia is home to some of the hottest summers and the best beaches in the world, and we want to keep it this way. When enjoying an Aussie Christmas or lazy summer at the beach, be sure to remember SDG#14 Life Below Water, and choose reef-safe sunscreen1.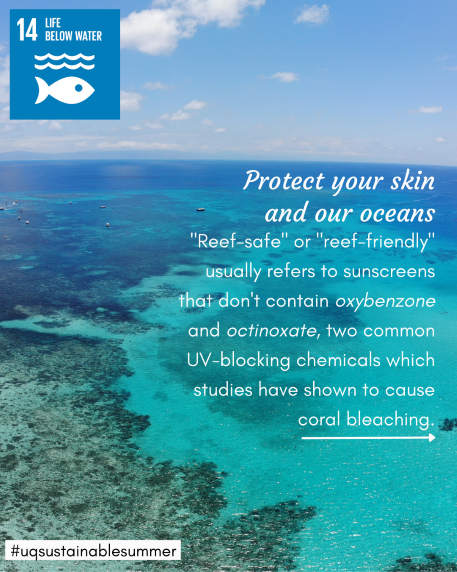 What to look for in reef-safe sunscreen
Choose Non-nano & Mineral sunscreens – these are usually made from zinc oxide and titanium dioxide that don't contain nano-particles which means the particles in the sunscreen are too large to be ingested by coral and are less impactful to reefs.
Use rub-on lotions – lotions rather than sprays are less likely to be washed into the ocean.
Good water resistance– a reef-safe sunscreen that stays on longer is less likely to wash off as well as providing longer protection. Make sure to follow the instructions and wait for the sunscreen to be absorbed before heading in the water.
Non-toxic, paraben-free and organic when you can! Selecting non-toxic and organic sunscreen (where possible) can aid in reducing reef damage, though organic sunscreens tend to cost more. Most child-friendly sunscreens are more likely to contain natural ingredients.
What to avoid
Avoid sunscreen containing octinoxate and oxybenzone
Avoid sunscreen containing Cinnamates and Parabens - Parabens have been found to be harmful to reefs.
As mentioned above, avoid aerosols – more likely to be washed in the water.
Summer playlist 
We have your summer playlist sorted! Check out the collaborative playlist 'Sounds Like Sustainability' on Spotify. Feel free to add any of your favourite songs that are related to sustainability or remind you of nature or the UN SDGs. 
Reuse and recycle
UQ WARPit
Starting to think about your end-of-year office clear out? Use the online resource sharing tool, UQ WARPit, to post unneeded items such as furniture, unused stationery, some office supplies and lab equipment for donation. You can also claim others' items, creating our own campus circular economy! This is a great alternative to using the skip bins and an easy way to stay sustainable this summer.
Recycle right with the Australasian Recycling Label
Australia generates up to 50% more waste during Christmas. Ensuring that we minimise our waste and recycle right is super important.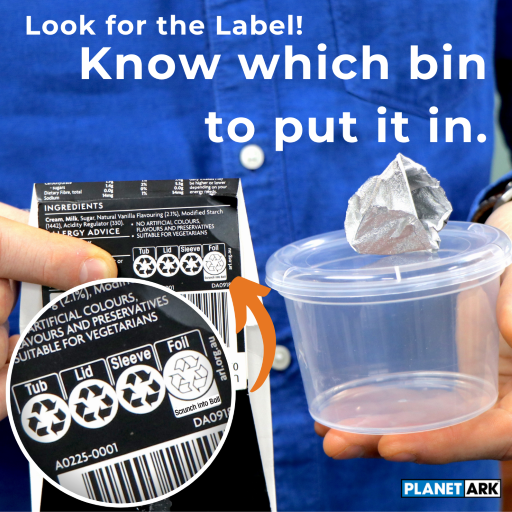 Separate your waste into the correct streams and drop them off at UQ's Reuse & Recycling Station! Waste streams include:
General waste
Co-mingled recycling
Organics
Soft plastics
Drinks containers
Batteries
E-waste
Paper
Pay attention to the Australasian Recycling Label (ARL) to take the confusion out of which bin each piece of your packaging should go in.
Another hot tip is to download Brisbane City Council's 'Brisbane Bin & Recycling' app to help you make quick and simple recycling decisions!
Drinks container recycling scheme
Summer usually means we drink more. Here is a hot tip for saving the planet and pocketing a bit of extra cash in the process!
Make the commitment to collect all eligible drink containers (most aluminium, glass, plastic, steel and liquid paperboard drink containers between 150ml and 3L are eligible).
Take them to a container refund point (there are different types of container refund points across Queensland, so find the right one for you).
Earn a refund or donate! All eligible containers are worth a 10 cent refund that you can either keep or donate to a charity or community group!
Learn more about Containers for Change here!
Fight fast fashion
Fast fashion… the culture of brief, short-lived fashion trends manufactured quickly for a low price. The fashion industry is one of the biggest polluters globally, and many workers are denied a fair wage and safe working conditions. This holiday season, say 'NO' to the sales and explore the issues of overproduction, overconsumption and waste. Embody SDG 12, Responsible Consumption and Production, and take a stand against mindless consumption, disposability, and exploitation and avoid the Boxing Day sales!
Op-shops and clothing donation drives
Embodying the circular economy philosophy, Op-shops create a better future for everyone by reducing pollution, shrinking our carbon footprint, saving water and textile waste, and providing affordable clothing and other textiles for those who need it most. This season, remember to...
Be Giving - Donating to the causes you care about not only benefits the charities themselves, it can also be deeply rewarding for you too. Helping others is hugely empowering and, in turn, can make you feel happier and more fulfilled.
Be Green - Reducing consumption is good for the planet. With the fashion industry being the second largest global polluting industry, it is important that we make sure that we purchase our clothes from environmentally and socially sustainable distributers. Donating preloved clothes and other items to charities helps divert unwanted items from going to landfill.
Be Kind - ... to others by donating your preloved items, and to yourself by mindfully decluttering your life. As it turns out, reducing our rates of consumption is not only better for the planet, but also benefits our mental health and wellbeing through improved focus, and decreased stress levels.
Donating and regifting extends the life of an item and diverts waste from landfill, all whilst keeping in tune with the Christmas spirit. There is a range of worthy causes for donating anything you don't want/need/like! Check out this article to learn more.
Travel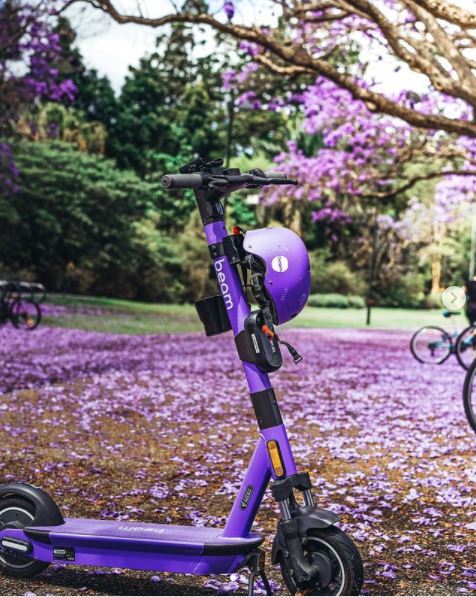 Rather than travel by car, use public transport or get outside and walk or cycle to your destination during these holidays! Try the new ODIN PASS! Exclusive to UQ staff and students, odinpass gives you access to multiple modes of transport (including e-scooters/e-bikes, bus, train, ferry, taxi & ride share) through a single app at a great price!

ODIN PASS is part of a UQ based Mobility as a Service (MaaS) trial. Aligning with SDG 11, Sustainable Cities and Communities, the research project aims to provide users with convenient and affordable access to transport, while supporting a transition towards more sustainable transport choices and behaviours. Learn more here.
Pack light and avoid single-use items when travelling
Travelling somewhere these holidays? Try these tips to minimise waste and reduce your carbon footprint!
Keep your reusable bag and water bottle handy (refill it at a tap or friendly cafe).
If you tend to snack, pack some fresh fruit or home-made goodies with you to avoid packaging waste.
Every kilo counts when flying. The heavier your luggage, the more weight on the plane, the more fuel is burned and the more CO2 is released. Packing smart & light is an easy way to lower your impact.
Use solid shampoo and a bar of soap to save plastic of bottles.
Don't forget your reef safe sunscreen!
Have fun packing!
Christmas wrapping and decorations
Let's rethink Christmas! Here are some easy swaps you can make to be more sustainable…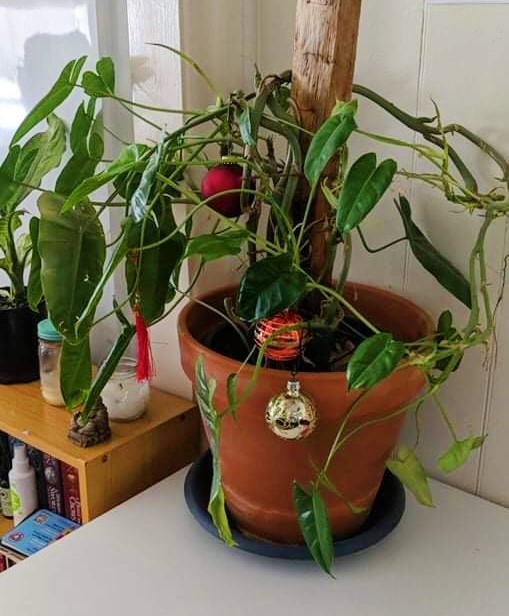 Tree: instead of buying a cut tree or reusable plastic one, why not decorate a native or one of your favourite indoor pot plants?
Tree ornaments: decorate walnut shells with scrap textiles and moulding clay to create animals or nature-inspired decorations⁠
Table decor: collect fallen branches, place them in jars or candle holders, and fill them with water
Gift Tags: make your own by cutting up last year's holiday cards and fixing to your gifts⁠
Garland: string together orange slices, cinnamon sticks, popcorn or beads. Turn old fabrics into coasters, flag bunting banners and other decor. ⁠
Give a second life to some pre-loved decorations by thrifting. Re-use them each year and exchange them with friends to change things up!
Batteries: reusable is best and remember to keep them out of the recycling/general waste (head to Planet Ark's website for more info)

Wrap recycled: u

se materials you already have around the house such as old gift bags, fabrics (scarfs are good), spare cardboard boxes from supermarkets, newspaper, maps, magazines, posters, beeswax wraps. The shiny insides of chip packets also make great wrapping paper. Remember to put them in the Red Cycle after you're done using it!

Save wrapping paper, gift bags, tissue paper and ribbons to use again next year.

Make Christmas stockings to use year after year, putting the presents directly into those and avoid wrapping altogether.
Food
Plant-based Christmas feed
It's become a bit of a tradition to eat particular foods over summer. Many Aussies love throwing some shrimp on the barbie. It's important to consider the environmental, economic and social impacts resulting from the increased demand on certain industries when buying food such as seafood and ham. This Christmas, why not try a plant-based feed? Shrink your carbon footprint by minimising meat! Asparagus, sweet corn, capsicum, eggplant, and zucchini are all in season and are brilliant on the barbecue. Give one of these plant-powered recipes a try for a healthy and sustainable spin on BBQ classics:
12 ways to fight food waste this Christmas
Whilst Christmas is a wonderful time to celebrate and eat delicious food with family and friends, it is important to make sure excess food does not go to waste. Here are 12 easy ways to #fightoodwaste this Christmas, thanks to OzHarvest: 
Plan your meals & check your fridge before shopping.
Write a shopping list & stick to it! Avoid the Christmas specials, as tempting as they may be.
Check use-by dates.
Use up food from your freezer the week before to make room for leftovers (make sure you have enough storage containers, too)!
Store fruit and veg properly so they will last.
Let guests serve themselves for perfect portions with no waste.
Get leftovers in airtight containers and in the fridge as soon as you can. If you have ham, keep it wrapped in a clean damp cloth in the fridge.
Move food that needs eating to the front of the fridge and freeze any other leftovers for a lazy Sunday night dinner.
Make delicious leftovers (like sandwiches or salads) and feed them to friends, family, and neighbours, not the bin!
Ferment, preserve and pickle your left-overs (there are lots of great recipes online). 

All you need is a mason jar and a recipe. These can make cute handmade gifts!

Use your senses rather than being guided by use-by labels to save good food.
Donate to a local food hamper or donation program (e.g. Salvos, Food Bank, SecondBite, OzHarvest).
Eating in season
Eating in season reduces demand for out-of-season produce. More support for locally produced food means less transportation and refrigeration to store the food. It's usually cheaper, too!
Fruit and veg in season this month include…
Mango, Berries, Cherries, Apricot, Pineapple, Passionfruit, Banana, Lemon, Melons

Asparagus, Cucumber, Sweetcorn, Zucchini, Asian Greens, Has Avocados, Capsicum, Eggplant, Peas.

 
Try to avoid too many sweets. Simple, unprocessed foods generally require the least amount of water and energy to produce. They are also the healthiest!
(Eco-)conscious catering
Whilst plastic gets a pretty bad 'wrap' (excuse the pun), paper products also have impacts on the environment, too. Swap your single-use paper napkins for cloth napkins and take them home to wash and reuse. You can either make these from old bits of fabric, or buy some new, good quality ones which could make a good gift.
When catering for a larger group of people, be sure to use reusable crockery and cutlery (or biodegradable if necessary). If you don't have enough eating or drinking ware for your big party, why not grab some second hand utensils from your local op-shop or even ask your guests to BYO!
Off to a friend or family member's house for a party? You can gently encourage your mates to make more sustainable choices by bringing your own eating and drinking ware. This way you are saving the planet by minimising your waste whilst encouraging others to do the same. 
Bring homemade food and beverages in non-plastic, reusable food storage containers. Make sure they have lids to make the transport of leftovers easier. Beeswax wraps can also be good for wrapping salads and left overs. (image of beeswax wrap and jars with food in them.
Food hampers and gift assistance
Donate presents and/or food to a gift assistance or food hamper program and support SDG 1 (No Poverty) & SDG 2 (Zero Hunger). Christmas hampers include both purchased and donated goods and are shared with those in the community who have fallen on tough times. Keep programs like these in mind, especially after the initial Christmas celebrations when you might have some extra goodies laying around!
Gift ideas
Here are some fun, easy and sustainable ideas for gifting...
Normalise re-gifting - 

If you don't use something that is in good condition, give it to someone who you think would love it!

Try 'thrifting and gifting' by shopping at your local op-shop.

Give the gift that keeps giving and buy plants or seeds.

Support First Nations businesses and artists.
Support small business - Visit a favourite local café or restaurant and purchase a food or coffee voucher (the last 2 years have hit small businesses extra hard, so by shopping small, you can bring a smile to the business owner, and the lucky recipient!)
Choose gifts that have environmentally friendly packaging.

An experience – gift an adventure, workshop, class, dinner, movie. Even better if it brings people together.
Choose to offset your carbon emissions if you are purchasing things that require delivery/shipping.
Give a home-made gift!


Make your own beeswax food wrap and give it to a loved one. Beeswax food wraps are a great reusable alternative to single use plastics and cling wrap. You can even personalise your wrap by choosing a material that the person will love.


Try making a delicious homemade jam, salsa, or relish. You can use a recycled jar with a lid or some old fabric and string to keep it fresh.

Check out these social enterprises founded by UQ alumni – Tirtyl, I am Grounded, Monty, and Kurin Organics – that all make products that put the planet first. They let you reduce waste and conserve the environment, and give your loved ones presents to feel good about.

Gift a donation to your loved ones with a personal message to let them know you have made a gift in their name. For example... adopt a koala, donate to a charity empowering girls, to an environmental or conservation charity, or a carbon removal service, or to a bush fire appeal, or buy a chicken or a goat for a family in need, all on your recipient's behalf. Give the best gift of all, Quality Education (SDG 4),  and donate to an education foundation such as:
Shopping checklist:
Keeping SDG 12 in mind (Responsible Consumption & Production) shop ethical and local this summer!
Know who made your products
Know how much they were paid
Investigate their working conditions
Demand transparency and hold companies accountable
Do a deep dive into the production chain of the companies that you are buying from and consider whether they are sustainable and ethical. Fashion Revolution's Fashion Transparency Index reviews and ranks 250 of the world's largest fashion brands and retailers according to what information they disclose about their social and environmental policies, practices and impacts, in their operations and supply chain. Oxfam Australia also have some helpful resources.
Energy
Are your Switch-off, Take-off plans in place? As we head into the holiday season, there are a few things you can do before you leave your office or teaching space. Check out the Switch-off, Take-off checklist here. These small steps will complement UQ's Switch-off, Take-off program, designed to save energy, emissions and costs over the holiday period. UQ will also be implementing a partial shutdown of air conditioning systems to selected buildings on campus as part of this program.
Sustainable ways to cool down
Being environmentally-friendly and energy-efficient go hand-in-hand. Here are some ways to stay cool as the weather gets hotter, without drastically increasing our carbon emissions. Your energy bill will also thank you!
Keep windows shaded to keep the heat out.
Only use aircon when necessary and set to 24 degrees.
Use less energy by making the most of the natural light and the summer breeze.
Take advantage of the heat and dry your washing outside on the line.
Consider using fans before turning on the air conditioning.
Stay hydrated.
Activities
Green thumb
Few things are as satisfying as enjoying fresh food right from your own garden. Growing a garden is not only a great way to avoid agricultural waste and reduce food miles, but also a healthy summer hobby. Peas, cucumber, beans, tomatoes, capsicum, berries and pineapple are just some of the delicious things you can grow that will make for a fresh and delicious summer harvest. Why not try growing indoor house plants, flowers and herbs, too! They add to the aesthetics of a home and maintain room temperatures by adding moisture to the air.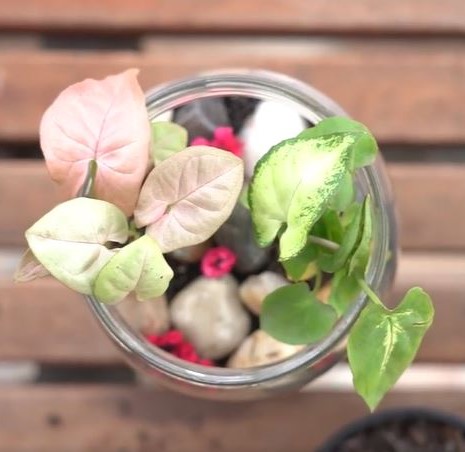 While composting can be done year-round, it's often easier in the summer as the sun helps give it a boost, and you can maintain your compost pile along with the garden. As we already know, this time of year often means more food waste (despite our efforts). Composting is a simple and easy way to reduce the amount of waste we send to landfill! Simply pick a spot, build a pile of waste, and let nature take care of the rest.
Try something new and get your fingers a little green and join Cass as she teaches us how to make a miniature Terrarium, a self-sustaining plant that will make your home or office.
Swap a theme park for a trip to the great outdoors.
We are extremely lucky here on planet Earth, with so many stunning natural wonders to visit. Remember the rule… take nothing but photos and leave nothing… just don't leave anything. By choosing nature, you help reduce the carbon footprint and support our national and state parks and their preservation and wildlife protection efforts. Spending time outside is also great way to feel more connected to nature, and to break up the time spend indoors while we work, or just live within our homes. Taking a walk around your neighbourhood, and really tuning into the sights and sounds of nature around you. It might be as small as admiring a neighbour's flowers in their front yard that you have never noticed, or finding a bench in a nearby park that you drive past every day but never visit. By bringing our awareness to, and immersing ourselves in the little pockets of nature around us, we can strengthen our relationship with, and stewardship for nature.
Visit an Environment Centre on the weekends. Did you know that Brisbane has three Environmental Centres at Boondall Wetlands, Downfall Creek and Karawatha Forest. The centres offer a range of different opportunities to visitors, including free or low-cost organised activities, such as canoeing, guided walks, bird watching and crafts! 
Visit your local Community Garden. Brisbane City Council also has an extensive list of community gardens that they support all over Brisbane. You can check out their website to find the one closest to you, and explore their different events and programs.
Camping - n

o gear but all the idea
If you're planning on getting amongst nature and going camping for a few nights but don't have much equipment, ask a friend or family member! You can even jump on your local community page or Facebook market place and rent one at a low cost. Camping equipment can often be a nuisance as it doesn't make it out of the shed very often, so be smart and normalise sharing and renting equipment.
Eco-friendly exercise
As our motivation kicks back in after the cooler months, opt for outdoor activities for your workouts. Move your body by doing trail runs, outdoor exercise classes, laps at the pool, and beach walks instead of an overcrowded, air conditioned gym. It's more social, more affordable and easier on the planet.
Why not throw a pair of gloves and a bag in with you when you set off for you walk, run or climb. 'Plogging', the act of picking up litter while out on a run or walk, is a great way to get outside and help our environment!
Climate/environmental documentaries
Watching documentaries can be a fantastic way to learn more about Earth, and our place within it. Check out these documentaries to watch over the break (especially if you are self-isolating!).
Our Planet
Chasing Coral
Seaspiracy
Cowspiracy
A Plastic Ocean
The True Cost
Kiss the ground
David Attenborough: A life on our planet
Puff: Wonders of the Reef
Waste Land
The Last Animals (available on Apple TV)
Before the Flood (available on Disney Plus)
Fools and Dreamers: Regenerating a Native Forest (available for free on Vimeo)
An Inconvenient Truth (available on Kanopy - simply use your UQ credentials to login)
Podcasts
Podcasts can be a great way to fill time during your commute or throughout the day, while also learning about something new. There's a whole world of sustainability related podcasts out there, but some you might consider could be: 
6 tips for a more sustainable clean
The summer break is a great time to get some cleaning and decluttering done. But it's important to do the right thing and make sure we use sustainable methods!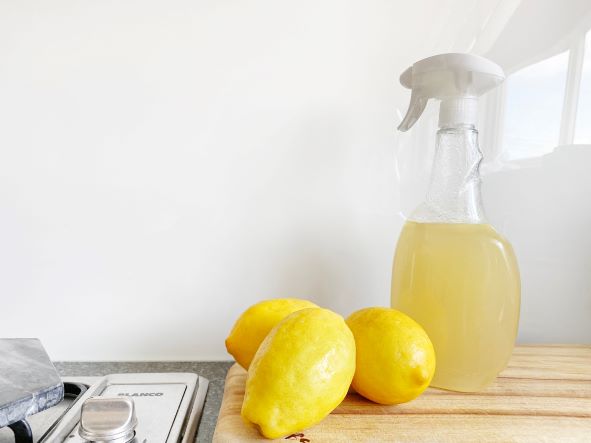 Use reusable rags instead of using paper towel (you can even repurpose old cotton T-shirts and other clothes).
Make your own cleaning products from white vinegar, baking soda, salt and lemon/lime and say goodbye to harsh chemicals. There are lots of recipes online.
Sell or give away any unwanted items on Gumtree, Facebook Marketplace, or via a community exchange program.
Donate items in good condition to charity stores, vets, animal shelters, and refugee and other shelters.
Restock a local street library with old books or start your own.
If something is beyond repair, before throwing it in the bin or out for a bulk collection, check if it can be recycled! The 'Recycling Near You' directory gives you lots of information about finding new homes for old items such as batteries, computers, TVs, electrical appliances, mattresses, mobile phones, paint, printer cartridges, clothing and textiles, and more!
New year
This time of year is great for reflecting on what we have done so far, and what we have to look forward to.  What did you achieve in 2021? Did you reduce your meat intake, buy less clothes, learn how to mend, or cut down on single-use plastics? Going forward into 2022, what other things do you hope to do to live a more sustainable life?
Sustainable new year's resolutions
Whether you love the chance to start afresh or not, new years' resolutions are a great way to try out something new in life, take better care of yourself, and even perhaps the environment. Setting new goals for 2022 could help change your habits and live more sustainably where possible!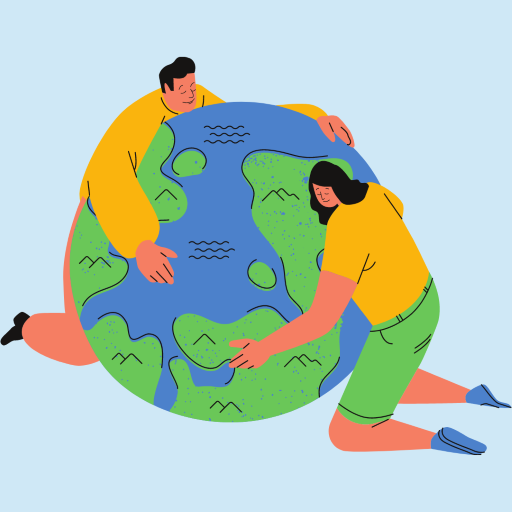 'Reducitarianism': Research has indicated that reducing our consumption of animal products results in a reduction in our personal carbon footprint. Why not try out 'Veganuary' and commit to a plant-based diet for the month of January?! If you can, make the committment to reduce your consumption of animal products for 2022. Remember to support local and ethical businesses and farmers and take your reusable bags to the shops/markets! 

Shop second-hand: Wherever possible, try and source preloved clothes, furniture, gadgets, etc. Charity shops (e.g. St Vinnies, Salvation Army, LifeLine), Gumtree, Facebook Marketplace, garage sales, and/or your friends, family and neighbours are all good places to start. The planet and your wallet will thank you

Grow your own: Whether it's herbs on your windowsill, joining a community garden, getting some house plants, or creating your own veggie patch, this low maintenance resolution is a great way to be kinder to the planet. There are lots of tips and tricks on growing and caring for your own herbs and plants online.

Support grassroots climate action organisations: Make a vow to research and educate yourself on organisations and people making a difference on climate action. Whether it's through joining protests, signing petitions, joining a community group or organisation, or making a donation, work with and/or support others to make a difference!

Make do & Mend: Did you know, the average lifetime for clothing is an estimated 2.2 years and now more than ever it seems more convenient to simply give into fast fashion and buy something new. Why not make a pledge to fix all your slightly worn clothes? Take your worn & torn garments to your local alterations and mending expert or watch a tutorial and learn how do it yourself!

Ditch Plastic Bags: As part of your ultimate goal of reducing single-use plastics all together, commit to ditching single-use plastic bags and instead carry around a bag with you shopping. You can also invest in compostable bin liners instead of plastic ones! A quick google search will provide you with all the tips and advice you need to know on how to work towards living with less plastic.

Swap in eco-friendly and ethical products into your life: Make an effort to swap in eco-friendly alternatives into your everyday life. Whether that's through sustainable cosmetics, beauty, and sanitary products, or using non-toxic cleaning products, see how you can swap in sustainable alternatives!

Go paperless: It's pretty well known that our dependency on plastic takes a massive toll on the Earth's health, and most people are taking steps to reduce plastic waste. But plastic isn't the only culprit in damaging the environment. Paper waste accounts for around 23% of total waste at landfills. The environmental effects of paper production include deforestation, overuse of energy and water, air pollution, and excess waste. This summer is a great time to start going paperless if you haven't already. The kitchen is an excellent place to start. Switch out paper towels for washable kitchen cloths, use the nice plates instead of the paper ones for that summer cookout, and try a French press for that morning coffee instead of a coffee maker with paper filters. Take advantage of tech, too. Rainy summer days are a good time to make digital copies of important documents and store them on a cloud drive. And since almost all bills can be paid online, why not switch to paperless billing while you're at it? Opting out of junk mail really helps as well.
Sustainable partying
New Year's Eve is an exciting time to celebrate and wrap up the year. When planning your celebrations, don't forget to consider the potential impacts on the planet: 
Use reusable eating and drinking ware.

Be sure to recycle properly. Separate general waste from recyclables and collected your organic waste to compost (you can even donate your compost to a local community garden). Hot tip: make a few extra dollars by collecting any drinks containers and dropping them off at your closest

containers for change

refund point. All eligible containers are worth a 10 cent refund that you can either keep or donate to a charity or community group.

Consider food waste

NO GLITTER! (If you must, use biodegradable plastic-free glitter)

Use public transport, walk, cycle or scoot to your destination.

Say no to party poppers and other single use items and decorations

Finally, although this is something that many consider essential for the night, say no to New Year's fireworks. As well as contributing to air pollution, they also frighten our animal friends.
Have fun and stay safe and sustainable!