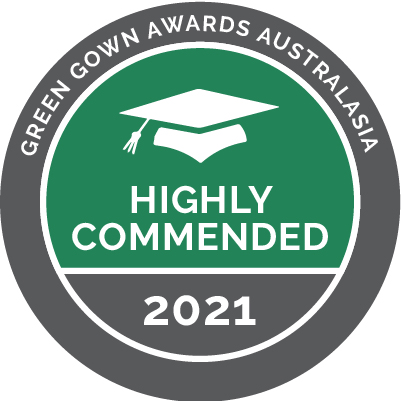 The University of Queensland has taken out Highly Commended in two categories at the 2021 Green Gown Awards.
Linking in with an international award program, the Green Gown Awards Australiasia are the most prestigious recognition of sustainability best practice within the tertiary education sector. 
The winning projects become benchmarks for excellence across the industry, and the awards are respected by government, senior management, academics and students.
Announced at an online ceremony last night, UQ's two Green Gown achievements recognise the tremendous hardwork and enthusiasm of two fantastic entrants from UQ Sustainability (nominated as finalists earlier this year).
Highly Commended - Student Engagement category
For our unique and thriving student-driven Green Ambassador Program.
The UQ Green Ambassador Program empowers students, supported by staff, to bring to life diverse sustainability ideas. It is a unique digital and real-world network, with a student council at its centre, that facilitates projects and provides resources to nurture as many different grassroots initiatives as possible.
Staff contribute expertise and lend a guiding hand as requested; however, the Green Ambassador Program is run by students, for students. The program exists because students recognised the importance of sustainability action and advocacy to their own futures. Students stood up and said: we want to be part of the solution. See the full Student Engagement award entry on the Green Gown website.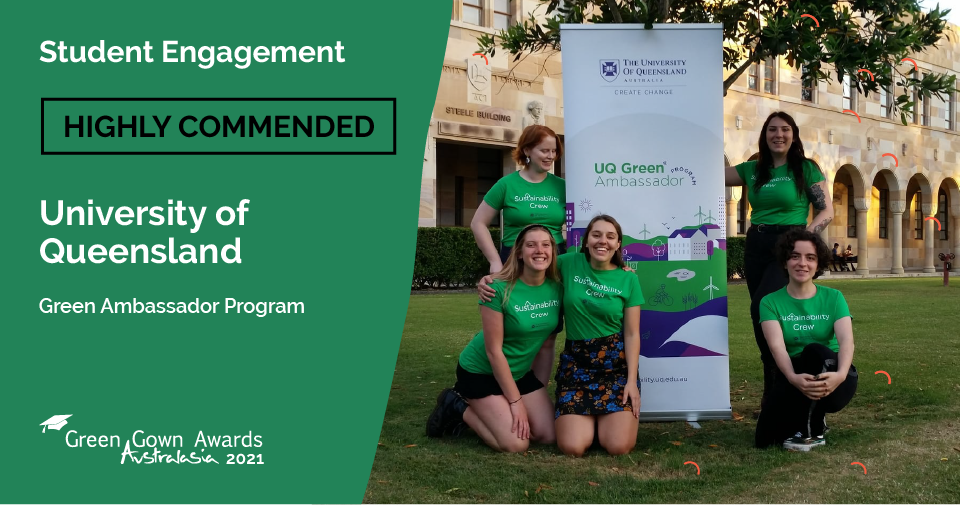 Highly Commended - Individual category
Suzanne Davis, of UQ Sustainability, for her unfailing championing of sustainability engagement, programs and awareness at the University for more than a decade. 
Driven by the fundamental principle that "no action is too small, and an action can ripple and impact others 'like a pebble in a pond'", Suzanne believes universities offer a unique opportunity to positively influence the leaders of tomorrow. She has brought to life diverse sustainability projects, many of which may never have got off the ground without her dedication and enthusiasm. See the full Individual award entry on the Green Gown website.