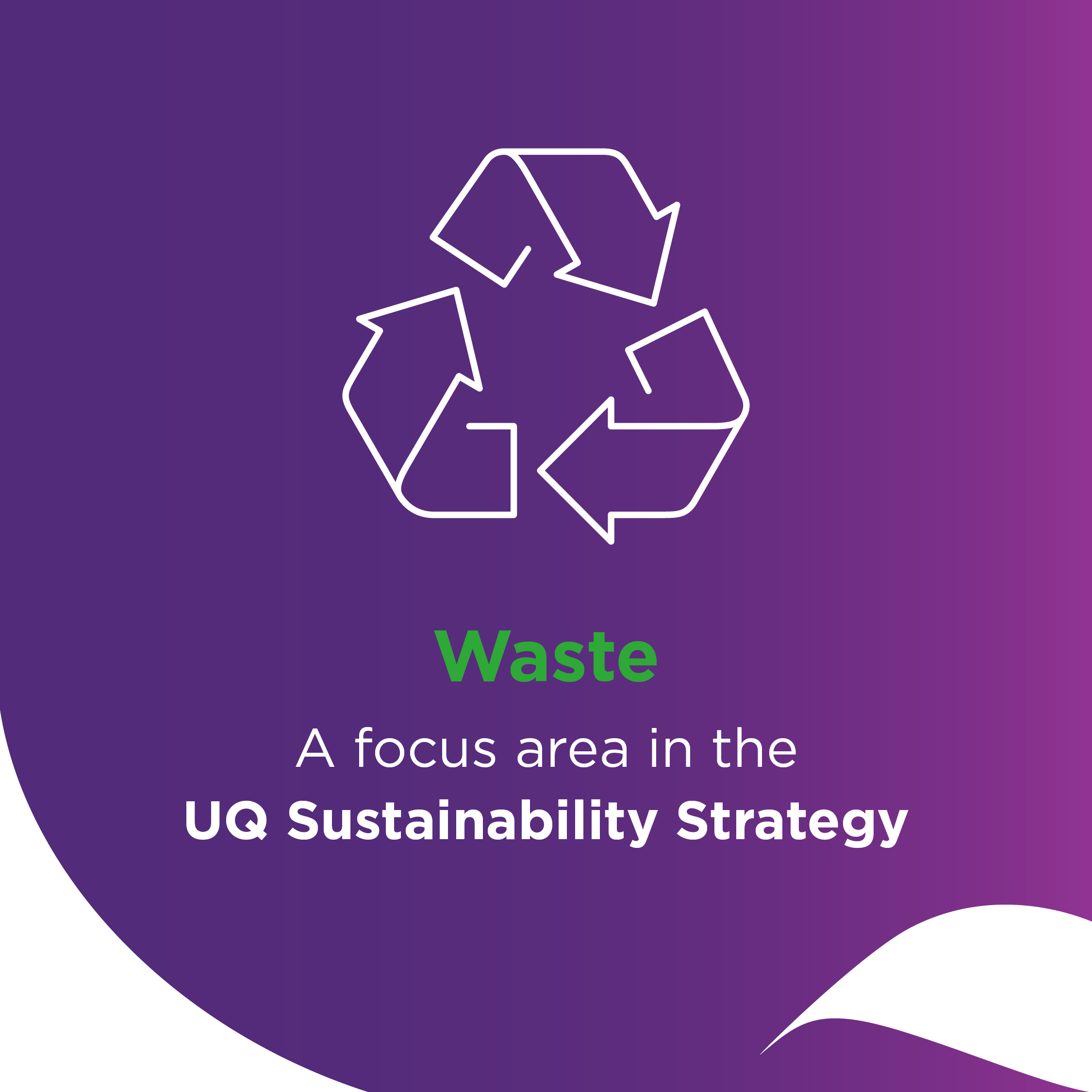 UQ is committed to responsible waste management that promotes recycling and reduces the amount of rubbish being generated. 
We collect more than 20 different waste streams including soft plastics, e-waste, chemical waste and fluorescent tubes and lamps. We have also installed more than 100 recycling stations across our campuses, including our reuse and recycling stations for difficult-to-dispose-of materials. 
However, waste management is about more than recycling. Making careful purchasing decisions and using the circular economy can also significantly reduce our environmental impact.
Waste is one of the focus topics in the UQ Sustainability Strategy, and the University has a number of projects and initiatives designed to facilitate responsible waste and procurement.
.
Recycling and waste minimisation projects
We know UQ staff and students care about recycling and waste. That's why we have numerous initiatives designed to help everyone manage and minimise their waste on campus.
Rubbish and recycling
Choosing the right bin for each type of waste can be confusing, so that's why we've developed our handy guide: What goes in each bin? 
The guide runs through all the different rubbish types we collect and explains how to dispose of each on campus. It also provides information about where UQ sends its different waste streams once they are collected.
We also provide additional detail on how to recycle right, as well as facilitating two comprehensive reuse and recycling stations for those slightly unusual or difficult items (laptops and devices, toothbrushes, glasses and so on), one at each of our St Lucia and Gatton campuses. The St Lucia campus also has a container refund scheme drop off point.
Working towards zero waste in the workplace, many of our buildings are furnished with general waste, recycling, soft plastics and organic waste bins to make it easier to dispose of most day-to-day rubbish items.
Food and drinks
Waste created through food and coffee is one of our most visible waste streams, and our UQ Unwrapped program assists food outlets across the University to switch from single-use plastics to better alternatives. Through the program, we also encourage students, staff and visitors to take up a plastic-free lifestyle. 
We have also partnered with Green Caffeen to reduce the use of single-use takeaway coffee cups and installed more than 30 water refill stations across our two main campuses to enable people to bring their own bottles from home.
Sustainable events
UQ has also produced a sustainable events guide that helps marketers and event organisers to improve sustainability metrics across their events.
Our guide is used widely across the University and beyond, and includes tips on catering, food and drink service, encouraging sustainable and active transport for event attendees, tracking and reducing carbon emissions, and more.
Sustainable purchasing projects
As a large institution, we have the opportunity to use our purchasing power to choose and help foster demand for environmentally and socially responsible products and services.
The University's Procurement Policy requires sustainability to be considered for all procurement processes. In addition, we have developed sustainable purchasing guidelines across categories including electronic goods, stationery, clothing, lab supplies, furniture, fleet vehicles and more to guide staff and students in making sustainable purchasing decisions.
Circular economy initiatives
We also focus on minimising waste by increasing the number of resources that are re-used and re-purposed, instead of being sent to landfill or even recycling outlets. 
This concept is known as 'the circular economy'. There are numerous educational resources online that provide extensive education about what this is and how it works, including this circular economy topic hub from the World Economic Forum.
Supporting a circular economy, UQ introduced the global initiative, WARPit, at a local level in 2017, launching UQWARPit to enable staff to donate, swap or even loan furniture, lab equipment and other items. The program has been embraced by UQ staff, with the University ranking sixth in global WARPit results in 2022 and recording numerous re-purposing successes over the years.
The UQ Repair Café also facilitates circular economy principles, bringing together students and staff at regular events to work on fixing favourite items instead of throwing them away. As well as creating a social hub, the repair cafés aim to build skills and create lasting impact, with volunteer repairers showing attendees how to mend their own items.
More about recycling and waste minimisation