Reuse and Recycling Station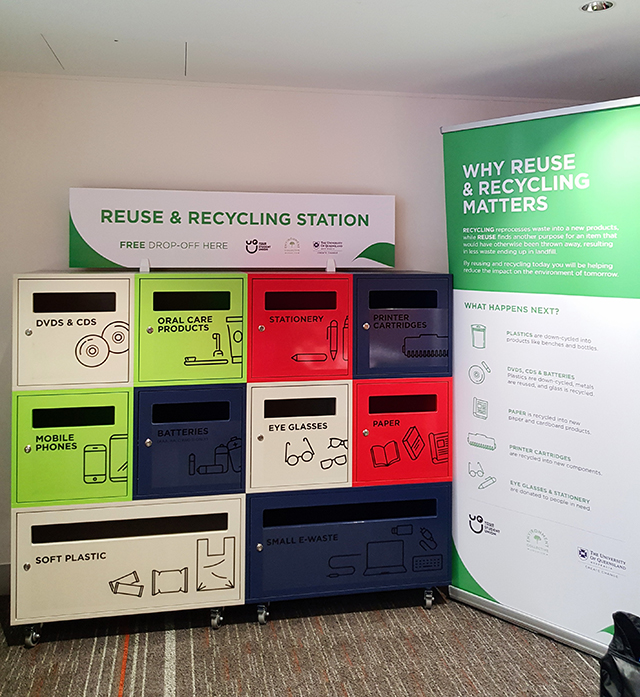 The University of Queensland has partnered with the Green Ambassador Program and the UQ Wildlife Association to host Reuse and Recycling Stations on campus for our staff and students.
Where are the stations?
UQ now has two Reuse and Recycling Stations, one at the St Lucia campus and one at the Gatton campus.
What can be recycled?
The following items can be recycled at the recycling stations:
Type

Items

Small E-waste

Laptops, tablets, cameras, keyboards, mice, cables, circuit boards, IPODs & other MP3 Players, smart watches.

Soft plastic

Any plastic that can be easily scrunched into a ball - plastic shopping bags, shrink wrap or bubble wrap.

Mobile phones

Mobile handsets, batteries and accessories.

Household batteries

Household handheld batteries used in cameras, torches, toys and appliances (AA, AAA, C, D and 9V batteries -both rechargeable and non-rechargeable) 

Printer ink cartridges

Household printer cartridges from a variety of printers

Oral care products

Toothpaste tubes and caps, manual toothbrushes, electric toothbrush heads, toothbrush and toothpaste tube plastic packaging, floss containers.

Electronic toothbrush handles and bases are NOT accepted.

Eye glasses

Used prescription or non-prescription glasses and sunglasses.

Stationery items

Functional pens and markers.

DVDs and CDs

All types and formats of CDs and DVDs.

Paper

Clean or printed paper white, coloured and glossy paper, magazines, newspapers and envelopes (including those with plastic windows).
Recycling station FAQs