Sustainable transport options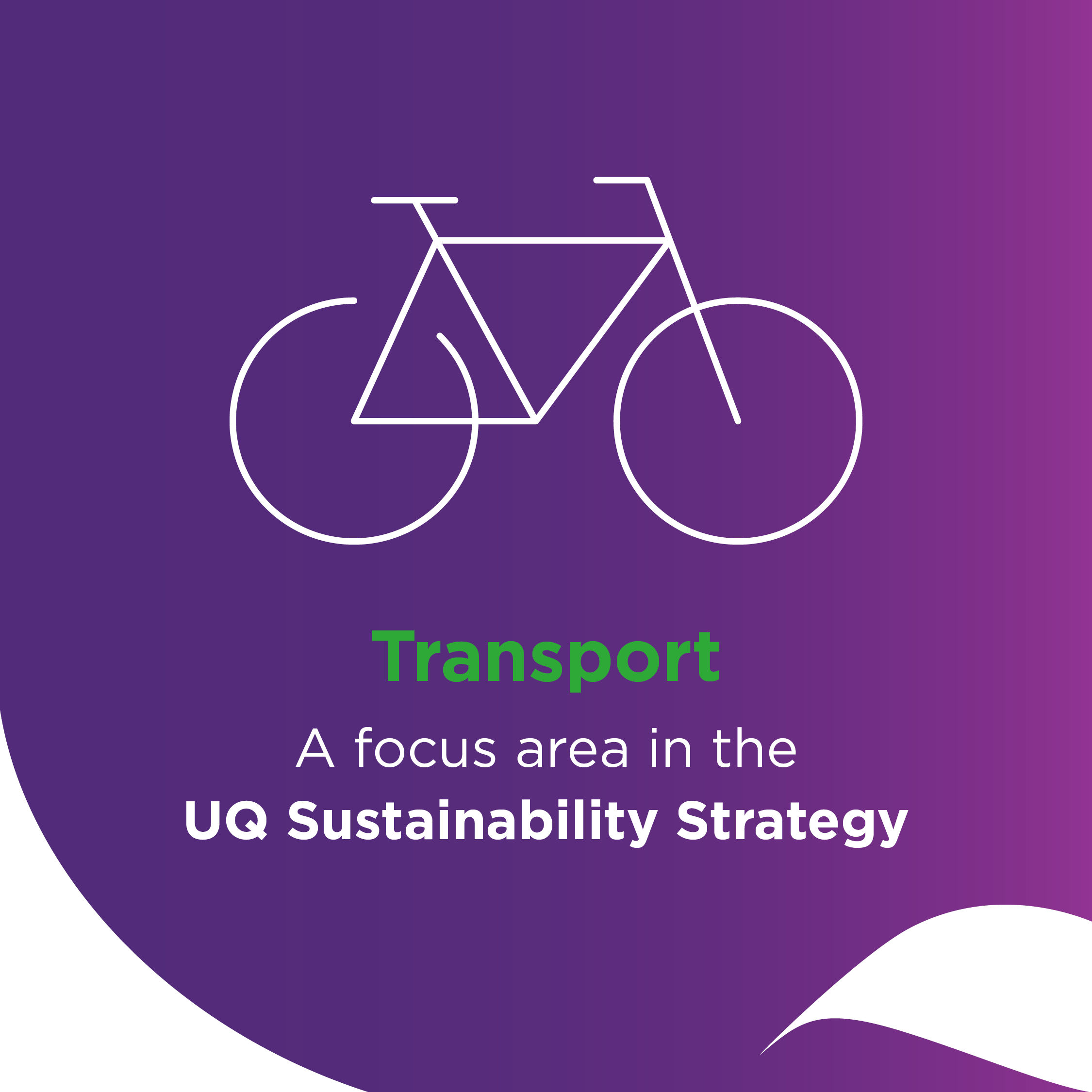 UQ strives to provide the University community with sustainable transport options to travel to, from and within its campuses. Transport is recognised as one of 17 key focus areas within the UQ Sustainability Strategy.
In addition to connecting with public transport services at each of its St Lucia, Herston and Gatton locations, UQ's sustainable transport options include electric vehicle charging stations, pedestrian priority pathways, bicycle racks, end-of-trip facilities, the Intercampus Express Bus Service and a fleet of zero-emissions vehicles.
UQ has also introduced electronic micromobility devices (e-bikes and e-scooters) at the St Lucia campus.
A Brisbane Metro stop at the UQ Lakes Bus Station has also recently been announced, and aims to be open to the public from 2024.
What is active transport?
Active transport refers to using physically active travel, such as walking or cycling, to get to where you want to go.
UQ promotes a range of active transport options to mitigate the impact of other transport modes that are a major source of greenhouse gas emissions, road congestion and pollution. 
Active transport is sustainable and healthy, and, when partnered with micromobility and public transport, is key to supporting the University's sustainable travel goals. 
Active transport systems refer to the network of infrastructure and facilities that enable people to use active – or primarily active – modes of transport. These might include assets such as dedicated pathways, ample signage, showers, storage options and even initiatives like safety training programs.
How UQ supports walking and cycling
UQ provides a range of cycling facilities including secure and open-air bicycle parking, bike maintenance and repair stations, and dedicated bicycle paths.
The University also supports walking as one of the most sustainable, affordable and accessible means of active transport. Pedestrians have right-of-way on most paths and roads throughout UQ, and regular upgrades to pathways and their related facilities (for e.g. lights, water re-fill and drink stations, signs and other elements).
UQ also focuses on delivering a beautiful walking experience. It has designed and constructed infrastructure including the stunning John Oxley River Walk at St Lucia and the Gatton Environmental Park. Walkers can also access a range of maps and self-guided tours, such as the UQ Sustainability Walk and the UQ St Lucia self-guided tour.
For students and staff who choose to ride, walk or run as a means of active transport, the University also provides end-of-trip shower, change room and locker spaces. Facilities are free, although you may need to apply for access; find more information here.
Connecting active, public and shared transport
UQ also recognises the 'first mile/last mile' phenomenon in its transport planning and research. A globally common public transport challenge, the phenomenon occurs when populations live or work close, but not quite close enough, to public transport options. 
For example, perhaps your nearest bus stop is 20 minutes' walk from your home. Or, the train station may just that little bit too far from your workplace at the other end of your journey. Inevitably, these populations end up driving to and from their destinations. 
Projects and studies around the world are exploring solutions, which often involve integrating different transport modes and making it easy for people to transfer between them. This type of multi-modal approach is increasingly known as 'Mobility as a Service' (MaaS).
UQ researchers are leading one of the largest MaaS trials to have ever occurred in Australia, through the ODIN PASS project. The pass makes available a full range of transport options, including public transport, e-scooters and e-bikes, taxis and car sharing, in a single monthly bundle. 
Find out more about ODIN.
Learn more about the first mile/last mile phenomenon.
Electric vehicles
Outside of micromobility (e-scooters and e-bikes), larger electronic vehicles also have an important role to play in reducing or eliminating transport emissions. 
UQ has a number of electric vehicles available within its fleet, which staff can find out more about hiring here.
The University also facilitates private electric vehicle charging for both staff and the general public. Through its UQ Recharge program, UQ has staff-only electric vehicle charging stations, with dedicated parking zones. Locations for the public charging stations can also be found here.
Alignment with broader policy
UQ prioritises active travel, aiming to align wherever possible with local, state, national and international transport planning objectives. 
Both Brisbane City Council and the Queensland Government publish active transport strategies and plans on their respective websites. The Australian Government also includes extensive information on active travel in the Australian Transport Assessment and Planning Guidelines.
More about sustainable transport