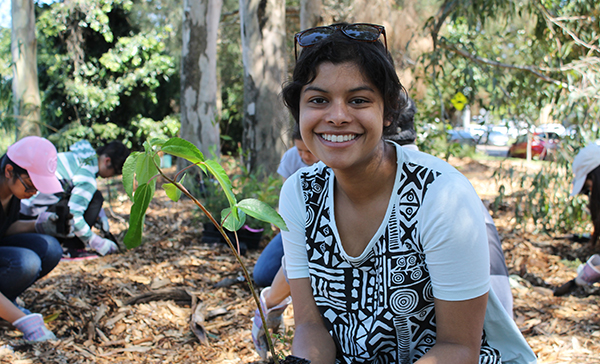 The Sustainability Office, working with the Society for Conservation Biology - Brisbane/UQ Chapter, secured funding from the Queensland Government's Everyone's Environment grants program to undertake revegetation on the St Lucia campus. 
Over three stages the project included two volunteer planting events and engaged more than 150 student and staff volunteers. In total, 1.5 hectares was re-vegetated with 12,000 seedlings. 
The project's aims are to provide important habitat for native wildlife and enhance biodiversity on campus, while helping prevent erosion and improve water quality. Species have been selected to increase the diversity of habitats in the restored areas and will complement the existing canopy trees that grow along the Brisbane River on campus.

The plantings will create a vegetation corridor linking the vegetation along the Brisbane River upstream of the campus to the UQ Lakes District, providing a path for birds and other species to safely access the lakes area. The project is in line with UQ's aim to restore the riverbank and provide habitat for threatened and near-threatened species.
UQ researchers at the Society for Conservation Biology - Brisbane/UQ Chapter are now conducting regular bird surveys to monitor changes in the number and variety of bird species visiting the site.