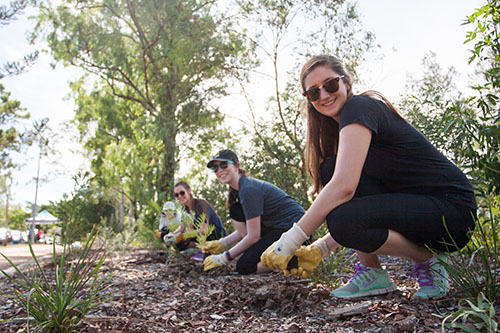 Got an idea for a sustainability initiative on campus?
Eager to improve UQ's environmental performance, education, outreach or community involvement?
Need a grant to get started?
UQ's Green Fund aids in the success of student and staff led initiatives every year, providing funds for projects that improve UQ's sustainability performance.
UQ Green Fund Application Process:
Applications are accepted July to September every year and will be assessed based on the evaluation criteria below.
To apply, simply fill out the application form. Attach this and supporting documentation in an email to sustainability@uq.edu.au. Dot points are encouraged in the application!
UQ Sustainability will contact you when your application has been received, and if further clarification is needed.
We will advise after September if an application has been successful and what the next steps are.
All funds must be used within the University financial (calendar) year they are granted.
The Sustainability Office will follow up with each successful application on the status of the initiative, to report on social media and within the Annual Report.
Evaluation Criteria
UQ Sustainability evaluates each application based on the quality, completeness and relevance of answers given within the application form.
View the Evaluation Sheet to see the criteria each application is marked against, and how each section is scored.
Considering applying for the UQ Green Fund?
To give your application every chance of success, email sustainability@uq.edu.au if you have any questions or need help with the application process.
UQ Sustainability can also meet with you in person to discuss your project, further explain what types of projects are successful and other University partners you may be able to connect with.