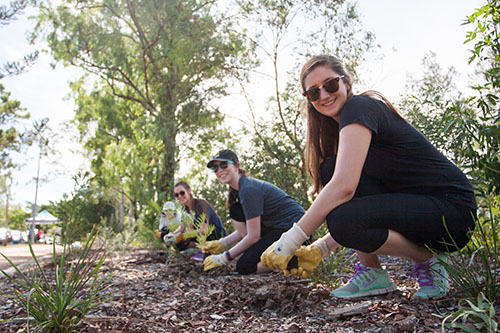 Got an idea for a sustainability initiative on campus?
Eager to improve UQ's environmental performance, education, outreach or community involvement?
Need a grant to get started?
UQ's Green Fund aids in the success of student and staff led initiatives every year, providing funds for projects that improve UQ's sustainability performance.
What initiatives are suited for UQ Green Fund?
Before applying for the Green Fund, ask "Are funds necessary to make my idea a success on campus?" 
If funds are essential, then your idea might suit an application and must achieve the following:
Improve UQ's environmental performance, education, outreach or community involvement in a lasting and measurable way. To determine this, quantitative evaluation methods and success outcomes must be included in your application. 
The project and its benefits are available to as much of the UQ community as possible. There are little to no barriers to access for the whole of the UQ student and staff community, including online engagement. 
For these reasons, recurring events, ongoing initiatives and high impact applications are ranked higher in the evaluation process than single events or short term lower impact initiatives. Please be sure to be able to justify the expenses in your application.
Application process:
Applications are accepted 1st March to 31st October every year and will be assessed based on the evaluation criteria below.
To apply, simply fill out the application form. Attach this and supporting documentation in an email to sustainability@uq.edu.au. Dot points are encouraged in the application! 

If you have an idea but are not sure if it is acceptable for the Green Fund, please don't hesitate to send an email and the Green Programs Assistant can assist.

UQ Sustainability will contact you when your application has been received, and if further clarification is needed.
If further clarification is needed, your application evaluation will be updated accordingly.
We will advise if an application has been successful and what the next steps are.
All funds must be used by June 30 in the subsequent calendar year from when they are granted.
The Sustainability Office will follow up with each successful application to determine the status of the initiative, to report on social media and within the Annual Report.
Evaluation criteria
UQ Sustainability evaluates each application based on the quality, completeness and relevance of answers given within the application form.
View the Evaluation Sheet to see the criteria each application is marked against, and how each section is scored.
*Please note that securing a match-funding partnership with a UQ entity is a compulsory part of the application for all applications over $500. If you are successful in acquiring a Green Fund grant, the match-funding entity must pay for services and goods related to the project in full, and then invoice the Sustainability Office for half, which the Green Fund provides. If you need clarification on this, please email sustainability@uq.edu.au.
Considering applying for the UQ Green Fund?
To give your application every chance of success, read our Green Fund FAQ.
Still have questions or need help with the application process? Email sustainability@uq.edu.au
UQ Sustainability can also meet with you in person to discuss your project, further explain what types of projects are successful and other University partners you may be able to connect with.
See past recipients
Take a look at these stories featuring projects from some of our previous Green Fund winners: