Saving items from landfill, improving wellbeing and building community are three key outcomes from the lovely Plant in a Mug workshops, the first of which was held late last year, with support provided by the UQ Green Fund.
"The idea came from a 'plant swap' that I'd heard about another area of the University undertaking. Everyone on the team got a lot of enjoyment out of it, so I thought it would be nice to have plant workshops more regularly," says Whitney Jeffery, project lead, workshop host and a keen gardener to boot.
"We figured we could save some old teacups from landfill by repurposing them for desktop plants. We also really wanted to encourage people to introduce greenery into their workplace, and give them a piece of nature to nurture in an office setting."
Whitney, who works as a PA and Administrative Assistant at the UQ Global Change Institute, reached out to UQ Wellness and asked if they'd like to partner to deliver the events.
Reducing stress and mental fatigue
Jacqui Dean and Luke Welch, advisers at UQ's Health, Safety and Wellness Division, said UQ Wellness was immediately keen to support the Plant in a Mug initiative.
"Plants and greenery in your workspace has many documented health benefits," says Luke, noting two comprehensive studies on nature contact and human health and gardening.
"We know that office plants can have restorative benefits, including the reduction of stress and mental fatigue, as well as improving air quality," says Jacqui.
"These workshops also provide a space for the UQ Community to connect and be creative, and that's also great for wellbeing."
Being creative and sharing the joy of plants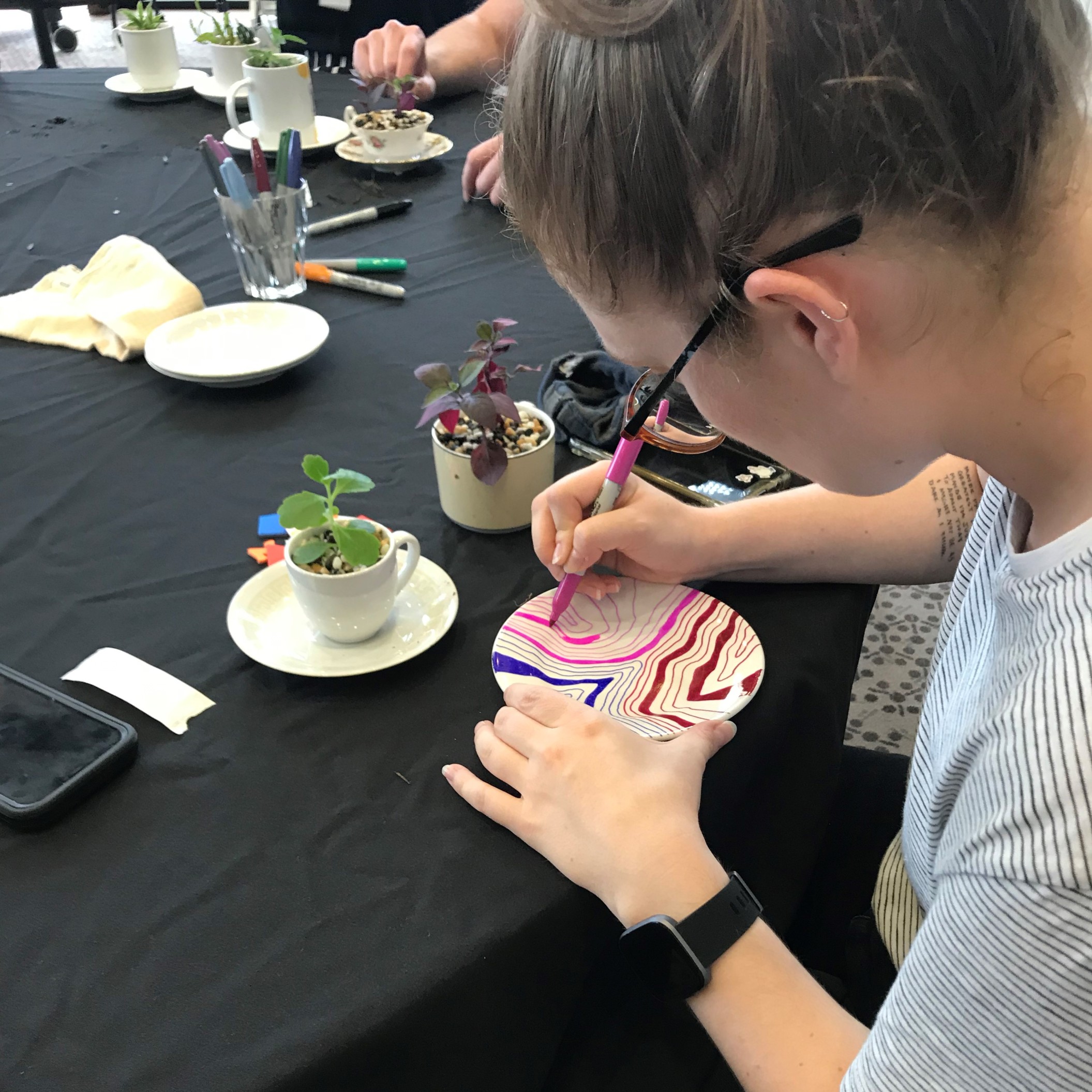 "The workshops started with a small chat about mental wellbeing from UQ Wellness, followed by mug decorating and planting," says Whitney.
"We also gave workshop participants a few tips about plant safety on campus, such as keeping plants out of biohazard labs and taking care not to inhale soil matter, but the events were mostly about people being creative and sharing the joy of plants and gardening.
"There were some truly wonderful designs in the workshop. One individual coloured large tea saucers in brightly colours strips, like rays of sunshine in rainbow colours. Another unique design was a silly face on the mug with plant hair growing out the top!"
How the UQ Green Fund helped
Whitney says the UQ Green Fund was essential to helping her turn her idea into a working project.
"The best part about the Green Fund, I believe, is actually the support the UQ Sustainability office provides for the ideas themselves. Everyone in the office was very kind and genuinely interested in the plans, which really helped me to bring everything to life," she says.
Christine McCallum, Principal Project Officer for UQ Sustainability, says she always loves seeing the UQ Green Fund submissions come through.
"Something we always like to emphasise with the Green Fund is that it doesn't need to be a big idea to make an impact. Past projects have been from diverse areas of the University including the UQ School of Chemistry and Molecular Biosciences, where our recipient used his funds to construct a new plastic-reducing piece of equipment for the lab," she says.
"Remember, Green Fund applications are open from March to October every year, to staff or students from any area of the University, so start thinking now about projects for which you might like to apply for funds."
Next Plant in a Mug workshops?
Whitney says they hope to be able to run two more workshops this year, one in Gatton and one in Herston. Covid-willing, dates will be announced as things get organised, she says.
Visit the UQ Sustainability events guide regularly to find out when these workshops and many more sustainability events are taking place.