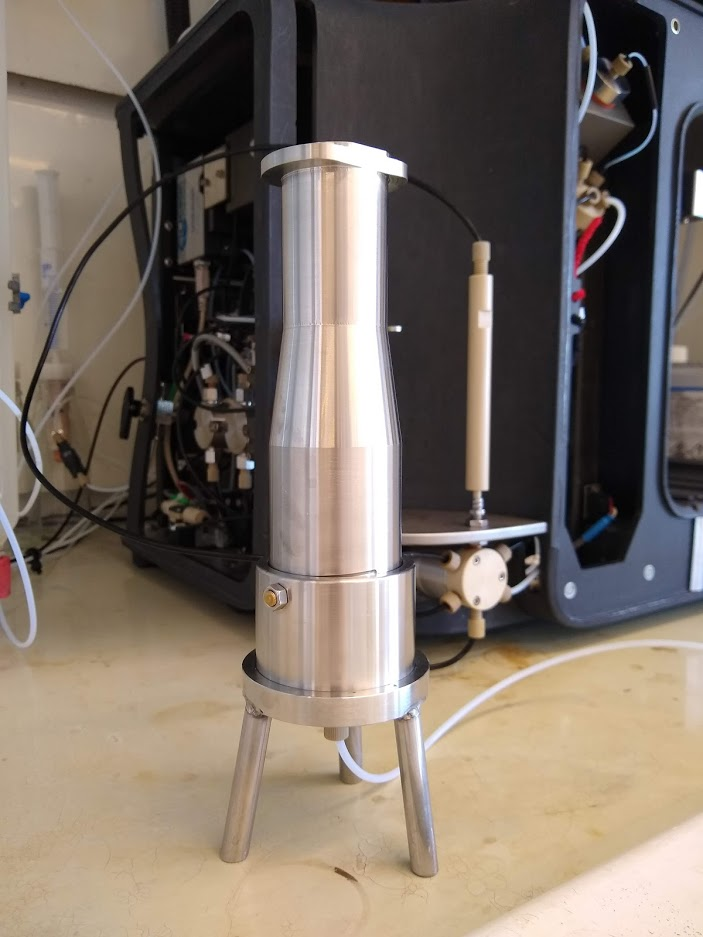 More than 500 fewer disposable plastic syringes are now used each year at the UQ School of Chemistry and Molecular Biosciences, thanks to a new piece of equipment designed by UQ postdoctoral fellow Dr Jos Kistemaker and funded by a UQ Green Fund grant.
The UQ Sustainability team administers the annual grants, which are available for application by any UQ staff or students who have an idea for a small sustainability initiative on campus.
Jos was a successful 2020 recipient, putting forward a proposal to construct a new solid loader tube to fit into the chemistry school's chromatography machine.
Used to purify compounds for chemistry research, these machines typically require consumption of several hundred syringes every year to load and extract material.
The new steel solid loader negates the need for disposable plastic syringes entirely, as well as allowing the reuse of certain inserts required for machine operation.
Designed by Jos and incorporating two rounds of initial feedback from colleagues, the loader was built onsite at the school's workshop and has been in use since last October.
"It functions exactly as we hoped it would," Jos says of his innovation.
"The loader immediately eliminated our need to purchase and burn through large quantities of plastic syringes, and there's certainly no difference to the output of the compounds themselves.
"Having the new loader makes a big difference for our lab, both financially and from an environmental perspective," he says.
Use beyond UQ
The loader could be reproduced for other chromatography machines, both at the University of Queensland and beyond, Jos says.
"A chromatography machine is a standard piece of equipment that you will find in chemistry laboratories around the world," he explains.
"And this loader would work with any machine.
"At the moment, eight of us synthetic chemists use it almost daily, and we're continuing to improve the design.
"For example, we're currently making some tweaks to make it easier to remove the materials inside the reusable tube components. These changes are based on real-life working feedback from scientists using the machine for diverse research purposes.
"The UQ Green Fund grant enabled us to build a prototype, and we're enjoying the benefits right away.
"If anyone else was interested in having one of these loaders for their own chromatography machine, our workshop would now be able to assist in professional construction."
Sustainable ideas in any discipline
Christine McCallum, a program officer for the UQ Sustainability team, says Jos's project proves how sustainable thinking can be applied to all sorts of different projects.
"Sustainability is a lot broader than many people think.
"Our grants are available to all disciplines, and we really encourage anyone with an idea for reducing waste, saving energy or water, increasing environmental benefits or generally improving sustainability outcomes or processes to consider applying.
"Look around your workplace and reflect on your daily activities. Are there small things that you think could be changed with just a little investment to make a meaningful difference?
"Submissions for the grants open in July, but in past years we've found that our successful applicants are typically those who have been thinking about their idea or project for a while, and have started some planning towards it in advance.
"We're always happy to chat to anyone about how their idea might align with our criteria and/or what they might need to include with their submission."
Read more about the UQ Green Fund and its application criteria.
Email the UQ Sustainability team to talk about your idea.