Clean Energy Open Day at UQ Warwick Solar Farm
31 October 2021

10:00am

–

2:00pm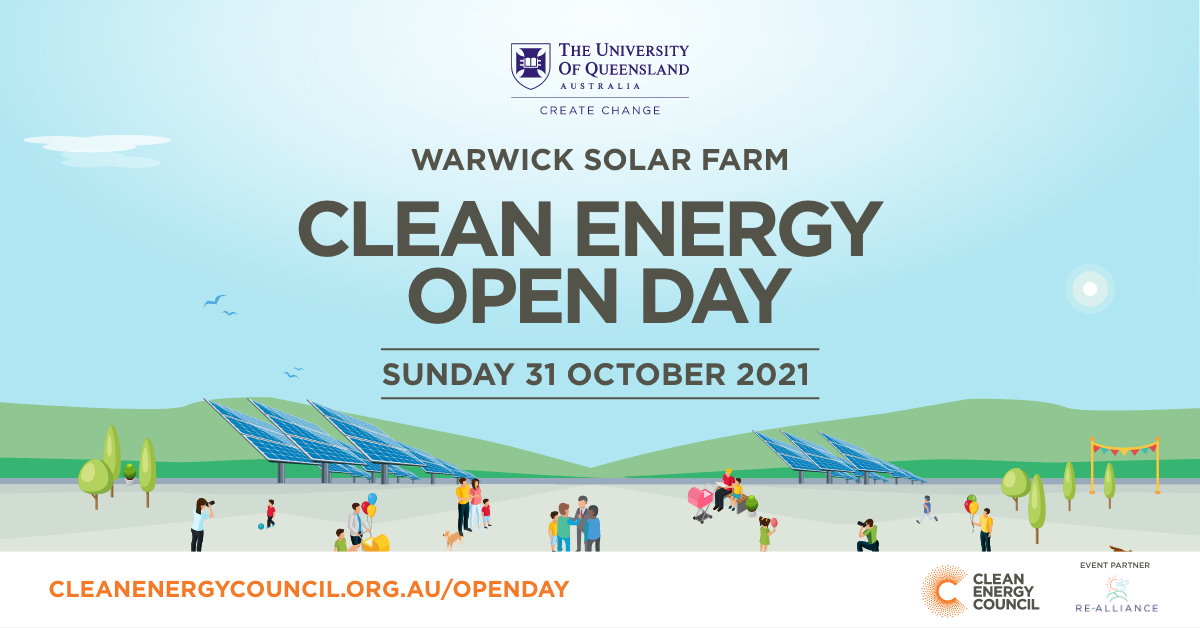 Head along to the University of Queensland's (UQ's) Warwick Solar Farm visitor centre for a panoramic view of the solar farm, including the 750+ sheep that graze the site. Check out the hands-on solar panel and tracker system display and learn firsthand how solar power works.
A bus tour will also be available, with places strictly limited. Booking details coming soon.
About UQ's Warwick Solar Farm
As UQ's own asset, this remarkable project cements the University of Queensland as a sustainability leader, building upon a long track record in renewable energy.
UQ's Warwick Solar Farm is first and foremost an act of leadership that demonstrates that a transition to renewables can be done at scale, that's practicable and makes economic sense.
The power generated at Warwick, in addition to 7MW produced at Gatton and St Lucia campuses, makes UQ the first major university in the world to offset 100 per cent of our electricity use with renewable power produced from our own assets.
For more information about the project, visit Warwick Solar Farm's website.
Clean Energy Open Day 2021
Clean Energy Open Day 2021 is a chance for the Australian public to get up close and personal with renewable energy.
Hosted by Australia's Clean Energy Council, the members of which are companies who work in or support the clean energy sector.
If you've ever wondered how a solar panel makes electricity, wanted to see the inside of a wind turbine or learn about the history of hydropower, then Clean Energy Open Day is the perfect chance to have your questions answered.
This year six projects across four states are opening their gates to the public for a day of fun and informative activities. Find out about the events taking place in your state and get involved online by following along on Facebook, Twitter and Instagram.
Venue
115 Jensens Rd, Sladevale, Queensland