From May 2021, UQ staff will be able to park and charge their electric vehicles for a flat daily fee at four new charging stations installed around the St Lucia campus.
The UQ Recharge program, made available exclusively for UQ staff, is one of the first at an Australian university. It hopes to help encourage staff to make the switch to an electric vehicle, as well as creating 'living laboratories' to explore significant learning and research opportunities.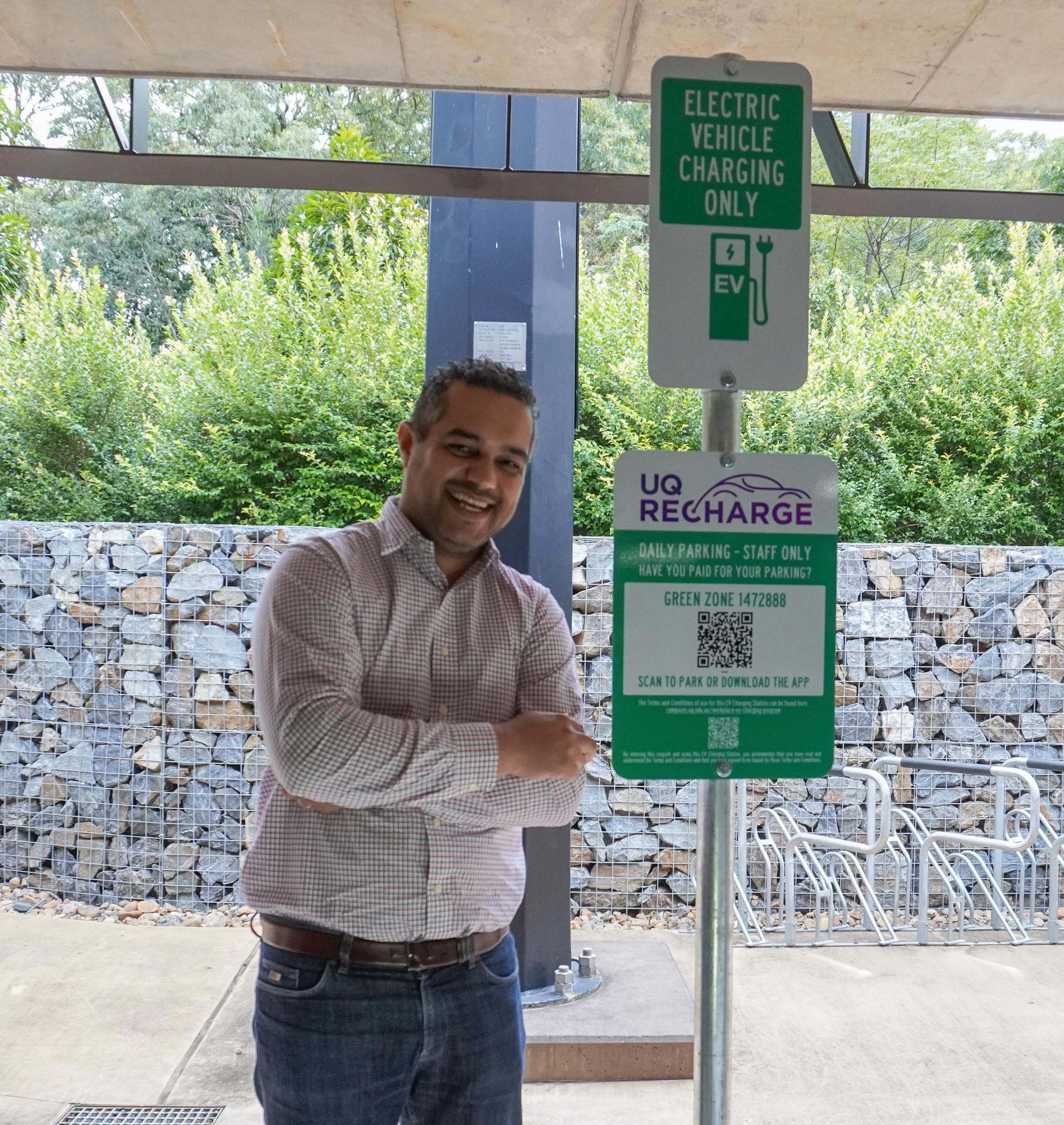 "UQ has been leading innovation in the e-mobility space since 2016," says Fabby Ernesta, Director of the UQ Property & Facilities team.
"We are now piloting a new workplace electric vehicle charging program that expands electric vehicle charging options on campus.
"The infrastructure is part of our broader commitment to promote and support sustainable transport choices with practical solutions, which is something we know is important to many in the UQ community."
In 2020, the team conducted an Electric Vehicle Charging Survey. 72% of respondents said onsite infrastructure would act as an incentive to buying an electric car in the next 12 to 24 months.
The new chargers respond to that demand. As their usage grows, the intention is to ramp up the network with additional charging stations.
E-mobility ecosystem
The UQ Recharge program is part of a comprehensive e-mobility strategy being implemented by the University.
Led by the UQ Property & Facilities, Sustainability and Energy Management team, the strategy aims to create a diverse e-mobility ecosystem, which involves:
Supporting active transport by integrating micromobility solutions such as e-bikes and e-scooters
Advancing the electrification of the UQ fleet
Installing electric vehicle charging infrastructure.
By installing new infrastructure, UQ Recharge also seeks to reduce commonly-cited barriers to electric vehicle ownership and support the emerging market and technology in Australia.
Perceived barriers typically include range anxiety (will I have enough power to make it to my destination?) and a lack of infrastructure (too few chargers and not where you need them).
And although the stations are intended to complement chargers staff would have at home, they also potentially make it easier for people living in apartments to consider purchasing an electric car, points out Dr Carlos Fujita Dimas, who is leading this initiative from the Sustainability and Energy Management team.
"We know from our research that many residents in high-density housing environments find it impossible to access or install chargers, which has previously pretty much excluded them from electric vehicle ownership," says Carlos.
"So now we're providing an option that might make it possible for them to re-consider."
Contributing to daytime grid management
Another benefit of the new charging stations is that they provide a blueprint for how workplaces can support better management of the electricity grid, by shifting energy consumption away from peak times.
"Electric car owners charging their vehicles at home would often be doing so overnight," says Carlos.
"By enabling that charging to take place during the day, we are helping to shift the load. As electric vehicle ownership grows, and we increase our number of charging stations, this kind of set-up could make a meaningful difference."
"Daytime charging also means greener charging, as renewable generation is typically operating during this period."
How to access the chargers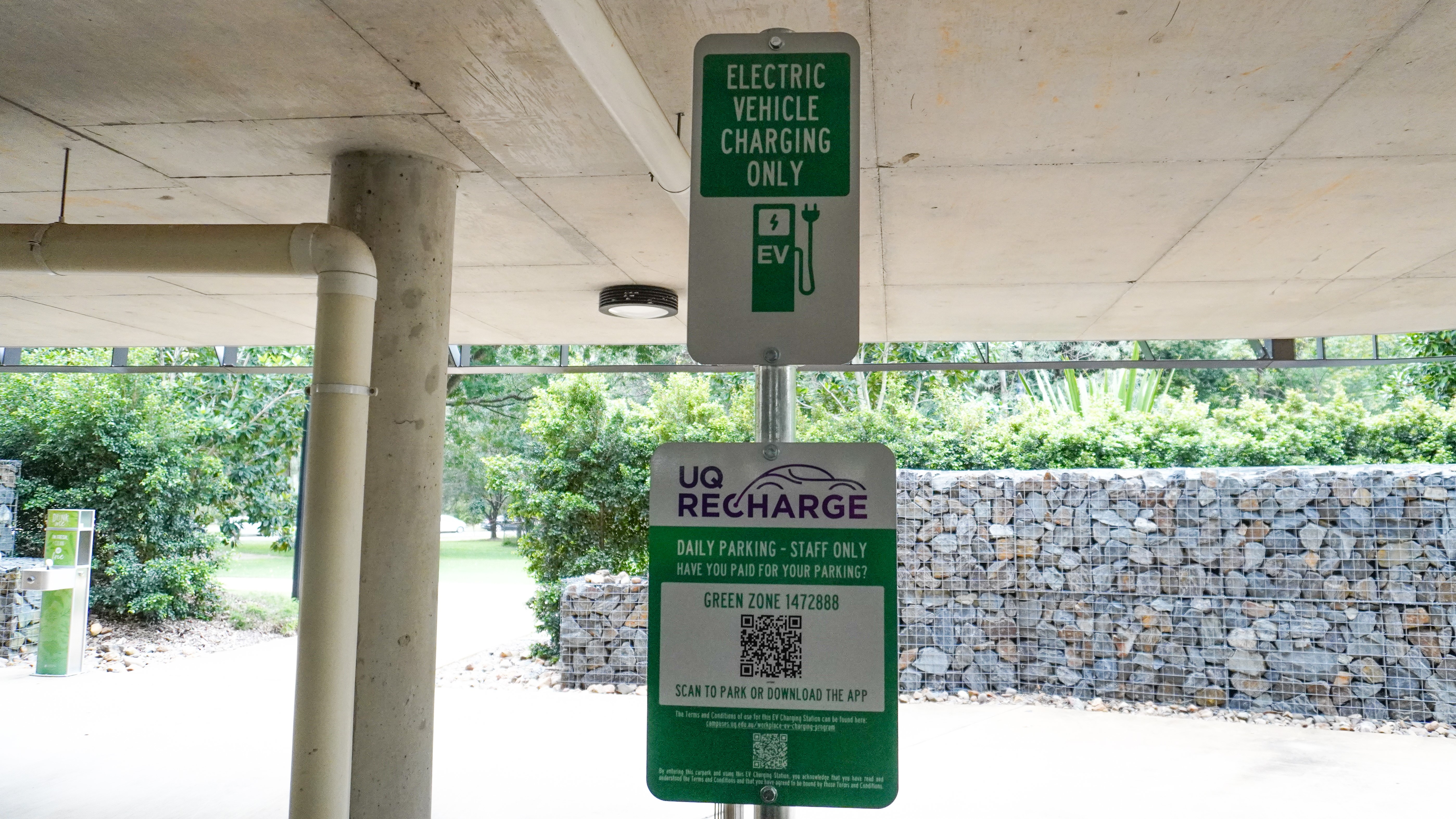 Under UQ Recharge, a new parking zone (i.e. Green Zone 1472888) has been established for the use of dedicated electric vehicle charging parking bays.
The green zone allows UQ staff to park and charge electric vehicles at a convenient flat daily parking fee.
Staff can use UQ's charging stations at the following locations:
Staff-only electric vehicle charging stations at St Lucia
Public electric vehicle charging stations at St Lucia, Gatton and Warwick