A recent native bee rescue operation from under the steps near Howard Building at the St Lucia campus was made possible thanks to the quick thinking and hard work of a number of UQ staff members.
The native bee colony had taken up residence under a concrete footpath, which was disturbed during construction works. UQ video production officer, Dan Seed, noticed the colony immediately and knew exactly who to contact.
"I'd actually edited a video of another native bee rescue on campus a year or two ago, so I knew Dr Tobias Smith , an ecologist from the UQ School of Biological Sciences, specialised in Australian native bees and in particular native stingless bees.
"I emailed him straight away to see what could be done."
Enlisting the experts
Tobias sprang into action, enlisting the urgent assistance of his colleague, Dr James Hereward, a postdoctoral research fellow at the School of Biological Sciences. James's research focuses on investigating agricultural pests, protecting agricultural crops and ensuring global food security. Bees play a critical role.
"Time was of the essence, as the weather was set to turn the very next evening and the bees had become quite exposed," Tobias explains.
"The only way for the colony to survive was to transfer the brood (babies) and as many adult bees as possible into a new cavity as soon as possible."
The net of helpers widened, as a bee hive box or, at the very least, some other type of small container was sought.
The rescue operation
Within hours, James was onsite conducting a preliminary assessment. The very next day, joined by UQ entomology PhD student, Jessa Thurman, he got digging.
The native bees were carefully extracted and transferred to their box, which was then left at the original location for a few more hours to encourage all the bees to make their way inside.
"The bees weren't happy about it, and while they're stingless, they do bite." says Jessa.
"I'm surprised we got any clear photos!"
Later that evening, James took the bee box back to his own house.
"We needed to re-set the bees' 'internal GPS'," he says.
"That means we had to move the colony at least a couple of kilometres away, otherwise they would all fly back to the original hive location.
"After I moved the box, I kept it shut for two days to prevent too many pests coming in while the bees repaired the damage, as there were already two phorid flies in there from the day of the rescue.
"When I was able to let the bees out, I was heartened to see that within a couple of days they had already collected a lot of resin and began making new brood cells.
"They also began holding 'royal court' around the queen, which is exciting, as it means the transfer has a good chance of success."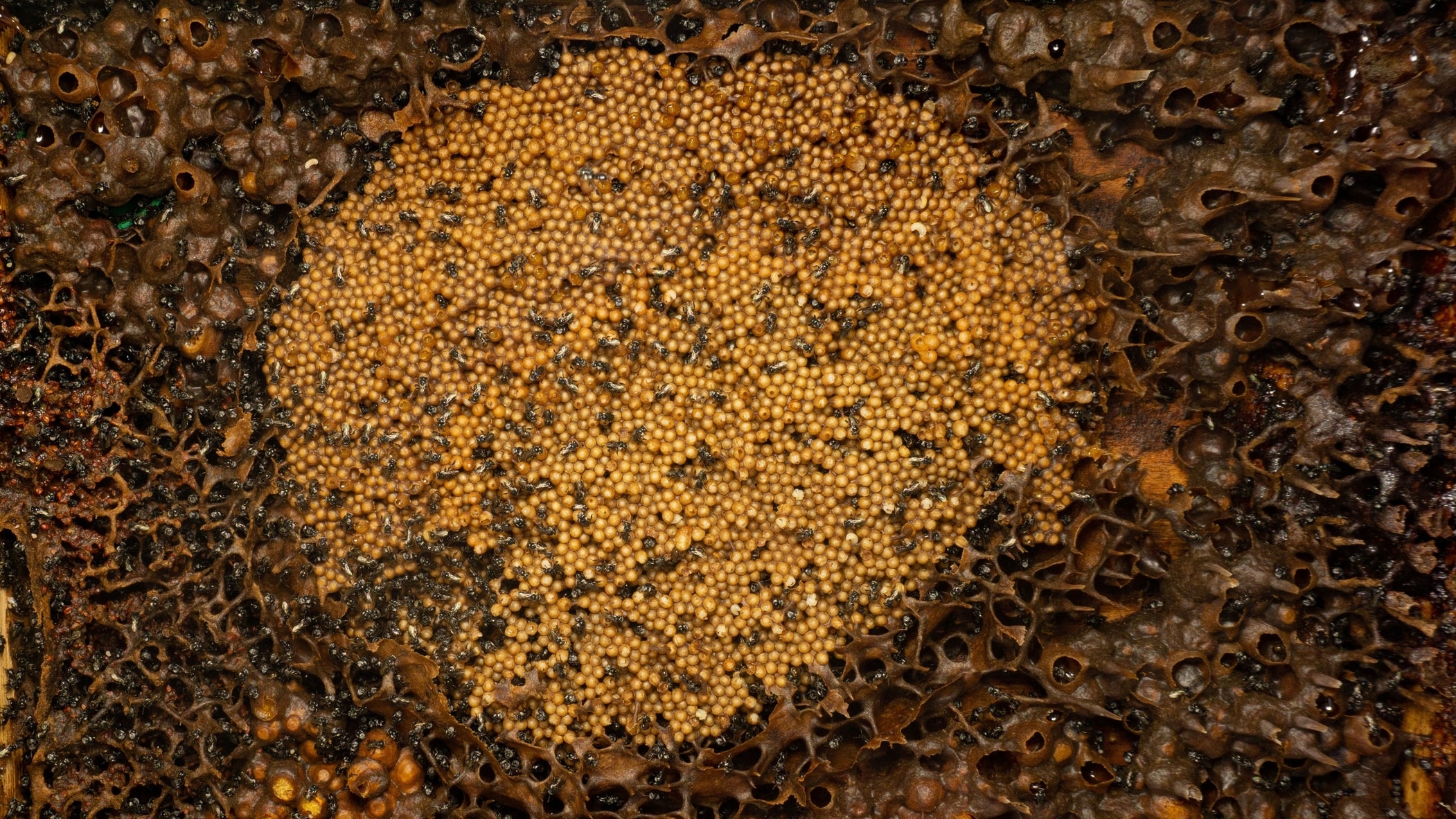 The bees' future home
Tobias says the bees will hopefully soon be added to UQ's research hive collection.
"All being well in another couple of weeks or so, they'll be brought back to the Goddard Building rooftop to join our other research hives. We use these hives for various student research projects," he says.
Dan was chuffed with the positive outcome.
"It made my entire week to see the bees saved and hopefully with the best chance of surviving," he said. "I'm so pleased I was able to help make it happen."
Fingers crossed this particular colony continues to thrive in their new rooftop home.
Helena Malawkin, Program Manager with the UQ Sustainability team, highlighted a final important message.
"This experience has shown us just how critical it is for site works project managers, contractors students and staff to be aware of native bees prior to demolishing old structures and replacing with new.
"James, Jessa, Tobias and Dan were our native bee rescue heroes this time round, but it's clear that we were lucky all the stars aligned.
"We'll be updating our website with details on what to do and whom to contact if anyone finds a native bee colony. We'll share that link soon.
"It's also worthwhile mentioning that Tobias runs native bee identification, ecology and beekeeping workshops throughout the year, with the next of these happening in November. Details are here for anyone wishing to register."