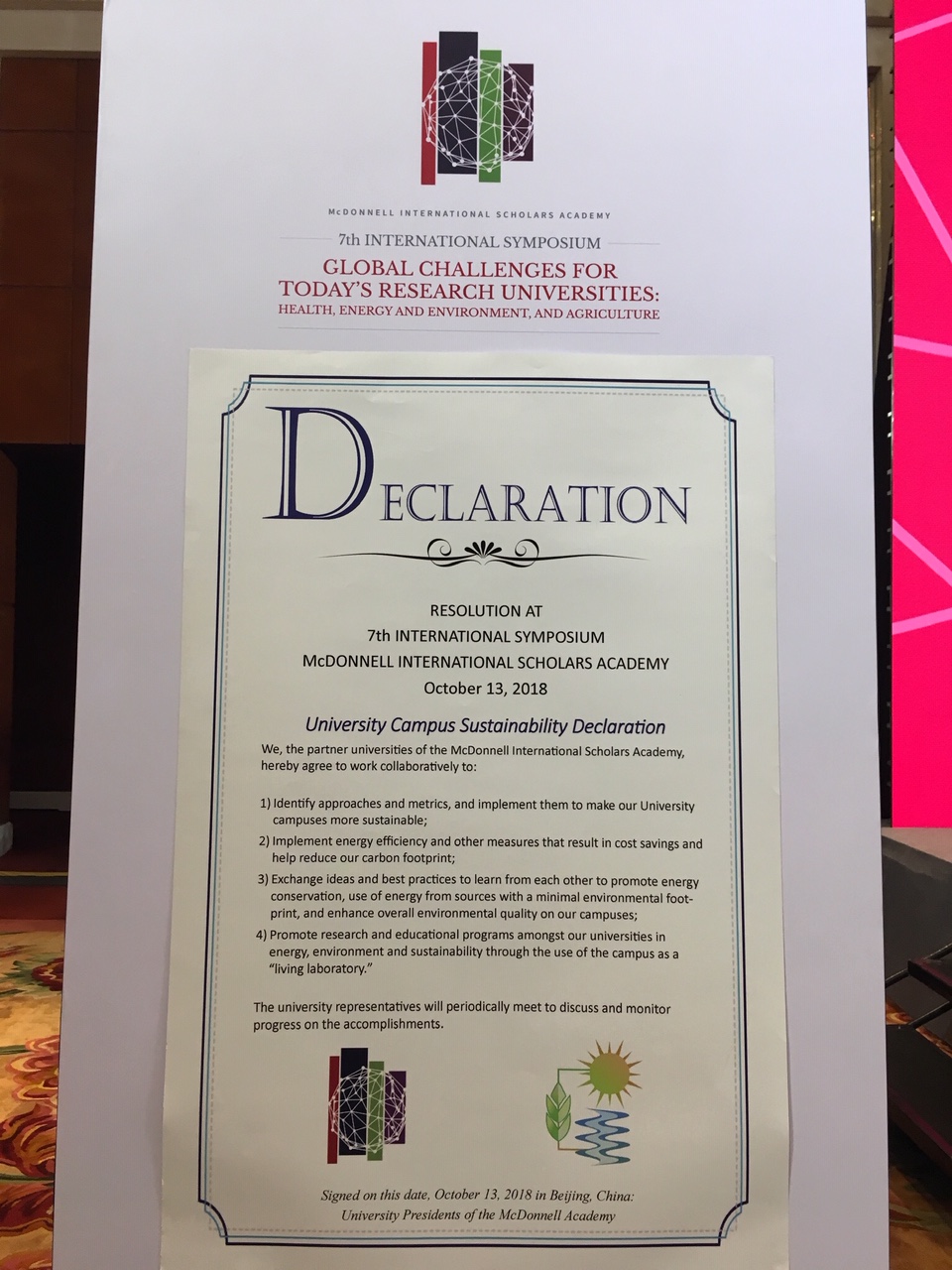 UQ has become a signatory to the McDonnell International Scholars Academy University Campus Sustainability Declaration, a move that further reinforces the University's commitment to sustainable practice.
In October 2018, UQ Vice-Chancellor Peter Høj travelled to the McDonnell Academy 7th Symposium in Beijing, where he and more than 400 attendees from McDonnell's 35 partner universities discussed critical 21st-century issues involving health, energy and environment, and agriculture.
At the conclusion of the four-day event, 21 partner universitiies — including UQ — signed the University Campus Sustainability Declaration, which aims to enhance sustainability measures at the campuses of all signatory institutions.
The declaration's four objectives are to:
identify approaches and metrics, and implement them to make our University campuses more sustainable
implement energy efficiency and other measures that result in cost savings and help reduce our carbon footprint
exchange ideas and best practices to learn from each other to promote energy conservation, use of energy from sources with a minimal environmental footprint, and enhance overall environmental quality on our campuses
promote research and educational programs amongst our universities in energy, environment and sustainability through the use of the campus as a "living laboratory".
UQ's sustainability efforts and achievements strongly align with these objectives:
UQ's Sustainability Office is dedicated to improving the University's environmental performance across the key areas of energy, water, waste, transport, biodiversity and compliance.
A 10-year Sustainability Strategy is currently in development and will be ready for Vice-Chancellor's Committee and Senate consideration in mid-2019.
UQ has become a sector leader in energy management, reducing its grid electricity usage by almost 15% compared with its 2014 peak and thus saving around $3 million per year; the University's carbon footprint has also reduced by over 20% since 2011.
UQ participates in a number of sector forums designed to improve best practice and facilitate knowledge exchange, such as the Group of Eight Sustainability Managers Forum; the University is also a signatory to the Talloires Declaration and the Universitas 21 "Statement for Sustainability".
The Gatton Solar Research Facility is a "living laboratory" that offers opportunities for learning, discovery and engagement, combining real-time public data with visits and tours for a range of groups, including high school and tertiary students, government and industry figures, and international dignitaries.
UQ welcomes the new opportunities for sustainable innovation and improvement that its commitment to the University Campus Sustainability Declaration may bring.