Congratulations to Pitt Hall, winner of the third and final 2018 Green the Team challenge: the Energy Sprint!
Pitt Hall residents achieved a whopping 34.5% energy use reduction over the three-week sprint period. Riddell, Shelton and Thynne halls also significantly lowered their energy use, so well done to everyone for their efforts.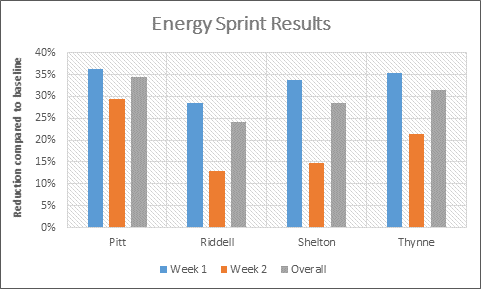 All four halls have had their energy use monitored throughout 2018 and compared against 2017 usage stats. Thynne Hall has achieved the biggest overall energy reduction this year, with 89.9k kilowatt hours in 2018 versus 101k kilowatt hours in 2017 — congratulations!
That's a wrap for Green the Team in 2018, so a huge thank you to all Gatton halls residents who took part and worked hard to reduce their waste and their water and energy usage over the last few months. Stay tuned for details about Green the Team in 2019 ...