A huge thank you to everyone who took part in the recent Green Office 5 Days of Plastic challenge! Our pioneering participants had to use only as much single-use plastic over the course of five days as would fit in ONE small container or jar – and the results were impressive ...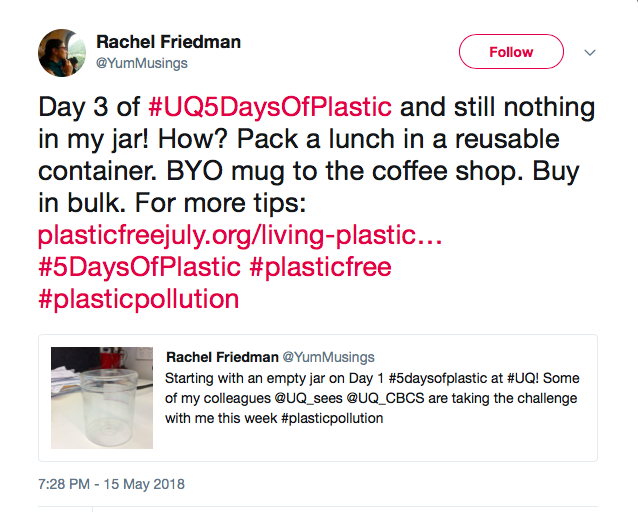 The 5 Days of Plastic challenge may be over, but don't let that stop you from actively trying to reduce your plastic waste. A recent National Geographic article about plastic highlights how terrifyingly dependent we've become on this manmade material. For example, between 5.3 and 14 million tonnes of plastic waste from our coastal regions alone end up in our oceans every single year, and nearly 700 species of marine life have been affected by this glut of thrown-out plastic. 
But don't lose hope. As our challenge participants so ably demonstrated, reducing your plastic waste isn't as tricky as you might think. Here are some top tips to get you started, if you haven't already started cutting down:
When ordering tea or coffee at outlets on campus – remember to bring a durable mug or KeepCup. Some outlets even offer a discount if you BYO cup.
Bring lunch in a reusable container from home – it's likely you'll save some money too!
Keep a set of reusable cutlery in your bag at all times.
Use a reusable water bottle and re-fill it as many times as you'd like from one of the unmissable bright green water refill stations on campus.
Buy your fresh fruit and veggies package-free by bringing reusable produce bags to the supermarket or greengrocers. Fruit is a great healthy snack – it even has its own natural packaging!
Ask for your sushi in a paper bag, and buy a bottle of soy sauce and refuse the little plastic fish.
You can even trial this challenge at home. Buy in bulk, experiment and reduce the amount of waste you produce as a household.
And don't forget to check out our handy recycling and waste guides on the Sustainability website so you can make sure you're putting your plastic in the right bin.