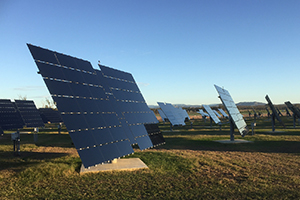 UQ's Energy team is rolling out new strategies to reduce energy use at the Gatton campus, a move that will contribute to achieving the ultimate goal of becoming energy neutral.
Over the coming months, UQ's electrical and mechanical engineers will work to achieve the following goals:
installing a central energy plant to optimise campus energy consumption
installing a tank to be charged with chilled water using excess solar power
delivering low-energy cooling from the tank when the sun goes down
responding to high-demand energy events by balancing power loads
engineering a new high-voltage power installation to stabilise campus power supply
shutting down energy-inefficient air-cooled chillers.
This latest initiative cements UQ's position as a leader in the energy research field, and an institution that's switched on to a more sustainable future.