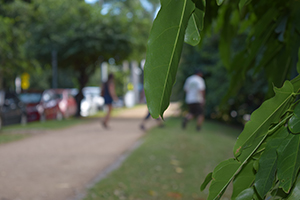 UQ's John Oxley Walk has something for everyone. This gorgeous track that loops the St Lucia campus grounds and runs alongside the river is perfect for wildlife spotting, cycling, walking and jogging, and has a deep connection with Queensland's long history.
New developments along the walk, including tree planting and low-energy lighting, are only enhancing its appeal. According to Stewart Hobbs, Associate Director of Infrastructure and Sustainability in UQ's Property and Facilities (P&F) Division, "with its recent additions, the John Oxley Walk showcases the University's commitment to biodiversity, wellness, sustainability, social responsibility and honouring Queensland heritage."
The John Oxley Walk honours the life of explorer John Oxley, Surveyor General of New South Wales and the man credited with discovering the Brisbane and Tweed rivers in Queensland.
But the true owners of the land through which the John Oxley Walk travels are the Turrbal and Jagera Indigenous people, who once used the riverbank on the site that became the St Lucia campus for fishing and bird hunting. As explained in the St Lucia Campus Master Plan, The University of Queensland acknowledges the traditional owners of the lands on which this campus now stands, and this understanding is reflected in the site's planning and management.
Earlier this year, P&F installed 50 new energy-efficient LED path lights to illuminate the John Oxley Walk, providing a more safe and secure environment for those using the walk for recreation and exercise, day or night. The 35W lights were installed on the back of existing street light poles, which meant huge savings on installation costs and ongoing energy use for years to come.
The route also goes past a series of memorial trees: these represent the University's thanks to the family and friends of those who donated the bodies of loved ones to advancing the education of UQ's medical students. The School of Biomedical Sciences came up with the idea of these memorial trees in 2016 and, since then, 10 Eucalyptus deglupta 'rainbow gums' have been planted along the walk, with plans to plant more in the coming years.
The popular fitness event Parkrun, a free weekly 5km run, now includes the John Oxley Walk as part of its route, highlighting the walk's value as a community resource. 
So next time you stroll, jog or run along the John Oxley Walk, give a thought to all those who have travelled it before you.