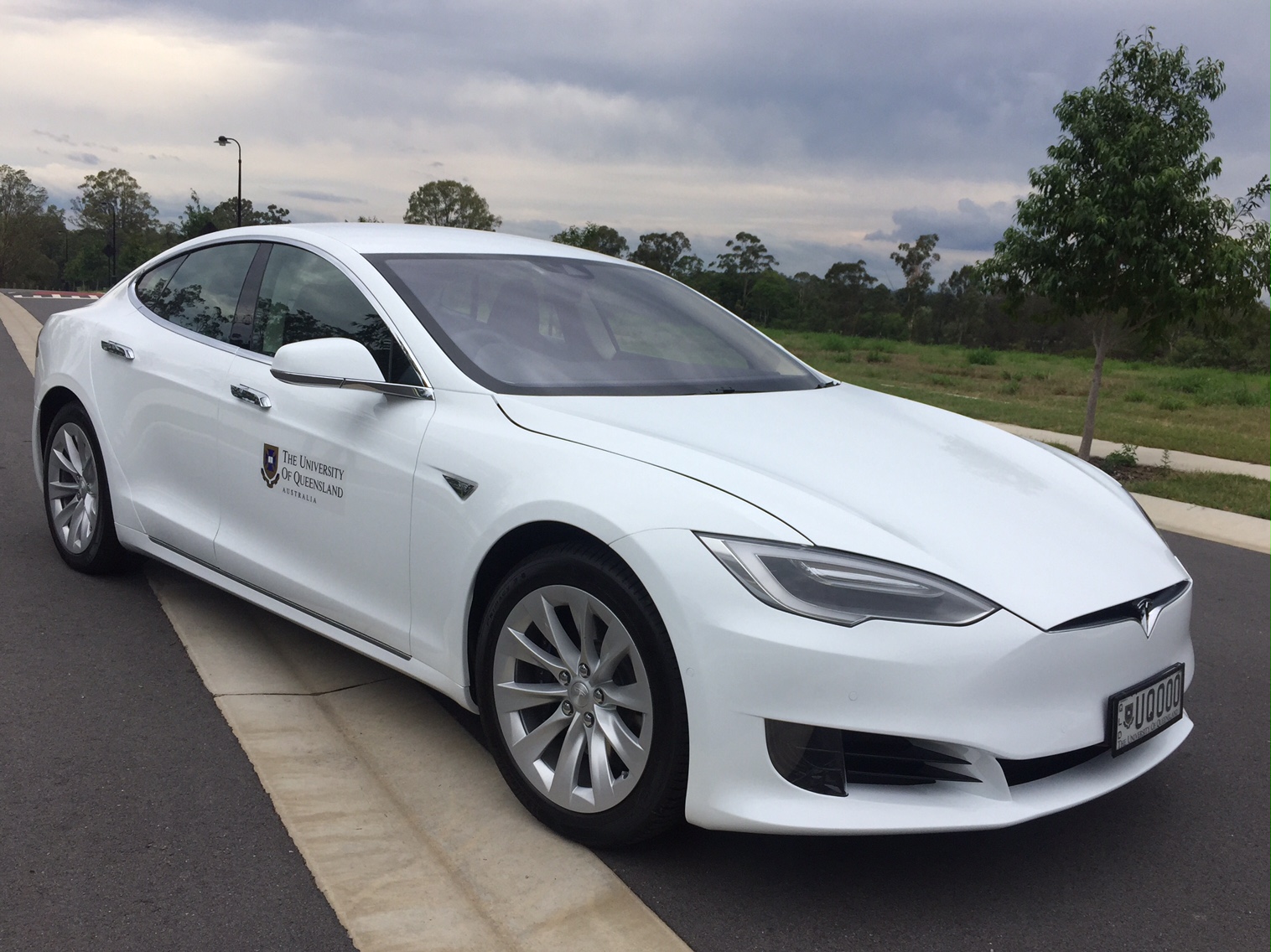 UQ's corporate fleet is soon to receive its first fully electric vehicle, with a Tesla Model S sedan to be made available for drivers in the coming weeks. Integrating this vehicle into the fleet is a trial project that offers a range of benefits to drivers as well as the University.
As a fully electric vehicle, the Model S will produce no local air pollution and offers completely zero emissions driving when charged by one of UQ's many solar arrays. It is expected that the Model S will save UQ almost 2000 litres of fuel and 5000 kilograms of carbon emissions each year compared with a similar-sized petrol sedan. Due to the simplicity of the vehicle's drivetrain, annual maintenance requirements are also significantly reduced compared with those of conventional cars.
The vehicle has a range of around 400 km, and drivers will be able to use recently installed chargers located at the St Lucia and Gatton campuses.
With advanced collision-avoidance technology, autonomous emergency braking and extra-large crumple zones, the Model S has been rated as one of the safest vehicles in the world. Additional high-tech features include 'Autopilot' driver assistance, internet connectivity and the ability to receive software updates and feature upgrades wirelessly.
As well as these operational benefits, the vehicle will be a key tool for researchers studying this emerging technology and its real-world application. Collaboration with the School of Information Technology and Electrical Engineering (ITEE) is already underway, and P&F is inviting other relevant research groups that might be interested in using the vehicle or associated data to get in touch.
UQ staff members will also be able to hire the vehicle as part of the University's regular fleet. Research requirements will take precedence, and staff members will need to complete a 30-minute induction prior to driving the Model S. Please note that holding an open licence will be mandatory, and that the policy around the vehicle's use is subject to change as the trial progresses.
This initiative is the latest in a program of transformation for the UQ Fleet, and follows on from initiatives such as the introduction of the GoGet car-sharing scheme at St Lucia and Hertz 24x7 vehicles at Gatton and Long Pocket.