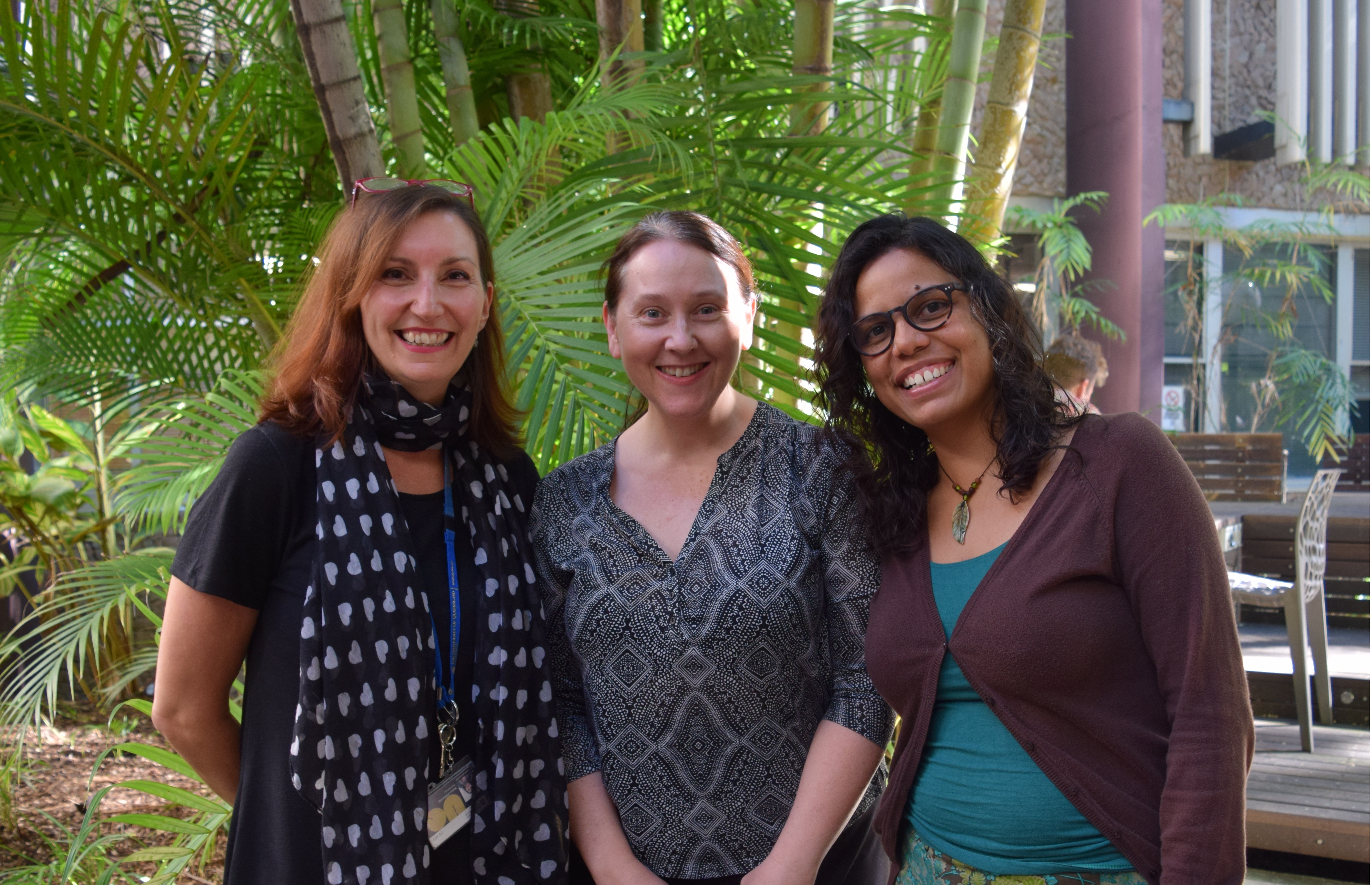 UQ's School of Psychology staff have proven their enthusiastic commitment to sustainability time and time again with their active participation in the Green Office Program. From hosting movie screenings and speaking at Green Office events to developing their own set of sustainability guidelines, School staff have shown they are prepared to go above and beyond in an effort to spread sustainable practices on campus. 
"UQ is a leading university, and we make an explicit commitment to demonstrating leadership in environmental sustainability in our strategic plan and core values," say School of Psychology Green Office reps Christine McCoy and Nathacha Subero Castillo*. During August 2016, the School organised one of Sustainability Week's most successful events: their screening of, and discussion panel about, the popular 2014 documentary Cowspiracy, which explores the shocking environmental impact of the meat and dairy industries, and that drew around 100 enthusiastic audience members.  
The School's reps recognise the importance of getting people involved like this—through events such as film screenings, or more hands-on activities—and this community-focused approach is helping staff change their habits for the better. This year, the School has become actively involved in the new Green Office composting initiative, and School staff members joined UQ Sustainability, the Centre for Marine Science and UQU Environment Collective for the Clean Up Australia Day tree-planting event in February. 
Ever keen and willing to spread the sustainability word, Christine and Nathacha also shared their Green Office experiences with new reps at the year's first Green Office Training Session in March.
In an effort to embed sustainable thought and action into daily campus life, School staff have also created a unique set of sustainability guidelines that outline their expected standard of environmental practices in the workplace. The guidelines encourage a number of easy-to-implement steps that staff across UQ can incorporate into their workplace practices:  
Catering and events
eliminate the use of single-use plastics, such as plastic water bottles and plastic cutlery
when organising school events, choose catering options that align with the sustainability guidelines (e.g., opt for more low-carbon, plant-based food choices)
carefully consider the quantity of food being ordered to ensure it is not excessive and to minimise potential leftovers
redistribute leftover food whenever possible and safe
compost leftover food when it is not safe to consume
opt for event venues that have compliant food management practices in place
Office supplies
minimise printing and adopt sustainable printing practices (e.g., double-sided and black-and-white where possible)
avoid plastic biros and other plastic stationery items and opt for refillable or recycled stationery instead.
"Our goals with the sustainability guidelines are to help raise awareness of the issues and encourage people to make a conscious effort to act in a more eco-friendly way," say Christine and Nathacha. "What we are promoting is not hard—the hardest part is probably asking people to change habits and try something new. In developing our guidelines, we have made an active effort to involve our colleagues and bring them into the conversation. We hope that over time, these new behaviours we are initiating now will become the norm and ultimately reflect what people do every day."
School Manager Karen Perkins strongly reinforces this sentiment. "As individuals, we can make small choices that can accumulate to create large-scale behaviour change," she points out. "I'm a strong believer in putting your money where your beliefs are." The School of Psychology continues to do just that, and its achievements are helping create real and positive change across campus.
* Nathacha has moved into a new position at UQ's School of Communication & Arts. She plans to stay in the Green Office Program and continue liaising with Christine on all things 'green', as she believes the two of them make a great team.