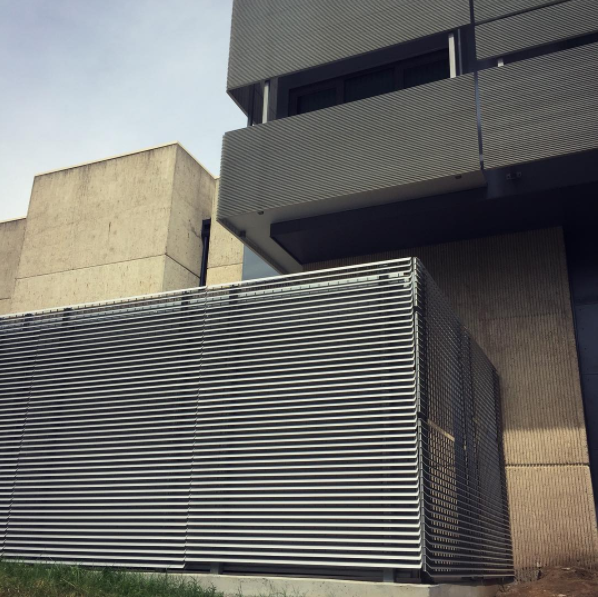 Reducing energy usage at the Mayne Centre—home to UQ's award-winning Art Museum—was a work-in-progress for the UQ Energy team during 2016‒17, and the results are an energy-efficient masterpiece: daily heating, ventilation and air conditioning (HVAC) consumption has reduced from 4000 kWh to 1200 kWh, representing an annual saving of $140,000.  
Home to a historic collection of Queensland and Australian art, the Mayne Centre—which became the UQ Art Museum in 2004 following a conversion of the original 1973 building by Wilson Architects—was, until very recently, one of UQ's most energy-hungry spaces. In 2015, the centre's average electrical energy consumption for air conditioning was 4000 kWh per day, a higher rate than UQ's most energy-intensive laboratories. Despite this, temperatures inside the building were compromising the conditions required to safely store and display art: humidity was high during summer, the air conditioning was too cold and noisy, and 285 kW of electrical duct heating couldn't maintain optimum comfort levels.
After conducting a review of the building's HVAC systems, the Energy team rolled out a number of measures to progressively reduce energy consumption. In June 2016, variable speed drives were fitted to six air-handling supply fans, thus improving cooling and heating efficiency and reducing the air conditioning noise. In December 2016, an outside air pre-conditioner was commissioned, which effectively lowered the humidity of the air being brought into the centre and reduced the amount of heating required. 
Finally, in February 2017, a 300 kW heat pump with a 3,500-litre hot water tank and circulation pump was installed. This meant that the electrical duct heating could be replaced with hot water coils, which provide the right level of internal heating and significantly lower the electrical power needed to achieve that level. 
On top of the $140,000 annual savings brought about by these measures, an additional $16,400 has been saved by replacing the building's energy-intensive lighting with more efficient LED lighting. It's a bright new start indeed for the Mayne Centre!