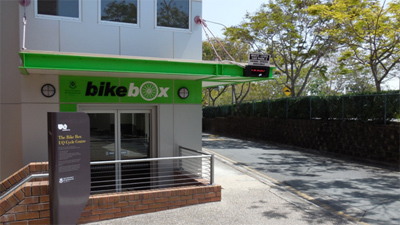 Usage stats for UQ bike boxes have revealed that the University's keen cycling community is making the most of the on-campus end-of-use facilities—in August alone, the St Lucia bike boxes were used over 5,500 times. Assuming that most people enter a bike box twice a day, that means approximately 250 people a day are making use of the facilities during the average working week. Those are some impressive numbers, and further evidence of the fact that more and more people are cycling to and from campus.
UQ now has seven bike boxes: five at St Lucia, one at Herston and one at Long Pocket. They're all free to use and feature handy end-of-trip facilities such as lockers, toilets, showers and clothes drying and ironing facilities. All you need to do to access any of the bike box facilities is have a valid staff or student card. For detailed information about each bike box and applying for a locker, visit the End-of-Trip Facilities page on the Property & Facilities website.
Transport is one of UQ's eight sustainability themes, which means the University is committed to providing effective, diverse and environmentally sound transport options and facilities for staff and students. UQ strongly encourages anyone visiting campus to hop on their bike instead of in their car—it'll save emissions, reduce congestion and parking stress and get your endorphins going!