Towards zero waste in the workplace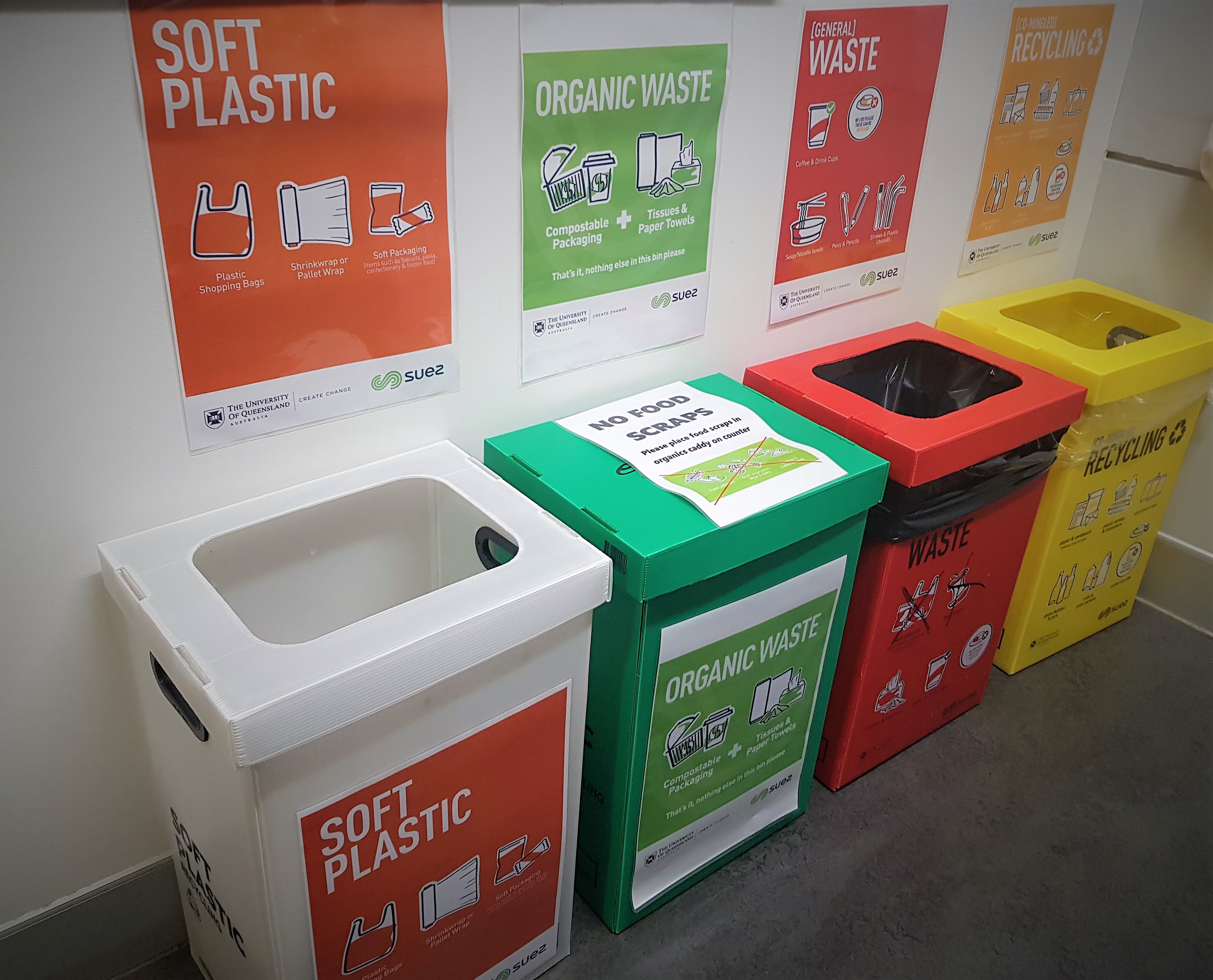 Each year, the Sustainability Office performs a waste audit that examines the waste-to-landfill bins on campus. The audit results indicate that for the academic and administrative buildings, organic and recyclable items made up over 75% of the landfill waste.
A towards zero waste workplace aims to remove these items from landfill waste through increased recycling and the addition of an organics stream. Each load of landfill waste comes at a cost to dispose of, so not only will this initiative save the university money, it will support employment of cleaning staff and will also have positive environmental outcomes from diverting recyclable and compostable waste away from landfill.
Towards zero waste workplaces serve as a model for environmental sustainability at UQ and represents a critical step toward the University achieving its waste reduction goals.
What does a Towards Zero Waste Workplace look like?
Organics, paper and co-mingled recycling bins are located on each floor.
Food scraps, compostable packaging and paper towels are collected within the organics stream.
Other recycling streams, including soft plastics, batteries, polystyrene, e-waste, toner and ink cartridges are collected and recycled.
Green Reps educate building occupants on how and where to recycle, compost, and reuse.
What other waste reduction practices can we incorporate?
Towards zero waste workplaces aim to go a step further by reducing the amount of waste generated in the first place though reducing what is used, and reusing as much as possible.
Other waste reduction practices may include:
Event caterers and hosts adhere to the UQ Sustainable Event Guidelines.
Any furniture or equipment that is no longer needed is advertised on UQ WarpIT. Staff are required to check UQ WarpIT for furniture items before purchasing new.
Office items such as packaging, boxes and stationary items are reused or recycled where possible.
Students and staff are encouraged to bring a reusable water bottle, food container and coffee mug or sign up to Green Caffeen
A program is put in place to transition to a paperless or paper-lite workplace.
Where can I get help?
Green Rep volunteers are there to assist you incorporate green practices into your Towards Zero Waste workplace. Contact the Sustainability Office to find out who the Green Rep volunteers are in your building.
How can my building be involved?
Contact us and we will schedule a meeting to discuss feasibility and implementation.
Which bin do I use?