Food waste collection is coming...
The Sustainability Office, in partnership with P&F's Cleaning section, is extending its current organic collection program to include staff kitchens/lunch rooms at the UQ Gatton campus.
During the 2017 waste audit, it was discovered that approximately 25% of UQ waste sent to landfill was organic material. In an effort to divert organic material from landfill and turn it into rich compost, UQ Gatton staff are starting to separate their organic waste.
Organics bins are being placed in staff kitchens/lunch rooms alongside new waste and recycling bins. The organics bins will be lined with compostable bags and will be emptied and relined by cleaning staff as required.
To ensure the program's success, staff are avoiding placing contaminants in the organics bins. Bins containing contaminants are unable to be turned into compost and must be sent to landfill.  Special 'contaminated' stickers will be placed on bins containing contaminated materials. Everyone has to play a part in ensuring we keep contaminates out of the organics stream.
What can go in the organic recycling bin?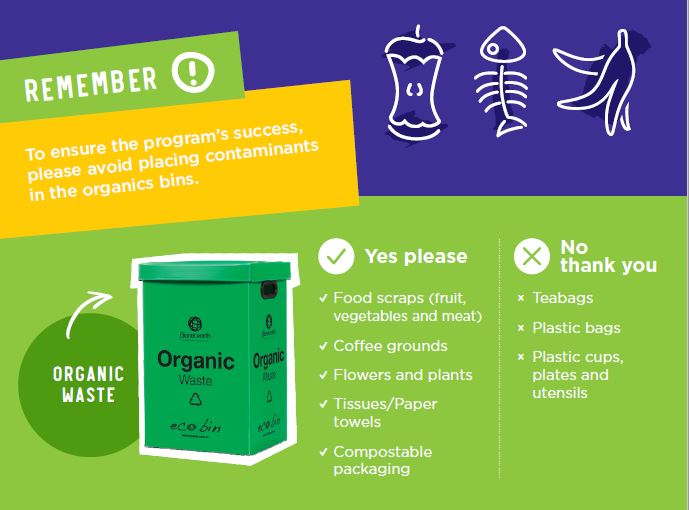 For further information please contact the Sustainability Office. Email: sustainability@uq.edu.au