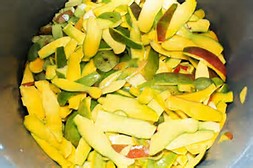 UQ's Gatton campus isn't letting a scrap of food go to waste thanks to their smart and sustainable new composting initiative.
Introduced in March 2017, first at the campus Walkway Café and then at the campus dining hall, the system allows kitchen staff to collect food scraps such as vegetable peelings and fruit rinds from production and place them in a dedicated organics green bin. Suez staff then collect the green bins each day along with other organic waste on campus and transfer it all for composting.
Gatton's dining hall serves three meals a day, seven days a week, to students occupying the 436 rooms at Gatton Halls of Residence—that's a lot of food.
"The morning organic recycling is mostly fruit and salad ingredients for breakfast and lunch prep, with vegetables being the main recyclable from dinner preparation," reveals Manager of Gatton Catering, Michael Williams.
"We try to ensure production food wastage is kept to a minimum through good kitchen practices and encourage students to come back for second helpings rather than overfill their plates, thus reducing food waste."
Head of Gatton Halls of Residence, Simon Scott, is delighted with the results so far. "It's been a great initiative to recycle food waste from the Dining Hall and Walkway Café kitchens," he says. "It's been a relatively easy transition to separate food waste for composting and divert it from going to landfill."
Although the waste recycling stream is referred to as 'organic', the term in this context doesn't mean that the food being recycled is organic, but instead refers to the nature of the material being recycled—'organic waste' generally means food, garden clippings and degradable carbon such as paper and cardboard.
Food scraps and garden waste are ideal for composting, as they contain valuable nutrients that can enrich soil and limit the need for artificial fertilisers. 
Composting itself is an especially beneficial activity when it comes to the environment—the simple act of recycling material such as food scraps can reduce landfill and prevent greenhouse gas emissions. It's great to see Gatton embracing this sustainability initiative—it's given us food for thought indeed!