Students, researchers, academics, professional staff and executives contributed nearly 2,000 ideas and insights to UQ's inaugural whole-of-University Sustainability Strategy, launched this month to guide the University's sustainability action plans over the coming years. 
The strategy brings together diverse educational, research and operational programs to place the University at the forefront of seeking solutions to sustainability issues.
UQ ranks in the top 20 universities worldwide* for studies in Environmental Sciences, but our commitment to sustainability goes much deeper than flagship achievements, as this strategy shows.
From water infrastructure to building design, from gender equity to sustainable purchasing guidelines, UQ strives to be a sustainability leader in many areas.
Read the UQ Sustainability Strategy 
A global framework
Using a leading global sustainability framework established alongside the United Nations Sustainable Development Goals (UN SDGs), UQ's Sustainability Strategy outlines current and new commitments, organised into 17 themes under four key pillars:
Academic
Operations
Engagement
Administration and planning.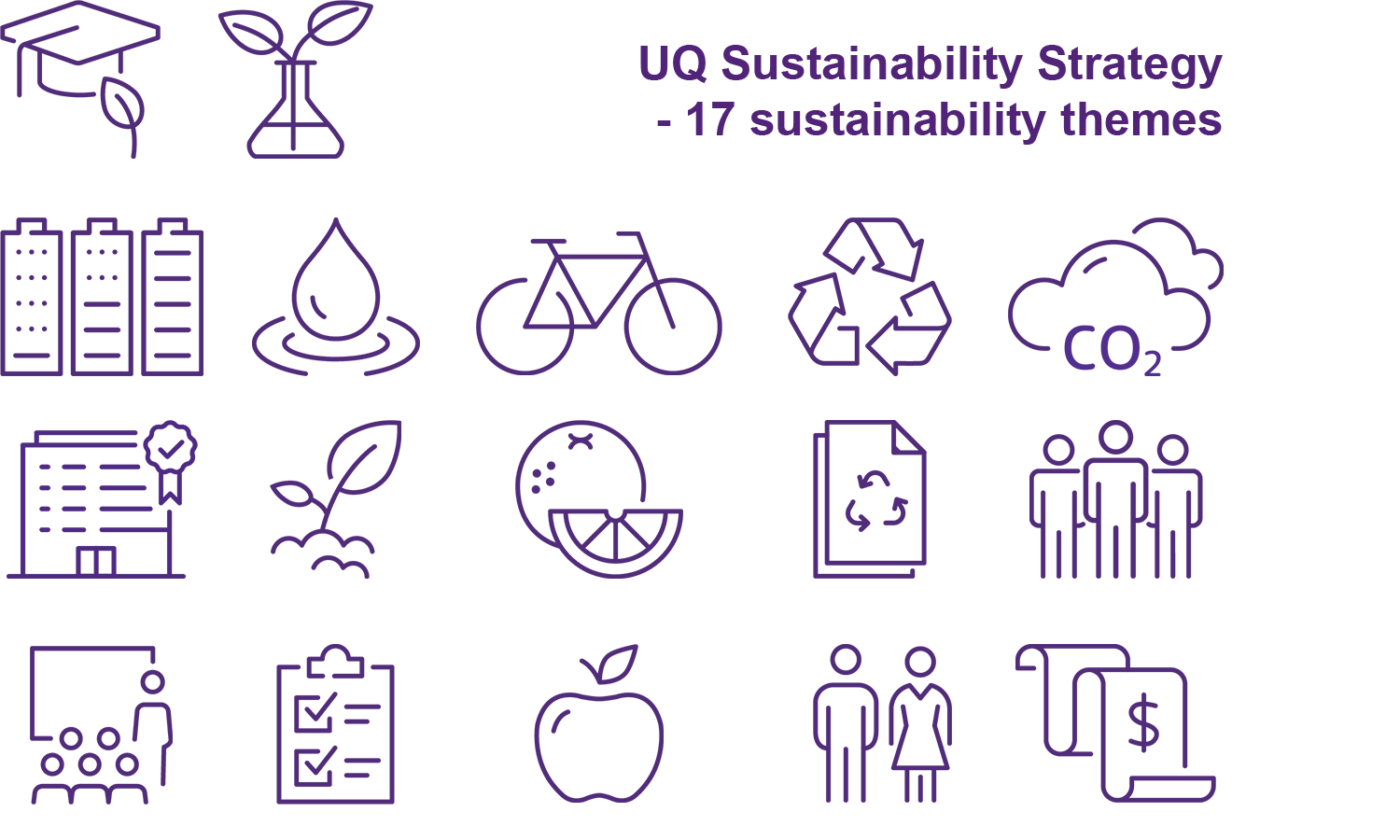 Student and staff contributions
Surveys and workshops undertaken during the development of the strategy revealed the areas where students and staff believe they can make the biggest difference by changing their own day-to-day habits. 
Goals such as reducing waste to landfill, increasing public transport and electronic bike or scooter use, re-purposing food waste, and minimising personal water and energy consumption were commonly cited, and hundreds of terrific ideas for new initiatives were received.
Many of these are feeding into tangible action plans currently under development with experts and community representatives across each of these areas.
Leading research underway
Across UQ, researchers are working diligently towards improving the fortunes of the planet and the people inhabiting it, and many of their projects align closely with the SDG principles.
This insightful piece from the UQ Centre for Policy Futures looks at how public, private and academic sectors may be able to collaborate to achieve the best outcomes.
It also showcases just a selection of the leading research projects currently underway at UQ, whose goals integrate with the SDG agenda. More SDG-related research can also be found here.
Measuring success with STARS
Detailed operational action plans will underpin the new Sustainability Strategy in each area of specialisation. These plans will be comprehensive road maps to the many individual tasks and projects that support UQ's sustainability commitments. 
Successes and challenges will be measured in detail using STARS [Sustainability Tracking, Assessment and Rating System], an industry-endorsed measurement and assessment tool for the tertiary sector. 
STARS measures sustainability across the four main categories of UQ's new strategy and, as such, it provides an accountability loop that enables the University to continually monitor its progress and access best practice feedback and suggestions from a global body of institutions.
UQ received its first ever STARS result early in 2021, achieving a high Silver rating out of a possible four levels (Bronze, Silver, Gold and Platinum). Each rating represents significant sustainability leadership, and UQ is now working towards reaching Gold status.