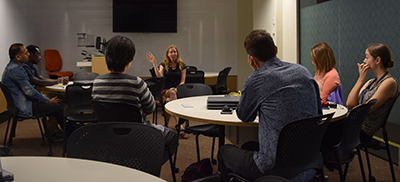 Have you ever wondered about the social cost of carbon offset projects? On Monday 23 October, Green Office representatives discovered the dark side of carbon accounting at the Green Office Seminar with Dr Kristen Lyons, Senior Fellow at the Oakland Institute and Associate Professor in the School of Social Science at The University of Queensland.
Dr Lyons is an expert on carbon offset projects—in 2014, she co-authored a report called The Darker Side of Green: Plantation Forestry and Carbon Violence in Uganda, which explores the social cost of corporate land acquisitions in developing countries to establish forestry plantations to offset carbon pollution.
But as Dr Lyons explained, these solutions aren't all they're cracked up to be. In fact, they they can often cause more problems than they solve.
In the case of Uganda, a company called Green Resources, which implements forestry-based carbon offset projects, forced to people move from land that they were encouraged to move to just decades ago in the wake of conflict, and the consequences of this were manifold. Residents not only faced limited access to bore holes, wells and sites of cultural significance, but had to graze their animals on riparian zones and grow crops in precarious areas.
Worse still, biodiversity was seriously compromised when ecologically diverse forests were cleared for monoculture plantations that were sprayed with chemicals, killing off crops that local residents relied on. Ongoing political instability in Uganda meant that the government wasn't sufficiently equipped to address these challenges.
Unfortunately, carbon offset projects are an increasingly popular measure to combat climate change, particularly in the wake of international agreements such as the Paris Agreement that call for climate change reduction targets. The aviation industry, in particular—which, if it was a country, would be ranked seventh in the world for its carbon dioxide emissions—has embraced carbon offset programs.
So what's the solution? According to Dr Lyons' report, four forms of action are required: investigating third-party certification, monitoring and compliance; making investors in companies like Green Resources accountable; reforming the global plantation forestry and carbon market; and working to establish a sustainable global future, which includes investing in renewable energy to reduce our emissions in a more effective and less harmful way.