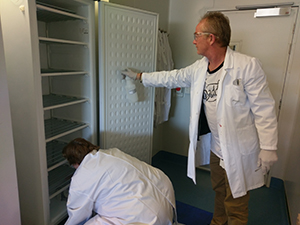 Chilling up freezers can yield massive energy savings, so the Green Labs Program once again ran their annual Freezer Month competition in August to coincide with Sustainability Week. Green Labs representatives who took part had the chance to score a fantastic prize while reducing energy consumption in their lab—a clear win-win situation!
Representatives from 11 participating labs were given several different methods of reducing freezer energy consumption in their labs:
defrosting freezers and cleaning out ice and old samples
'chilling up' by raising Ultra-Low Temperature (‒80°C) freezers to ‒70°C, switching off old freezers or upgrading to more energy-efficient model
sharing freezer space with other labs
setting up an inventory for their freezers to keep track of samples.
The great freezer-cleaning efforts from Suzanne O'Hagan and her lab at the Queensland Alliance for Environmental Health Sciences ensured that they took home the prize of an Oxfam fair trade gift pack of goodies for the whole team to enjoy.
Carrying out regular freezer maintenance can significantly lower energy use, with the added bonus of resulting in a well-organised freezer with easy to locate samples. Discarding old samples can also reduce the need for several ULT freezers, and make accessing in-use samples much easier.
The Green Labs Freezer Month competition not only raised awareness about freezer energy use and how to lower it, but prompted lab staff to undertake regular freezer maintenance. A big thanks to everyone who took part in August!