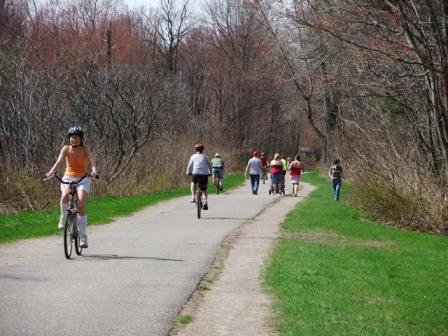 Keen to put the brakes on your emissions? Set your wheels in motion on Green Transport Thursday on 23 August as part of this year's Sustainability Week! Embrace sustainable travel and learn more about its benefits at events such as the Tesla Electric Vehicle Expo. All aboard!
It's no surprise that transport is one of our most significant sources of greenhouse gas emissions—in Australia, transport contributed to 17% of our total emissions as recently as 2013, which is higher than the global rate of 14% reported by the Intergovernmental Panel on Climate Change in 2010. So which forms of transport are the most environmentally friendly, and how can we make sustainable travel a second-nature choice?
How sustainable a method of transport is can be measured by the level of emissions it produces. This means that vehicles such as trucks, cars and planes are generally the worst cuprits—even ferries aren't an especially sustainable choice (travelling 10 km by ferry emits 2.43 kg of CO2, slightly more than travelling the same distance by car). Walking and cycling, of course, are the clear winners when it comes to low-emissions travel, although these options might not be available to everyone.
Thankfully, there are plenty of other choices you can make to reduce the environmental impact of your travel:
use public transport instead of driving
if you're planning to buy a new car, use the Australian Government's Green Vehicle Guide so you can choose a more sustainable model
consider investing in an electric car (Queensland Government now has an electric super highway, which means motorists can drive from Coolangatta to Cairns thanks to the 17 charging stations installed along the way; extra funding means more chargers will be installed soon)
consider car-pooling to help take some cars off the road
reduce business travel by videoconferencing where possible.
UQ is leading the charge when it comes to sustainable transport—in 2016, the university installed Queensland's first solar-powered electric vehicle fast-charging stations at the St Lucia and Gatton campuses; a zero-emissions Tesla Model S is now available to staff to hire from UQ's Pool Fleet; numerous on-campus end-of-trip facilities are available for cyclists; and UQ staff can now access the go Bus Travel Benefit card, which allows them to salary sacrifice the cost of their bus travel to and from work. For more information about sustainable transport options at UQ, visit the Transport Services page. Ready, set, go!