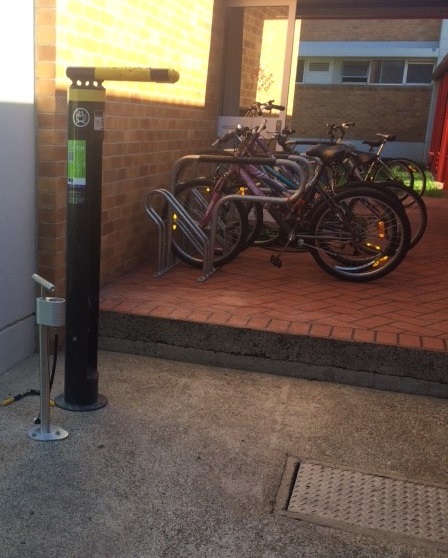 The latest locations to receive a Bicycle Repair Station are outside Riddell and Sheldon halls (Buildings 8119 and 8122) at the Gatton campus.
Don't have the tools to fix your bike? Not to worry, because The University of Queensland is now equipped with 11 free Bicycle Repair Stations, with more coming soon.
These self-service stations have been popular with UQ cyclists in need of a quick repair or air pump while on the go.
Eight stations are located on the St Lucia campus at the following locations (see the first map below):
At the entrance to the Aquatic Centre
Outside Bike Box 98 (Multi-level car park 2, Building 98B) 
Outside the Bike Shop
Outside Bike Box 41 (Level 1, Building 41)
In the UQ Lakes District
Outside the Michie Building
Outside the AIBN Building
Outside the Eric Freeman Boatshed (Building 30)
Two more stations have now been installed on the Gatton campus at the following locations (see the second map below):
By the bike racks at Riddell Hall (Building 8119)
By the bike racks at Shelton Hall (Building 8122)
One station is located at the Pharmacy Australia Centre of Excellence (PACE) in Woolloongabba, just across the Eleanor Schonell (Green) Bridge from the St Lucia campus; one is located beneath the Oral Health Centre (OHC) at the Herston Campus (the OHC sits alongside the UQ School of Medicine and School of Population Health at 288 Herston Road). Another station will soon be installed at the Gatton campus, one at Herston and another at Long Pocket.
Each station features the tools necessary for performing basic repairs and maintenance, from changing a flat to adjusting brakes and derailleurs. Available tools include:
Screwdrivers – both flathead and phillips
Allen Wrenches
Tyre lever
Air pump  
Hanging the bike from the hanger arms allows the pedals and wheels to spin freely while making adjustments.
For more complex repairs, head over to the Uni Bike Shop at its new location under the Pizza Caffe on Union Road.
For more information about cycling facilities at UQ, including how to get access to secure bicycle rooms and Bike Boxes, visit the Property and Facilities website.