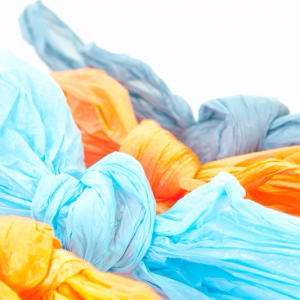 Did you know that UQ now provides soft plastics recycling on campus? Soft plastics—which include any plastic that can be easily scrunched into a ball—can present a problem for council kerbside recycling, as they often get caught in the recycling machinery.
The following items can be recycled in UQ's soft plastics recycling stream:
plastic shopping bags
shrinkwrap or pallet wrap
soft packaging for items such as biscuits, pasta, confectionery and frozen food
bread and cereal bags.
The following items are not suitable for the soft plastics recycling stream:
plastic bottles
plastic containers (e.g., yoghurt containers)
any other forms of rigid plastic (e.g., meat trays or strawberry punnets)
glass
rubber
tin cans.
Soft plastic recyling poster can be found here.
All you need to do is collect your soft plastic waste and designate a storage area for it in your office. There's no need to remove any small paper labels—unless they're larger than A5 size—from packaging such as shrinkwrap, as a little bit of paper won't affect the recycling process.
Once you've amassed at least one shopping bag's worth of soft plastics, log a "waste" request in Archibus to request collection.
While the new soft plastics recycling initiative is great news for sustainable practice on campus, the best environmental choice you can make is to avoid your use of plastic as much as you can.