Green Programs 2019: Spotlight on Representatives - UQ VETS Equine Specialist Hospital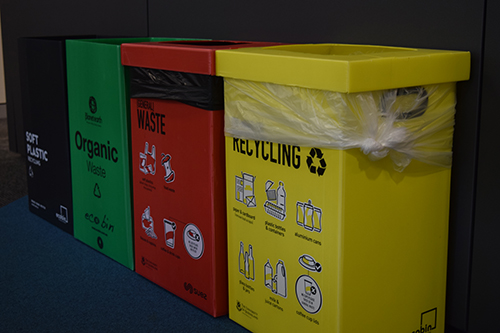 Waste is complex to manage sustainably, but this has not stopped waste-reduction champions Biancia Galletly and Carlos Medina-Torres from implementing fantastic initiatives.
Working at the UQ VETS Equine Specialist Hospital and Small Animal Hospital in Gatton, Biancia and Carlos noticed a lot of trash ending up in landfill, and a lot of non-clinical waste ending up in the clinical waste stream. 
In an attempt to lessen their environmental footprint, they contacted the Sustainability Office for guidance. With the help of Christine McCallum, a Project Office in the Sustainability Office, P&F Cleaning, and Suez, UQ VETS are looking at different solutions to increase recycling and decrease the amount of clinical waste generated.
These solutions include the following:
The introduction of organic bins in the bathrooms, kitchen and wash stations will ensure hand towels are diverted from both landfill and the clinical waste stream. Instead, they will be converted into compost through the organics waste stream.
Manure and animal bedding is also being collected within the organic stream, along with food scraps from the lunch rooms. Diverting food scraps from landfill is an easy change workplaces can implement. Not only does organic waste emit methane as it decomposes in landfill, but it can be put to better use as compost for soils and gardens.
UQ VETS will continue to expand soft plastic recycling around the clinic, ensuring that packaging and shrink wrap stay out of the landfill. Drink containers are also being collected for the Containers for Change refund scheme, with the proceeds being donated to charity. Co-mingled recycling bins will be strategically located around the building to capture aluminium pet food cans, rigid plastic bottles and paper.
Cardboard is being collected separately and being converted into bedding for the hospital's equine patients. Transforming cardboard into bedding for horses not only reuses existing material, but saves money from buying bedding, creating a cost-effective and environmental solution. Using cardboard, instead of other materials, is also beneficial for horses with health concerns. Read more about The Agribedding Project here.
While recycling is sometimes overlooked by workplaces as a "given", it is important to ensure there are multiple convenient collection points, and staff feel it is easy to dispose of their recycling correctly. Ensuring responsible end-of-life procedures, like sending paper to a recycling facility or cardboard being made into bedding, is also crucial.
Diverting waste away from landfill requires creative solutions, proactivity, and enthusiasm, all of which have been achieved by the wonderful waste champions at the UQ VETS hospital. As they work towards improved environmental practices, hopefully other workplaces in the UQ community will follow their example.