Green Programs 2019: Spotlight on Representatives - Florencia Falguera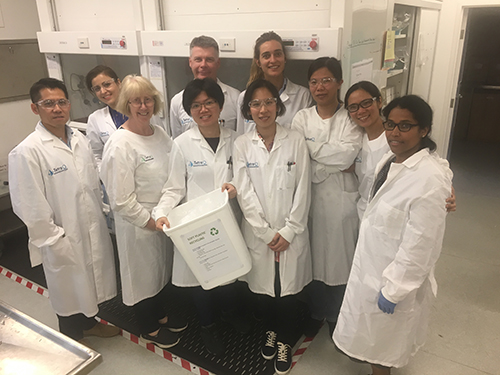 Florencia Falguera was one of first new reps to join the Green Labs program in Semester 2, 2019. A research scientist at Herston's TetraQ, Florencia travelled to St Lucia for training with the Sustainability Office's Project Officer, Christine McCallum. Florencia learned about waste, water, procurement and energy within a lab context, as well as the best strategies to make a lab environmentally friendly.
Florencia decided to join the Green Labs Program because she was keen to implement new green practices in her lab, and wanted to know what other labs were doing. As a lab is very different to an office when it comes to sustainable practices, the Sustainability Office offers training, newsletters and events specifically tailored to the lab environment for Green Labs reps to stay informed.
Being environmentally conscious, Florencia had already implemented some green practices before becoming a rep. She implemented the "better, greener and more efficient" way of disposing of solvent mixtures. She also positioned a new co-mingled recycling bin in the kitchen, which helped capture waste that was going in general rubbish previously.
Since joining the Green Labs program, Florencia has implemented soft plastic recycling in the labs and offices, positioned "Shut the Sash" labels around fume cupboards, and wrote a Standard Operating Procedure for HPLC (High-Performance Liquid Chromatography) waste disposal. In the future, Florencia hopes to start recycling solvent bottles and labelling equipment to communicate appropriate warming times.
"I believe a laboratory will never be 100% environmentally friendly, but there is always room for improvement and [to] make less environmental impact in our daily actions. Achieving this is not hard if we have adequate commitment and training."