Green Office 2018 Surveys
Office surveys are a useful way for offices to identify areas for improvement and measure progress over the years in the Program. Green Office surveys assess four key performance areas of energy use, waste management, environmentally responsible purchasing, and awareness of UQ's sustainability initiatives.
Upon joining the Green Office Program, representatives complete a baseline survey of their office, to set a benchmark for future years and highlight areas for improvement. Existing Green Offices are invited to conduct an annual survey, which is useful to provide comparisons between surveys to measure progress and continue to identify areas for improvement each year. The results of both surveys are compiled in a report, which includes recommendations for improving sustainable practices and strategies to achieve behavioural change in the office.
Surveys are conducted by Green Office representatives and their colleagues in three sections:
1.      A walk-through survey, which is completed by the representative outside of usual office hours, based on observations of energy and resource use;
2.      Surveys conducted by individuals in the office, which can be completed as an anonymous online questionnaire, with an ideal sample size of about one quarter of the staff in the office;
3.      A survey of procurement practices completed by the office's purchasing officer.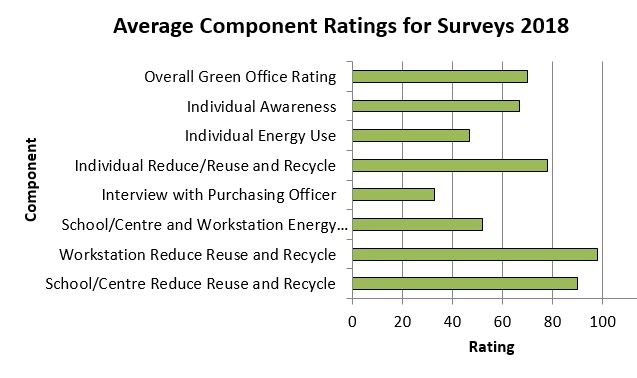 The survey results are then calculated as an average of the responses to each question for the three components of the survey.
The results of the walk-through analysis help to determine the environmental performance of the office, by analysing the level of consideration for environmentally responsible waste management, including recycling, and the efficiency and minimisation of energy use.
The interview with the purchasing officer is completed to measure the preferences for environmentally-preferred purchasing within the office with the aim of identifying opportunities for potentially large impacts on sustainability through environmentally-conscious procurement.
A sample of staff within the Green Office complete a survey on their environmental behaviours including waste management and energy use, and awareness of UQ's sustainability initiatives, policies and procedures. This ensures that appropriate recommendations can be made for widespread improvement of staff's contribution to sustainability.
Waste reduction and recycling continue to be areas of strength across surveyed UQ Green Offices, while sustainable purchasing and energy use present opportunities for change.
The results of the 2018 surveys are shown in Figure 1 with each component's rating and the overall Green Office rating. Results remain consistently strong with an average overall Green Office rating of 70%, the same as 2017.