Green Office 2018 Promotions and Initiatives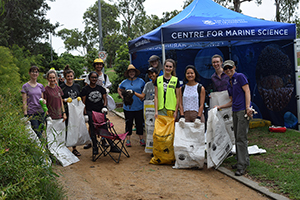 Green Office Promotions aim to increase awareness of various sustainability issues. The promotions offer examples of everyday sustainability initiatives and provide incentives for Green Office members to make sustainable choices around the workplace and in their home environment. Participants were rewarded throughout the year with reusable products as prizes for their involvement, including stainless steel straws, reusable produce bags, KeepCups and water bottles, as well as plastic-free Fairtrade prizepacks.
Clean Up Australia Day
Along with the Centre for Marine Science and Society for Conservation Biology UQ, Green Office representatives helped to refresh the riverbank for Clean Up Australia Day in February. 60 enthusiastic volunteers cleared more than 20 wheelie bins full of rubbish from the riverbanks at St Lucia and Long Pocket.
Five Days of Plastic promotion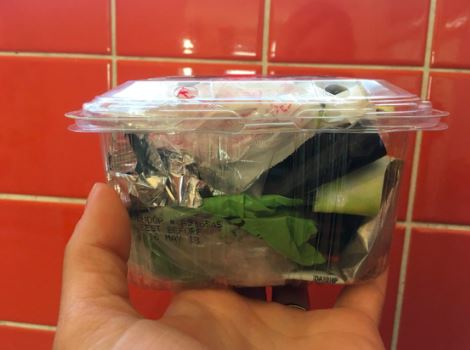 Green Office reps collected all their plastic waste in a jar for a week in May to increase their awareness of the amount of single-use plastic they use, with the ultimate goal of reducing its impact on landfill and the environment.
A special mention goes to Rachel Friedman and her colleagues in the Centre for Biodiversity and Conservation Science for getting involved in the promotion for the second year in a row.
The Centre's awareness through their research on the impacts of plastic pollution on marine life and birds is evident in their minimal plastic footprint during the week.
Green Office Composting program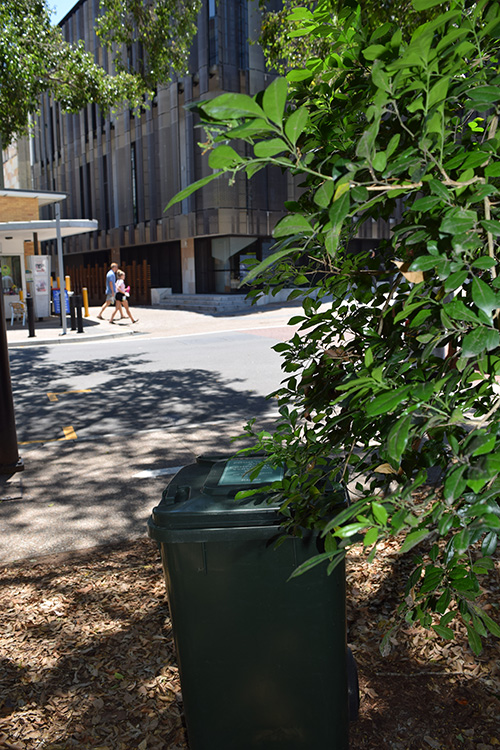 Green Office composting expanded in 2018, with the introduction of a second collection point next to the Global Change Institute. The addition of extra collection facilities and increased servicing has improved efficiency, made the service easier to access and supported the expansion into more office areas.  All organic wastes that are collected are composted or digested by worm farm and then utilised in farming operations.  Benefits include reducing waste to landfill, production of nutrient rich soil for farming and creating a closed-loop waste management system. The composting initiative began in 2017, and quickly gained popularity. After less than 2 years, there are more than 40 offices taking part in the composting program.
Sustainability Week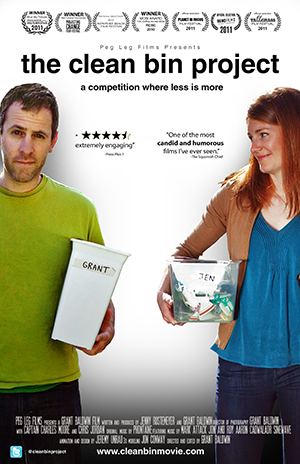 The Green Office Program hosted a film series in UQ's annual Sustainability Week, including a lunchtime screening of the film Minimalism and the thought-provoking documentary, the Clean Bin Project. Winner of ten film awards, the Clean Bin Project tells the story of a couple who go head to head in a competition to see who can produce the least garbage, against the backdrop of the waste problem caused by our throw-away society. Following the screening, attendees pledged one way they planned to reduce their waste and were rewarded with zero-waste prizes. The lunchbox session helped top up attendees' motivation to opt out of consumerism and reduce their waste.
The success of Sustainability Week was bolstered by the input of Green Office representatives in organising and participating in events. Christine McCoy, the School of Psychology's Green Office representative, organised some extremely successful events on Monday. 'The environmental impact & psychology of eating animals' was a booked-out seminar with UQ's Associate Professor Kelly Fielding, social and environmental psychologist, and Scott Wallace, environmental scientist and conservationist. The Farm Animal Rescue vegan hot dog stall raised money to care for animals freed from abusive situations and factory farms.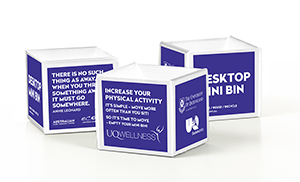 Green Office representatives were invited to get in early to the new Desktop Bin Swap program and they took up the challenge to swap their under-desk bins for small desktop ones. The removal of under-desk bins will save more than half a million plastic bin liners every year and help UQ increase recycling and reduce waste going to landfill.