Green Office 2017 Surveys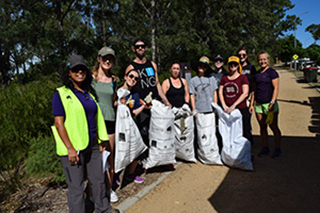 The Green Office Program encourages Green Offices to assess their environmental performance by completing the Green Office survey. Upon joining the Program, representatives are encouraged to complete a baseline survey of their office. By setting a benchmark for future years, the baseline survey helps to highlight areas for improvement and provide guidance for implementing changes within the office to reduce their environmental impact.
Offices within the Program that have already completed the baseline survey are invited to complete annual surveys of their environmental practices, in order to provide comparisons between the current and previous year that the survey was taken. The survey results of baseline and annual surveys are provided in a personalised report, including the sustainability practices that have improved, recommendations for future improvements and suggestions for strategies to achieve progress in improving sustainable office habits.
Four areas of sustainability performance are assessed in the Green Office survey; energy use, waste management, purchasing practices and awareness of UQ's sustainability initiatives. The survey has three sections:
A walk-through analysis which is completed by the representative outside of usual office hours, based on observations of energy and resource use;
An interview with the purchasing officer, to gain an understanding of the level of environmentally-preferred purchasing within the office.
Interviews with individuals in the office, which can be completed as an anonymous online questionnaire, with an ideal sample size of about one quarter of the staff in the office.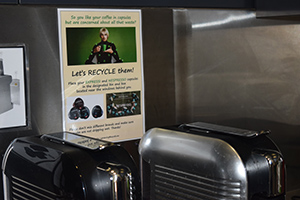 The survey results are then calculated as an average of the responses to each question for the three components of the survey. The results of the walk-through analysis help to determine the environmental performance of the office, by analysing the level of consideration for environmentally responsible waste management, including recycling, and the efficiency and minimisation of energy use. The interview with the purchasing officer is completed with the aim of identifying opportunities for potentially large impacts on sustainability through environmentally-conscious procurement. A sample of staff within the Green Office complete a survey on their environmental behaviours including waste management and energy use, and awareness of UQ's sustainability initiatives, policies and procedures. This ensures that appropriate recommendations can be made for widespread improvement of staff's contribution to sustainability.
From October 2016 to October 2017, annual and baseline surveys were undertaken at the St Lucia campus. The average score for the annual survey across offices is typically higher than that of the baseline surveys, reflecting improvement of practices and awareness as representatives and offices spend more time in the Green Office program.
The Sustainability Office supports Green Offices with program ideas and implementation. Energy efficiency programs can be implemented with the use of awareness campaigns, including placing 'Switch Off and Save' stickers and posters around the office, as well as with the provision of funding in the annual Energy Efficiency Program Fund for major energy saving projects, which can be identified in the survey.