Green Office 2017 Spotlight on Representatives
Rachel Friedman and Megan Craig from the School of Biological Sciences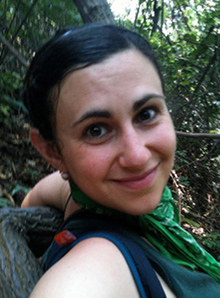 We would like to extend a warm welcome to Rachel Friedman, who joined the Green Office Program as a representative earlier in 2017. Since joining the Program, Rachel has initiated the collection of food waste in her kitchen to contribute to the composting program, helping her colleagues to divert waste from landfill and be put to productive use on the campus gardens. Rachel's research in biodiversity and forest conservation has her well-placed to initiate changes to everyday habits at the School, to have lasting impacts on sustainability. In the coming year, Rachel would like to focus on more sustainable lunch purchases, as well as becoming more active in broader sustainability initiatives on campus.
Also in the School of Biological Sciences, Megan Craig has worked hard to inspire others to cut down on waste produced from food and food-packaging, by looking after the collection of food waste in the area for composting, and coordinating the Fork It! event during UQ Sustainability Week in 2016 and 2017. Fork It! was organised to raise awareness of the amount of waste created by plastic cutlery, and to provide more sustainable alternatives for the UQ community to reduce their everyday plastic waste, with a stall held at lunchtime on Trash-free Tuesday at the Union's Physiol Refectory and Main Refectory. Several volunteers from the school promoted the use of biodegradable or reusable cutlery, as well encouraging people to request lunch items such as sushi to be put in a paper bag, rather than a plastic box, and opting for a bulk bottle of soy sauce rather than the individual plastic "fish" containers.
The Centre for Marine Science, within the School of Biological Sciences, co-hosted the riverbank restoration, clean up and tree planting event during UQ Sustainability Week, as well as the Clean Up Australia Day event in February. Members of the UQ community helped to clean up the riverbank of the St Lucia Campus and at Long Pocket, and planted 850 native trees to support native wildlife and local biodiversity.
Christine McCoy and Nathacha Subero Castillo from the School of Psychology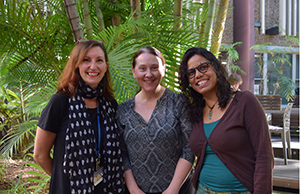 Over many years, UQ's School of Psychology have become extremely active participants in the Green Office Program. At this year's first Green Office Training Session in March, representatives Christine McCoy and Natacha Subero Castillo shared their experiences with new representatives. In an effort to embed sustainable thought and action into daily campus life, School staff have also created a unique set of sustainability guidelines that outline their expected standard of environmental practices in the workplace. The guidelines encourage a number of easy-to-implement steps and alternatives that staff across UQ can incorporate into their workplace practices, including the elimination of single-use plastics, minimising stationery and printing waste, and considering the carbon footprint of catering choices. The School is very dedicated to reducing their carbon footprint resulting from food waste, by ensuring that all food waste is composted in the new UQ composting initiative.
The School has yet again organised several successful events during UQ Sustainability Week. Christine invited Philip Wollen, Australian philanthropist, vegan and animal rights activist with an Order of Australia Medal, to present a seminar on social justice, kindness, individual choices and sustainability to a sold out audience in the Global Change Institute, while 5,000 people tuned in to the livestream. Christine also organised the MooFree Burgers Truck for Meat-free Monday in the Great Court, which proved to be so popular that it was their biggest ever day of trading. Lily Davidson, an honours year psychology student co-hosted a successful screening of Bag It with Healthy Land and Water. This is a documentary about a man who made a pledge to stop using plastic bags at the grocery store, changing his life completely in the process. By organising these events, the School of Psychology has succeeded in inspiring and involving thousands of students and staff in Sustainability Week.
Kim Newbigging from International House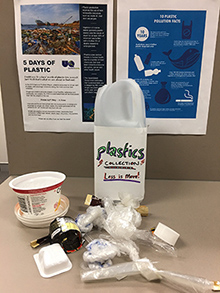 Kim has been making waves at International House in the sustainability scene with her involvement in the #UQ5DaysofPlastic challenge. She persuaded eight people to participate in the initiative to collect all plastic used in one week, with the aim of reducing single use plastic if participants could see exactly how much was wasted. In the end, all of their plastic only half-filled a 2L repurposed milk bottle.
International House had already implemented a number of plastic reduction initiatives including the purchase of reusable water bottles, encouraging plastic-free catering, and thinking twice before buying 3pm chocolate treats. International House's director embraced the challenge by buying some reusable containers for the office to eliminate their use of glad wrap and they now use a large jar of coffee instead of individual serves. The biggest generator of plastic at International House was packaging from external sources, such as air filled plastic bags from suppliers.
Since the 5 Days of Plastic challenge, Kim has ensured all stationery orders are from suppliers who use appropriately sized boxes and do not put additional plastic padding in deliveries. Next year, she also intends to look into introducing soft plastic recycling, and further engage students to be more sustainable in their daily lives.