Green Office 2017 Seminar Series and Training
Green Office Seminar Series
Green Office Seminars engage UQ experts from a range of disciplines to deliver a talk to Green Office representatives on an issue related to sustainability. The sessions provide a unique and interactive platform for networking among representatives and have the ability to facilitate valuable idea exchange. They also improve knowledge on various sustainability topics and leave representatives feeling inspired to take action on green initiatives in their homes, offices and the wider community.
Environmental Activism 101: How to change the world, Associate Professor Winnifred Louis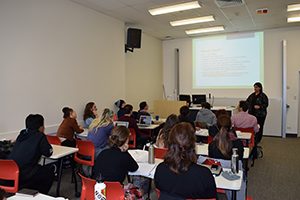 In June, keen Green Office representatives attended a presentation on 'Environmental Activism 101: How to change the world' delivered by Associate Professor Winnifred Louis from UQ's School of Psychology. The talk focused on the communication of pro-environmental action, from a psychological perspective of the best way to persuade others to become involved.  The session inspired representatives to use positive approaches to engage their colleagues in environmental initiatives around their offices on a day to day basis. Attendees learned that it is more effective to keep goals realistic and to inspire incremental change through open conversations to build trust, rather than to aim too high and alienate audiences.
Offsetting the burden? Associate Professor Kristen Lyons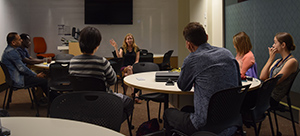 The Green Office Program was very grateful to have Associate Professor Kristen Lyons from the UQ School of Social Science speak at the second seminar of 2017, on the topic of the social burdens of carbon offset programs. Dr Lyons has a wealth of knowledge in the fields of environment and development, including resource conflicts in the global south, nanotechnology, agriculture and food security. The discussion shed light on the overlooked impacts of global carbon offset initiatives on countries and communities in the Global South, including forced evictions, food insecurity, constrained access to boreholes, wells and sites of environmental significance.
Due to political instability, some countries are often ill-equipped to deal with the complex issues presented by these carbon offset projects. Dr Lyons explained that despite the importance of climate change-reducing strategies to be pursued, the expectation of certain countries to carry the disproportionate burden of the limits of these projects should also be taken into account. The seminar provided representatives with insights into carbon offsets as a market-based strategy for reducing the severity of climate change, questioning the value of such a strategy which can cause unjust outcomes for many people.
New Representative Training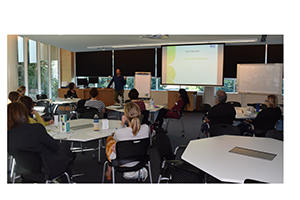 The Green Office Program grew significantly in 2017, with fifteen new representatives from ten offices joining the two training sessions this year. The training sessions equip new Green Office Representatives with the resources and ideas needed to improve sustainability in their offices in an informal and interactive setting, as well as going over the broader sustainability initiatives at UQ.
Some of the current representatives were invited to share their experience and ideas from their time in the Green Office Program. This year's guest speakers were Christine McCoy and Nathacha Subero Castillo from the School of Psychology, who shared the sustainability guidelines they created for their School, and Barnaby Casson from the Duhig Library, who shared how large energy savings were achieved by reducing lighting times library spaces that aren't in use 24 hours a day.