Green Office 2017 Promotions and Initiatives
Green Office Promotions aim to increase awareness of various sustainability issues. The promotions offer examples of everyday sustainability initiatives and provide incentives for Green Office members to make sustainable choices around the workplace and in their home environment. This year, participants were rewarded with reusable products as prizes for their involvement, including stainless steel straws, reusable produce bags, KeepCups and water bottles.
UQ's 5 Days of Plastic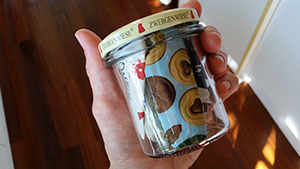 UQ's 5 Days of Plastic promotion encouraged UQ staff to take responsibility for their waste, by challenging them to fit five days of plastic waste into a single jar from 29th May to June 2nd. Seventy participants from across UQ posted, tweeted, and emailed their pictures of the amount of plastic waste they used across a five day period. The week coincided with the release of the popular ABC program 'War on Waste', increasing the involvement from participants thanks to the pervasiveness of the messages coming from television and social media.
Green Office Composting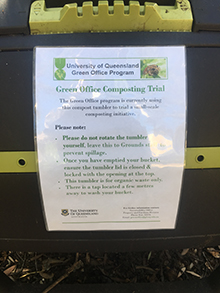 Green Office representatives were eager to begin when a staff composting initiative was introduced at the beginning of 2017. Interested representatives were provided with a compost kitchen caddy to collect organic food waste from their office kitchens, and they then delivered this to a receptacle on campus. The immense popularity of this initiative has seen the need to upgrade the capacity of the compost receptacle before the end of the year. The food waste collected from staff kitchens is combined with brown compost (such as dry leaf matter) by UQ grounds staff and then used as mulch on campus. This program has seen considerable amounts of waste diverted from landfill, lowering greenhouse gas emissions, and being put to productive use by contributing to soil quality on the gardens of the university, helping it to increase water retention and sequester carbon dioxide. At present, over 40 offices are taking part in the composting program.
Warp It

Many UQ staff have embraced Warp It, a resource sharing initiative which allows UQ staff to offer unwanted office items to other staff across UQ. This initiative has provided another way that offices can reduce their waste, by ensuring that any surplus furniture, unused stationery and office supplies, printer consumables and lab equipment can be shared with staff who will put these items to more productive use, reducing procurement costs, as well as the financial and environmental costs of waste disposal. In 2017, the option to donate unclaimed goods to charities was introduced to ensure that all items are used to their maximum potential. Since the introduction of Warp It to UQ in 2016, more than 31,000 kilograms of carbon dioxide and ten tonnes of waste have been saved, by reusing furniture instead of buying new.
Soft Plastic Recycling
UQ introduced soft plastic recycling to its waste minimisation program in 2017, allowing UQ staff to reduce the amount of plastic sent to landfill. Soft plastics, such as plastic bags, cannot be recycled with other types of plastics and present a problem for traditional co-mingled recycling, as they get caught in the machinery, causing breakdowns. The separation of this waste stream ensures more efficient recycling, and the separation of soft plastics from the standard waste (rubbish) stream can make people more conscious of the amount of plastic used. Soft plastics constitute plastics that can be easily scrunched into a ball, and all offices on campus are able to take part in soft plastic recycling.
UQ Sustainability Week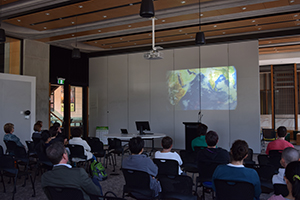 During UQ's annual Sustainability Week, the Green Office Program held a lunchtime screening of the thought-provoking documentary, A Plastic Ocean. During a four year period, scientists documented the amount of plastic in oceans around the world, after coming across unexpected plastic on the search for the blue whale, in what should have been pristine waters. The lunchbox session left many attendees with a clearer idea of the consequences that a disposable culture has on marine life and human health, as well as providing inspiration with workable technology and policy solutions which can change things for the better.