Join us in GCI or over zoom to learn about how to "Recycle Right" at UQ. This session will cover UQ's most recently added waste streams, such as organics and soft plastics, while helping to answer any questions you might about recycling or waste disposal at UQ. 
The session will conclude with a tour of GCI by Green Office Representative, Whitney Jeffery, who will take you through the different changes she has made to the waste streams in the building.
Don't miss out! Registration is essential.
Please note: All events and spaces are operating in line with current guidelines. We ask that you please practice social distancing at all times and if you have travelled in the last 14 days, been in contact with someone with COVID-19, or if you are feeling unwell or experiencing COVID-19 or flu-like symptoms, please stay at home. Where relevant, you will be required to provide your contact details for contact tracing purposes.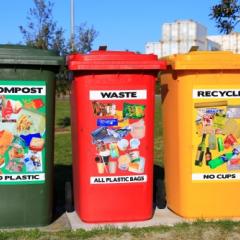 Image by Nareeta Martin from Unsplash
About National Recycling Week 2021
National Recycling Week is a campaign that runs across Australia from 8th – 14th of November. This campaign aims to encourage informed recycling and reuse behaviours by providing the tools and information needed to minimise waste and manage material resources responsibly. 
National Recycling Week at UQ this year will include a range of different waste focused campaigns and events, providing the UQ community the opportunity to declutter, learn about waste streams on campus, improve recycling in offices, and donate preloved items.  
Join us for the fun, check out the full program! Stay up to date by liking UQ Sustainability on Facebook or following us on Instagram. 
Venue
Global change Institute (Building 20) Room 275 Seminar Room