Why consider the sustainability of your transport? 
Transport is often a large part of our day, one way or another. Maybe you catch the bus in to work, or you drive. Maybe you enjoy riding your bike on the weekends, or you use it to commute.

However you get around, it's likely a large part of your lifestyle, and one of the largest logistical considerations you make in your day. Does the environment factor into your decision making?
It might be unsurprising that your choices around transport, while also significant in your own life, are considerable for the environment as well. 
What can we do about it? 
There are many different alternatives to think about when wanting to increase the sustainability of our transport, including: 
Active transport
Active transport is any method of transport that involves undertaking physical activity, including traveling by foot, bicycle and other non-motorised vehicles. 
Did you know: according to 'Switch Your Thinking', peak hour city trips up to 10kms are generally faster by bike than any other form of transport, door to door?
If you switch one 10km journey per week, you'll save over 300kgs of green house gas emissions per year!
E-mobility  
E-mobility, or 'electro-mobility' includes devices such as electric scooters and electric bikes, which become part of the transport network within and around cities. 
These electric devices can serve as a link between home and a public transport hub, or even for longer trips to and from work. 
The electric nature of these vehicles means that their use helps to reduce pollution created by motorised vehicles. Additionally, their size and the agility they allow reduces road congestion when people opt not to take their car.
Considering the growth in e-mobility, Brisbane City Council has put together 'Brisbane's e-mobility strategy draft', which outlines how Council aims to support the use of sustainable and more energy-efficient transport options across Brisbane. 
E-wheeling
If you are thinking about purchasing an e-bike, and want a discount, head to Brisbane City Council's website to learn how you can save money on your purchase when you become a member of cycling Brisbane. 
Public transport
 Making use of public transport infrastructure when possible is one transport decision that has the power to create a big difference. 
According to Translink, public transport is a least twice as energy efficient at private cars, and helps to reduce use of fossil fuels. 
Did you know: one full bus can take 50 cars off the road, and one full train can take 600 cars off the road?! Even just a couple trips a week by bus or train instead of in a car will add up!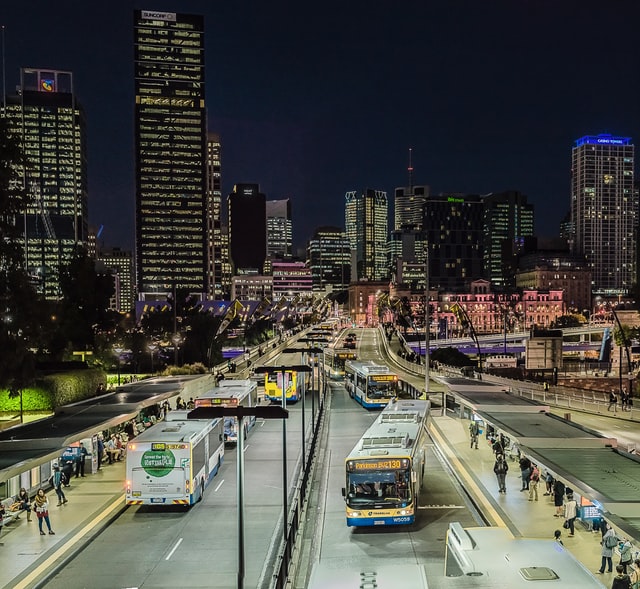 Images by michael & nicolas-weldingh from Unsplash
About UQ Sustainability Week 2021
Sustainability Week is an opportunity for the UQ community to celebrate and promote sustainability across UQ's campuses and sites. From August 16-20, a range of activities and events are hosted across all areas of the University, including markets, workshops, crafts and DIY, film screenings, specialist presentations, tree plantings, bird watching and garden tours, solar tours, forums and panel discussions, competitions and challenges to inspire sustainable behaviours.
Join us for the fun, check out the full program! Stay up to date by liking UQ Sustainability on Facebook or following us on Instagram. 
Important update: Based on the recent Covid restrictions, this year's Sustainability Week will be entirely online. Those events that cannot be transitioned to an online format will be postponed. Keep an eye on our social media channels, and our website for updates! (last updated Wednesday 25 August).