With more than 57,000 students and staff, and over 1,400 hectares of land, UQ is keenly focused on water conservation as part of its sustainability goals.
Our water efficiency projects include plumbing retrofits, rainwater collection, and infrastructure upgrades to maximise recycled water usage around campus.
We're also customising innovative technologies, developing and piloting new ways of tracking water usage to lead by example when it comes to what a large institution can achieve.
Want to know more about Queensland's drought conditions and what you can do to help? Read our quick guide
The little black box
A key project for the University, first begun several years ago and continuing to evolve, is UQ's Automatic Water Meter (AMR) reading system.
UQ hydraulic infrastructure officer, Michael Page, says the system is all about data.
The readers are little black boxes that connect on to meters around UQ's campuses and other sites, picking up water usage stats and sending them back via signal repeaters to our centralised system for interrogation.
"About 560 of our 800 water meters are on the AMR system," Michael estimates. "I think it would be one of the most comprehensive systems of any institution.
"Most places read their meters quarterly. We interrogate some of our data every two hours. We can also program the readers to detect leaks as soon as they start occurring.
"Can you imagine the potential water damage from a burst pipe overnight in one of our laboratories, for example, where we have million-dollar equipment and state-of-the-art facilities?
"The ability to flag the issue and get someone into the building immediately to turn off the tap can be invaluable – in terms of both water and assets saved."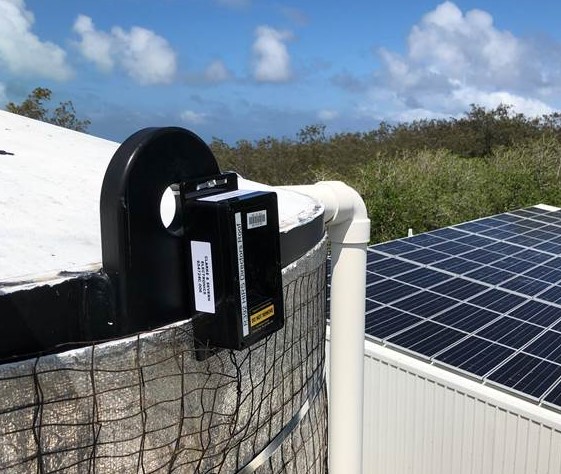 Kindergartens, roofs and car parks
These aren't just hypothetical scenarios. Earlier this year, a new kindergarten at the St Lucia campus asked Michael to analyse its water bills, which were higher than expected. After setting up devices to read their meters every two hours, Michael quickly established patterns in their data. It turned out a few of the children's toilets had faulty flush valves that were running overnight, unbeknownst to staff.
In another recent example, investigations into some equipment on the roof of one of the Great Court buildings identified surplus water usage. Thanks to the AMR system, the exact source was able to be pinpointed and UQ is now saving 80,000 litres a day from that discovery.
"The level of detailed data we can receive and interrogate is incredibly granular," Michael says. "It gives you patterns and clues to what's happening."
In a third instance, the AMR system was able to avert what could have been a major incident. Data being collected from a meter just outside a UQ building suddenly registered a jump in water usage from around five litres a day to more than 3,000 litres a day. When plumbers investigated, they discovered a fault in one of the fire hydrants. Underneath a paved carpark, pipes had started to move and caused a water leak. Yet above the surface, no sign was apparent.
"By having the information early, we were able to get a contractor onsite within two days and get the problem fixed promptly," Michael says.
Customising the technology
The first roll out of the AMR system at UQ used off-the-shelf technology. But it became obvious that the University's ambitions were ahead of the market for such a large institution. UQ needed to develop its own customised system. Years of subsequent refinement have been involved.
"UQ has invested a lot into developing and testing this equipment," Michael says. "It's a real credit to the University to get to this point and persevere.
"But it is worth it. The reality is water scarcity is only going to get more severe as time goes by, and this technology could be part of future solutions for Queensland and beyond."
Most AMR systems were originally developed for domestic use, Michael explains. They were put into unit blocks to make it easier to bill units individually, for example. They were also designed to transmit their data a lot less frequently.
One challenge that arose in the early implementation, therefore, was the battery life on the readers and data repeaters.
The batteries were fixed in the readers, and were intended to last upwards of 12 years. However, once UQ started interrogating data every couple of hours, the batteries were lucky to last for a few months, Michael says.
As a first step, UQ developed its own units where the batteries were replaceable. This enabled staff on remote stations like Heron Island to replace their batteries without having to reprogram a new reader or repeater into the system (which is a complex and time-consuming process).
However, battery life remained an issue and replacing them every few months was not sustainable.  Another solution was required for the repeaters.
So, Michael has recently completed a 12-month trial using solar-powered repeaters. Results showed solar-powered repeaters have strong potential to improve the existing AMR power solution. The batteries in these repeaters are very affordable and can be recharged by the solar panel hundreds of times before they need to be replaced, giving the repeater years of service.
The first 50 new solar-powered repeaters have just been delivered and Michael plans to install them this year.
Pools and other projects
Another water conservation project about to be completed at UQ's St Lucia campus is a refurbishment of its 50m swimming pool.
One of the University's most popular recreational facilities, the pool attracts myriad students, staff and visitors daily, with its beautiful setting by the river and a backdrop of lush green foliage.
Built in 1972, the pool's original materials required upgrading, including its pipes, valves and filters. UQ is currently focused on renewing all the waterproofing seals in the pool and also applying a new epoxy paint membrane to prevent water leakage and optimise water efficiency for the next 20 years.
The project began earlier this year and should be finished by the end of November.
Brad Taylor, senior civil infrastructure engineer at UQ, says the University has also been working in the background to improve the way UQ accesses high quality Class A water from the Fairfield Wastewater Treatment Plant. UQ currently uses the high quality recycled water for irrigation.
"We're putting in a new control system that will enable us to remotely control our pump at the wastewater plant.
"For many years, we've either had to send one of our team members across to the plant, or ring up and ask one of their people to take action, if we needed to make any changes to the pump flow, or turn the pump on or off.
"This might sound like a small change, but it delivers great efficiencies – both in terms of our operations and our ability to respond quickly if any issues arise."
The new control system has also been designed so it can be added to in the future, Brad explains. In the near term, this could make it easier for UQ to transport high quality recycled water to a cooling tower and other irrigation systems across St Lucia's buildings and gardens.
"We're making our Class A recycled water more automated and more available," Brad says. "Which ultimately gives us the ability to further reduce our usage of potable water and achieve best practice in efficient water management."