Working hard behind-the-scenes to facilitate the shutdown of all non-essential services during the COVID restrictions, UQ's energy management team achieved a 13% energy usage reduction year-on-year between April and June.
From 1 April to 16 June 2020, the team were able to save around 3,115 tonnes of greenhouse gas emissions, which amounts to about $370,000 in cost savings, too.
While fewer people attending campuses obviously assisted in cutting consumption, the most meaningful energy reductions were driven by proactive actions taken in the early days of the restrictions. These actions kept usage consistently lower throughout the period, as can be seen via the graph below.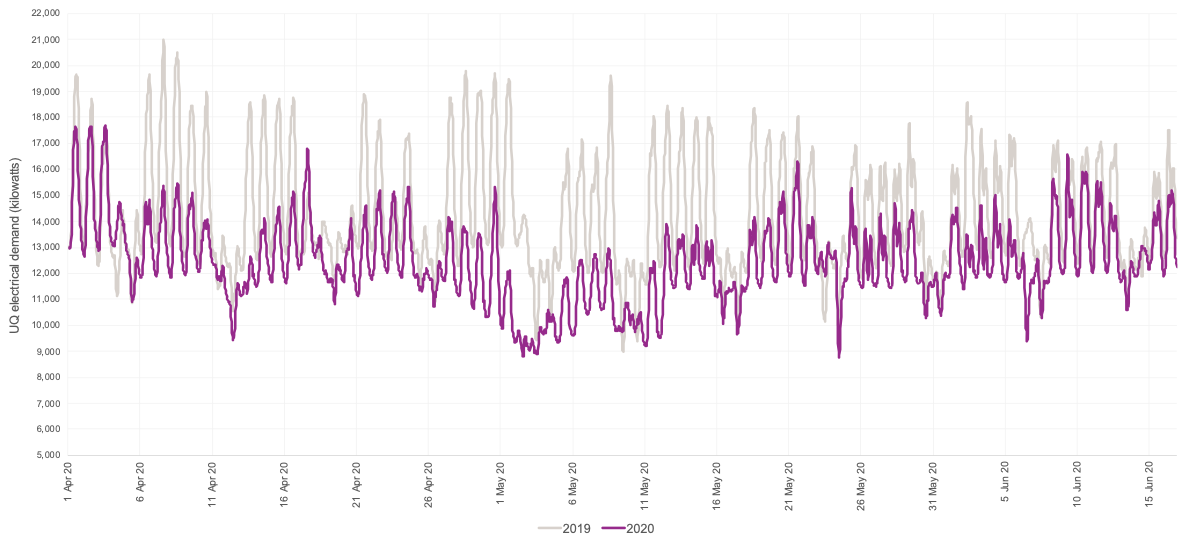 Cooling and heating
Cooling and heating are among the University's major power consumers. So, turning off these systems is a strong candidate for reducing usage.
However, this requires more coordination than simply flicking a switch. Across the University, there are a number of buildings such as laboratories, technology hubs, and museums and libraries, where temperature control remains essential regardless of the number of people onsite.
The energy team had previously categorised most of the usable floor area across the campus, identifying non-essential office and teaching spaces. Each room's air conditioning system is linked in software to a central 'holiday schedule', which allows all normal schedules to be overridden with a single user action.
This functionality is used each year for the two-week Christmas shutdown period, and was able to be quickly adapted for use at the advent of the COVID-19 restrictions.
Longer-term energy efficiency measures the team has been putting into play over the past 12 months also contributed to the fall in consumption.
Preview image by Ashes Sitoula on Unsplash