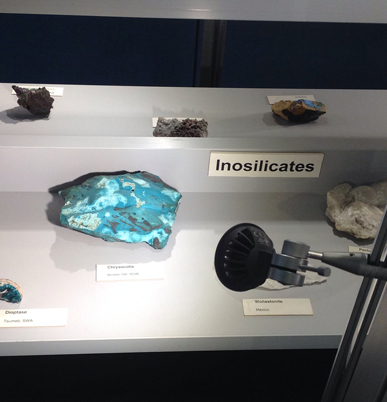 Over the past few months the Property and Facilities Division has been working with curatorial staff of the Geology Museum, located in the School of Earth Sciences, to identify a new energy efficient lighting solution for the museum's displays.
After balancing factors such as creating interesting and desirable displays, maintaining visual comfort and achieving energy objectives, the team decided to replace the old halogen lamps with more energy efficient light-emitting diode (LED) bulbs.
As LEDs use less power comparatively with the amount of light generated, they reduce the overall electrical load of the building, lower operational costs and generate fewer greenhouse gas emissions. LEDs last much longer than traditional lamps and emit less heat, so reduced maintenance costs, as well as lower air conditioning load, are additional benefits.
115 lamps were replaced in total, reducing overall energy usage by 80 per cent and cutting electricity costs by $1,125 per annum. The project will pay itself off in just 2 years.
Greenhouse gas emission savings are also considerable, with an expected 5.43 tonnes of carbon dioxide equivalent reduced per annum, the amount produced by approximately one and a half typical St Lucia households.
The project is part of a larger University-wide energy savings initiative. Earlier this year the University retrofitted three multi-level story car parks with LEDs, resulting in annual savings of 750 tonnes of carbon emissions and $100,000 in energy costs.
Another 13 lighting retrofit projects have been completed over the past year across 10 locations, including the AIBN building, Sir James Foot, Hawken Building, Forgan Smith, Chamberlain, Hartley Teakle, Mansergh Shaw and GP South. These projects have resulted in savings of 291,117 kWh/year and 236 tonnes CO2e/year, which equals approximately 30 typical St Lucia households.
The Property and Facilities Division recognises that some projects require considerable capital expenditure and has at times made funds available to support the implementation of energy efficiency projects at UQ. A recent round of funding allocated more than $30,000 to lighting retrofit projects.
Another five lighting retrofit projects are currently in the planning phase, including the UQ Art Museum. Work on the Art Museum is expected to commence in December.