The third and final stage of UQ's Riverbank Restoration project is underway, with contractors planting 1500 trees around the lakes area at the St Lucia campus.
The restoration project, which was designed by Ian Lowndes of SolarGreen Landscapes, commenced in mid-2015. It aims to provide a decent wildlife habitat, improve campus biodiversity, prevent erosion and enhance water quality.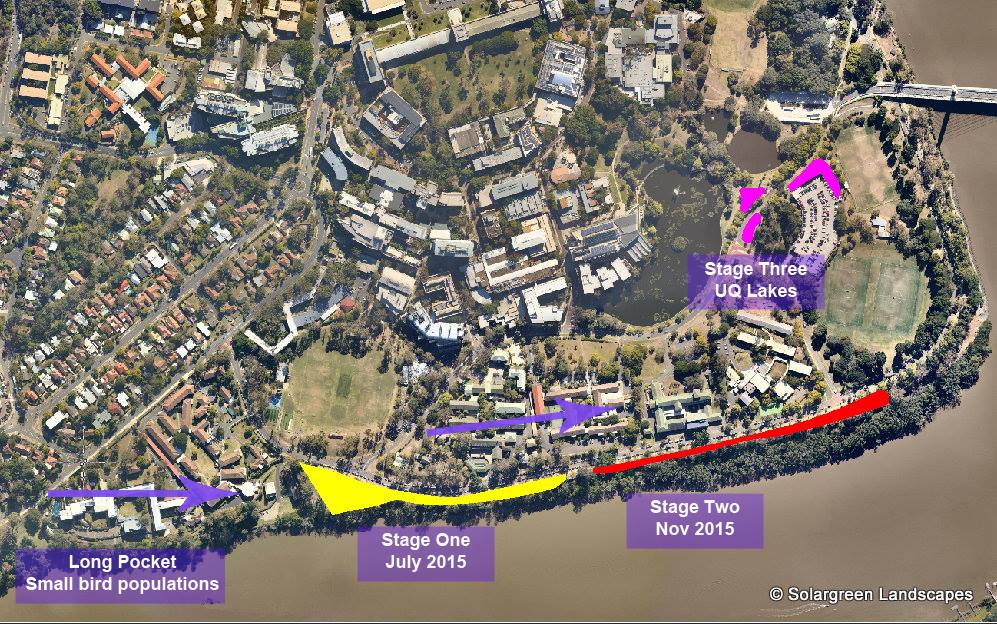 During the first two stages of the project—carried out in July and September 2015—volunteers planted over 10,000 trees and collected 40 bags of rubbish. The species planted were chosen to increase habitat diversity in restored areas and complement the trees already growing alongside the Brisbane River at St Lucia.  
Thanks to the hard work of 150 volunteers, stages two and three have created a corridor linking the vegetation along the Brisbane River upstream from campus to the UQ Lakes district, providing a safe access path to the lakes area for birds and other species.
The lakes area, reports Mr Lowndes, is "already particularly rich in birds, particularly waterbirds, who take advantage of the lakes for food. The lakes play an important role in Brisbane's water waste treatment, with inflows from the Oxley Creek Sewage Treatment Plant received at the lakes for final treatment.
"The planting areas are designed to be dense, attractive and feature some local native plants not usually selected for landscaping projects. The planting will include Weeping Paper Bark, Melaleuca irbyana, a locally rare species that will be well suited to the lower-lying clay soil sections."
Birds in the area will continue to be monitored in order to ascertain biodiversity changes and assess the effectiveness of the restoration efforts.
The project has been made possible by the Society for Conservation Biology (UQ Brisbane Chapter) and the UQ Property and Facilities Division, with funding from the Queensland Government Everyone's Environment grant program, which supports groups undertaking conversation, heritage and research projects across the state.