Green Caffeen: choose to reuse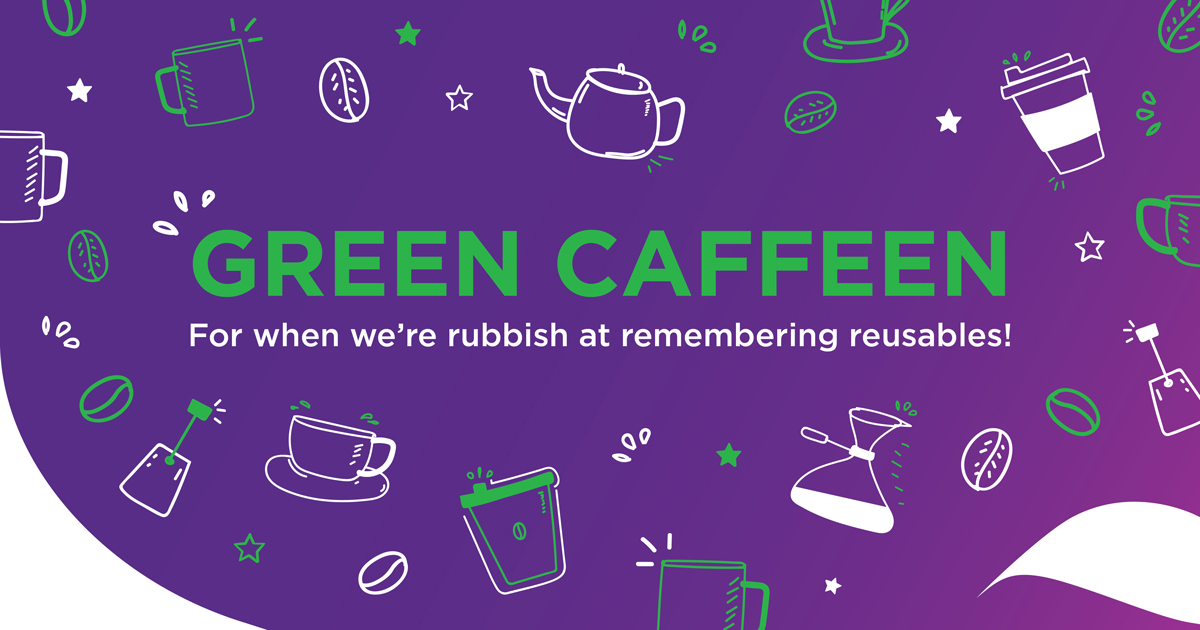 UQ's Green Caffeen program is part of Australia's first swap & go reusable coffee cup program.
Download the Green Caffeen app
Claim your free small coffee - Weds, 25 May
Green Caffeen is back in action and they're giving away free coffees next Wednesday, 25 May.
Here's what you need to do to claim your free small coffee in a Green Caffeen cup:
Come to the Green Caffeen stall on Wednesday, 25 May, 10am-2pm. We'll be set up in the UQ Union Complex across from On A Roll Bakery.
Show us you've downloaded and signed up via the Green Caffeen app. (Note, you can get your free coffee even if you've used the app before - this initiaitve is all about encouraging people to get back into good habits!)
We'll give you one card for a free small coffee, redeemable at any of the three UQ Union cafes (On A Roll Bakery, Darwin's and Pantry Sixty Three).
You can use your card straight away - or anytime up until the end of the year (the cards will be date stamped).
That's it! See you on Wednesday!!
How Green Caffeen works
Here's how the Green Caffeen program works:
1. Download the Green Caffeen app and sign up to be a member for free.
2. Buy a coffee and get your free Green Caffeen reusable coffee cup.
3. You can take your cup away to drink it at your leisure — at your desk, sitting by UQ Lakes, on the way to the bus.
4. Drop your cup back to any Green Caffeen participating café within 30 days.
5. Get a clean cup with your next coffee in it.
6. If you can't return your cup within 30 days, you will be charged a fee of $12.99 so that Green Caffeen can make sure there are enough cups to go around.
Our Choose to Reuse campaign wants to make it irresistibly easy to ditch disposable cups. 
Where to find Green Caffeen cafés?
The map shows our regular list of Green Caffeen participating cafés. 
Of course, during COVID, many businesses have adjusted their regular processes to keep everyone safe. We try to keep our list as up-to-date as possible, but we apologise if any changes occur that we have not yet picked up on.
You should find Green Caffeen reusable coffee cups available at these cafés:
On a Roll Bakery
Wordies
Pantry Sixty Three
Darwins
St Lucys
BrewPoint
Keep an eye on our site and we'll keep you updated as the list grows.
'
Why choose a reusable cup?
In Australia, over 1.2 billion disposable coffee cups are used each year, 90% of which end up in landfill or littering the streets. Paper coffee cups are lined with plastic to make them waterproof. Although the paper outside will breakdown, the plastic inner won't. Green Caffeen state that to recycle them, these cups must be sent to a specialist recycling facility that is costly and complicated. Consequently, in Australia, only 8% of disposable coffee cups are recycled. This equates to 2.7 million coffee cups in Australia going to land fill each day.
Disposable paper coffee cups
Most coffee cup lids can be recycled if they have a Plastics Identification Code stamp (1–6), however it is recommended that you remove the lid from the cup when recycling.
The plastic waterproof lining of many paper coffee cups means they can't be recycled with collections of paper and cardboard.
Compostable coffee cups
Compostable coffee cups can be placed in the organic bins where they are processed at a commercial compost facility.
What you can do
Purchase a reusable cup to use when buying coffee. Nearly all coffee shops at UQ offer a discount if you bring your own mug!
Use Green Caffeen, a FREE reusable café cup system.
Buy durable mugs for the office to help reduce the amount of waste produced. UQeMarket also sells UQ Sustainability KeepCups as an alternative to disposable cups.