Examine all the items in your pantry, and determine if each item falls under recycling, trash or compost using a notebook or spreadsheet, and discover if there's a less waste-ntensive alternative.
Take cereal for example... check the packaging for the Australasian Recycling Label (ARL) which indicates whether the box is recycleable and if the bag goes in general waste or can be recycled as a soft plastic. An alternative to packaged cereal might be cereal available in the bulk section of your supermarket or specialty bulk foods store. 
Complete this exercise for every item in your pantry (and fridge if you're feeing up to it)! 
Tips for finding low waste alternatives:
Shop the bulk section
Bring your own containers shopping (you can use recycled jars or even purchase some second-hand containers from your local op-shop)
Carry a reusable shopping bag, tote bag, or basket while shopping
Use produce bags
Find bottle returns (for items like milk, yogurt, nut milks, etc.)
Support your local bakeries for delicious breads and unpackaged treats
Can foods (preserving)
Buy larger quantities with less packaging
Choose more easily recyclable materials if a zero waste option isn't available (e.g. glass, paper, aluminum)
Make foods from scratch in the kitchen that would otherwise come packaged
Consider no longer buying certain items at all if low waste alternatives are not available
This is also a good opportunity to tidy up and organize your kitchen and see what you already have in your pantry or fridge. When you can easily see what food you have in the kitchen, you're more likely to eat it and avoid food waste. Not only is this activity a great chance to reduce your waste, but you'll also finish feeling accomplished with an organized, tidy, and sustainable kitchen.
Big Picture
Behavioural change can help reduce the strain our food habits are putting on the environment—opting for fewer animal products and avoiding heavily processed and packaged foods are two simple ways to start. Here are some other ways you can incorporate more local, ethical fresh food into your daily diet:
Grow your own. Start your own fruit and veggie patch, or join a food co-op or community garden in your area—find your nearest community garden on the Brisbane City Council website. You can even grow a herb garden on your windowsill. Head down to one of the UQ community gardens to learn some handy tips about growing herbs at home from our resident gardening expert Michael.
Buy fresh rather than processed products. Processed foods require more energy and therefore also emit more CO2.
Buy in-season. Greenhouses, cold storage facilities, and refrigerated trucks drive the total emissions sky high due to the energy requirements during production and transportation.
Shop at farmers markets. Support local farmers and stock up on fresh fruit, veggies and more at your closest farmers market, See first hand how buying local, fresh, and package-free food can reduce your carbon footprint. Don't forget your reusable grocery bags! Or order a fruit and veg box from an ethical supplier such as FoodConnect or The Ethical Grocer.
Eat out wisely. Many cafes and restaurants now only source their produce from local growers and suppliers—Fair Food Forager is a great free resource you can use to rack down ethical eateries in your area. You can also find plenty of fresh food options right here on campus—check out our UQ Fresh Food Dining Guide. Bon appetit! 
Eat fewer animal products. According to reseach from Oxford University and the Swiss agricultural institute Agroscope, plant-based foods tend to have a smaller environmental footprint l(ow-impact beans, peas and other plant-based proteins create just 0.3 kilos of CO2 equivalents and 1m2 of land per 100 grams of protein, and the average litre of soy milk has creates about half the emissions, and uses half the land, of its low-impact cow's milk equiavelent).
Choose ethical meat, poultry, fish and dairy. Look out for free-range and organic labelling on meat and eggs, and use the Sustainable Seafood Guide so you can buy fish from certified fisheries that meet international sustainability standards. 
Thank you to the following sources: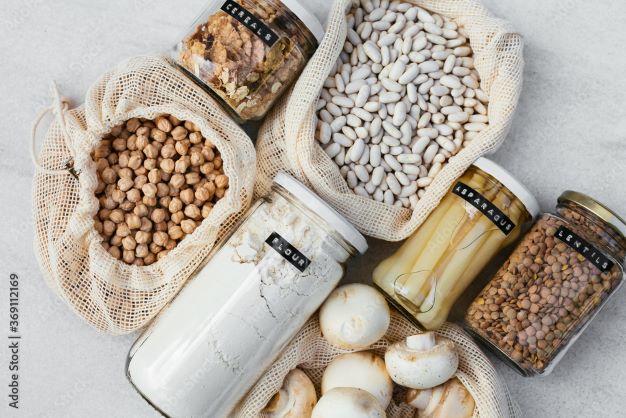 About UQ Sustainability Week 2022
Sustainability Week is an opportunity for the UQ community to celebrate and promote sustainability across UQ's campuses and sites. From August 15-19, a range of activities and events are hosted across all areas of the University, including markets, workshops, crafts and DIY, film screenings, specialist presentations, tree plantings, bird watching and garden tours, solar tours, forums and panel discussions, competitions and challenges to inspire sustainable behaviours.
Join us for the fun, check out the full program! Stay up to date by liking UQ Sustainability on Facebook or following us on Instagram.