Do you have an overly loved personal item in need of repair? Threads that need patching up? A bike that needs fixing? A clock that's stopped ticking? A stool on its last leg?
Toss it? No way!
Bring them to UQ's Repair Café and they will be fixed for free by our apprentice fixers under the expert guidance of UQ Innovate staff.
UQ's Repair Café aims to fix items that would otherwise go to landfill, and teach students and staff skills to repair their own broken items, all while enjoying a cuppa and chat.
Repairs undertaken at this event: 
Woodwork repairs such as broken furniture or handheld wooden items
Mechanical and bicycle repairs
Jewellery repairs
To be sure we can fix your item we require people to register before turning up. Please register your repair here.
The Repair Café is a partnership between Engineers Without Borders UQ, UQ Innovate and the Sustainability Office. Join the Repair Cafe Facebook Group.
Interested in volunteering?
Interested in becoming an apprentice fixer? Repair Café volunteer positions are open to both UQ students and staff. If you have experience in fixing household items or sewing we'd love if you could share your skills. If you don't yet have repairing skills, sign up and learn these valuable skills from our expert UQ Innovate staff. Your time will be recognised through the UQ Employability Award and the UQ Sustainability Award, and can be claimed as Engineering Professional Practice hours.
Register your interest in volunteering here or by emailing uq@ewb.org.au.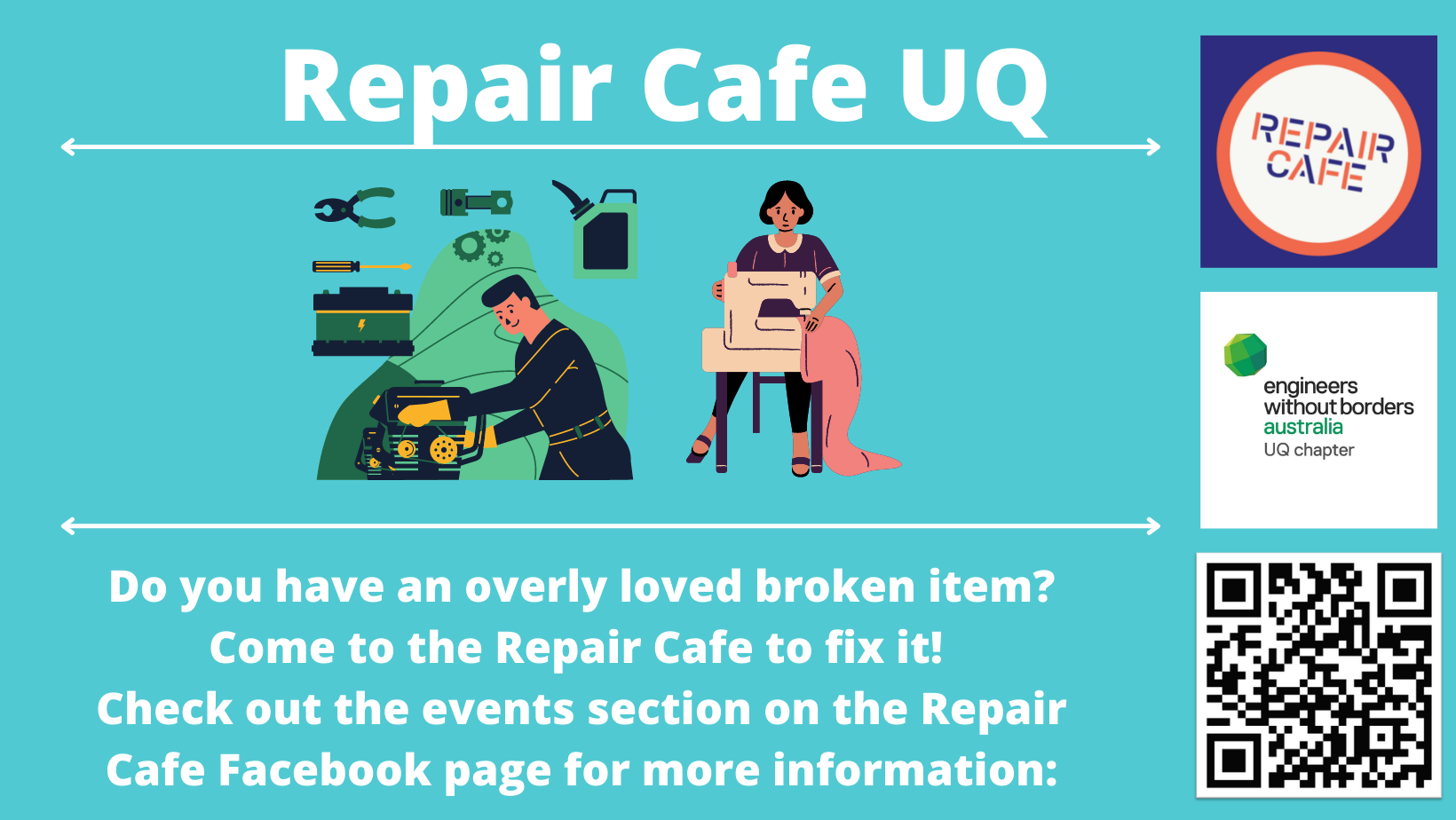 About Sustainable Living Series
Venue
UQ Innovate, Level 1 of Mansergh Shaw Building (45)