Staying sustainable, healthy & productive this SWOTVAC
1 November 2021 8:00am
–
20 November 2021 11:00pm
Maintaining your physical and mental health during busy and stressful periods of life is really important. We believe that whilst caring for the planet, we simultaneously nurture ourselves, supporting the synergetic relationship between the overall health of people and the environment.
UQ Sustainability has compiled a range of resources, information and tips on 4 key areas where sustainable practices can be implemented to  support a healthy and productive study and exam period whilst staying sustainable. 
Mental Wellness
UQ Student Services have a range of self-help resources where you can learn strategies to help improve your mental health, personal relationships and physical health. Included in the many resources is a page dedicated specifically to exam-anxiety.
There are a range of Aps that you can download that assist with managing stress and anxiety, such as ReachOut Breathe, Smiling Mind, and Headspace. Recharge - Move Well, Sleep Well, Be Well is a personalised six-week program that helps improve your general health and wellbeing by focusing on four key areas:
A regular wake and sleep time each day, achieved gradually over six weeks;
An alarm clock that triggers fun activities designed to get you up and out of bed;
Increasing your exposure to daylight early in the day, to help reset your body clock; and
Encouraging you to increase physical activity, especially within two hours of waking up.
For more information and resources, visit UQ Student Services' website.
UQ Sustainability have also compiled a collection of DIY sustainable self-care ideas and tips which you can read here. 
Exercise
Spending time outside is a great way to feel more connected to nature, and to break up the time spent indoors while we work, or just live within our homes. Exercise and moving your body can help improve your mood, reduce stress and improve sleep, all of which are crucial for times like SWOTVAC.
Take a walk or bike ride around your neighbourhood or campus (try the beautiful UQ Sustainability Walk), and really tuning into the sights and sounds of nature around you. It might be as small as admiring a neighbours flowers in their front yard that you have never noticed, or finding a bench in a nearby park that you drive past every day but never visit. By bringing our awareness to, and immersing ourselves in the little pockets of nature around us, we can strengthen our relationship with, and stewardship for nature. Research indicates that spending two hours a week in nature is linked to better health and wellbeing. Surrounding yourself with greenery and living things is good for your body and your brain. 
Plogging is another great way to get some exercise, get the endorphins going, and clean up your local area. What is 'Plogging'? A portmanteau of "jog" and the Swedish for "pick up",  "plocka upp", it means, you guessed it; to pick up litter as you jog (or plod - walkers are encouraged!). Started by a Swedish community incentive to pick up rubbish in Stockholm, this marriage between exercise and environmental action is now a global craze. It's as simple as putting your runners on, grabbing a bag and some gloves and hitting the pavement! You can get a Plogging kit ((gloves, bags, and hand sanitiser) by joining Clean Up Australia's official PLOG-A-THON fundraiser. Find out more here! Socially responsible exercise that leads to a cleaner environment and community - what's not to love?
Study Tips
We asked our very own Green Ambassador Program (GAP) Community how they cope during assessment time. Check out their best tips for environmentally friendly study!
Use scrap paper for quick notes and typing everything out on OneNote before condensing.
Keeping active on your commute helps encourage brain activity, especially if it's through nature! If you have a big exam coming up, try taking a stroll across the green bridge instead of bussing it in with all the other stressed students.
Make Ecosia your new search engine and plant trees with your searches.
Stay organised and make sure you have plenty of healthy, tasty and sustainable meals and study snacks. Instead of cracking open that packet of chips, make some delicious kale chips instead. We have some easy vegan snack recipes here. You can also use the cooking/baking time as a study break!
Dispose of left over stationery in the Reuse and Recycle Station in Building 21C near the Red Room. You can also use the Banish Recycling And Disposal Program which offers an end-to-end solution for some of those hard-to-recycle household items.
Donate stationery and books that are in good condition to charities.
Use the UQ Textbook Exchange Program or the Second-hand Bookshop to donate and buy used textbooks.
Take a break from your screen by breaking up tasks with a small walk.
Download the Flora App to stay calm and focused and grow trees. Flora is a new way to stay off your phone, clear to-do lists, and build positive, life-changing habits. Whenever you want to make progress toward your goals, grow trees in Flora.
If you have any ideas, send them through to us via our Facebook or Instagram!
Food
Food fuels both body and mind. We eat nutritious foods so that our bodies can grow, repair, and function well. Our brain needs nutritious foods too. In fact, it's quite hungry – the brain accounts for around 20% of our total daily energy requirements.
When we choose nutritious foods, we're providing our body (and brain) with the building blocks needed to be at our best. From vitamins and minerals to healthy fats and fibre, all nutrients play a role in brain health and function.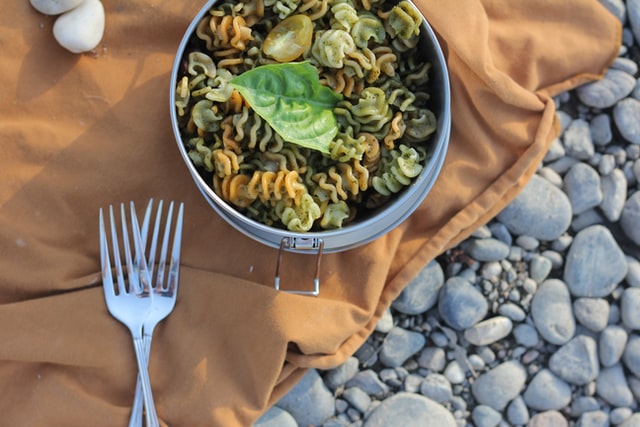 Following a healthy pattern of eating is linked with better stress management, improved sleep quality, increased concentration, and better mental wellbeing in general. Just as our food choices affect our physical and mental wellbeing, the opposite is also true – we're more likely to follow a healthy diet when we're in a good headspace (Queensland Health).
Fruit and vegetables provide us with fibre to support a healthy gut environment. Fibre is a favourite food of the beneficial bacteria in our gut that play a range of roles in supporting our overall health. Fruit and vegetables also give us a wide range of vitamins, minerals, and antioxidants to support brain health. We should aim for two serves of fruit and five serves of veg a day. Remember... fresh is best! Dieticians have discovered a clear link between fresh food being beneficial for both your body and the planet. Making culinary choices that benefit our health (e.g eating less meat and choosing more plant-based and locally grown foods) can help reduce carbon emissions and water and energy usage.
Wholegrains are another important source of fibre to feed our good gut bacteria, plus healthy fats for brain function, and 'slow' carbohydrates for a steady source of brain fuel.
Nuts, seeds and legumes are also a good source of those healthy fats and vitamins that support positive mental health and are known to protect against dementia and depression.
Drinking plenty of fluids, especially water, prevents dehydration – a common cause of headaches, tiredness, and 'brain fog' that can affect our ability to concentrate. However, avoid quenching your thirst with drinks that are high in sugar, such as soft drinks.
About Having a sustainable exam period
Maintaining your physical and mental health during busy and stressful periods of life is really important. This exam period, UQ Sustainability has worked alongside UQ Life, UQ Wellness, and UQ Student Services to bring you a range of resources and events targeted towards supporting a sustainable study and exam period.
We believe that whilst caring for the planet, we simultaneously nurture ourselves, supporting the synergetic relationship between the overall health of people and the environment.
Take a short break from your studies, and check out our schedule below!