Single-use Plastic
For many people, plastic-free and reusable products are some of the first things that come to mind when they hear the terms 'sustainability', 'eco-friendly', or 'zero waste'. Single-use plastic has quickly become the common enemy. There are a range of trends, challenges, initiatives, policies, businesses and products that aim to avoid and provide alternatives to single-use plastics. A fun activity you could try at home is the 'mason jar challenge'. 
How does it work:
For 7 days, challenge yourself to capture all of your non-recyclable and non-compostable in a standard mason jar. At the end of the week, take a photo of your mason jar and its contents and show it to your family and friends. We suggest you start by doing a DIY Waste Audit in whatever capacity you can to indicate what waste streams you usually create, so you can start brainstorming how to divert them from landfill.
The real challenge: Figuring out what to do with those hard-to-recycle items that may be left at the bottom of your mason jar. Check out these website links to see if any cater towards specific waste:
*Note: Put your health and safety first when dealing with any hazardous, chemical, and medical waste. Follow all instructions provided by the waste stream collectors and do not send any items not accepted by the collectors. 
Whilst thinking about our trash is important, we need to extend our scope to include all types of waste. One type of waste that is considerably overlooked, but can be easily changed, is food waste. Food waste is responsible for 6% of global greenhouse gas emissions (Ritchie & Roser 2020). According to the Intergovernmental Panel on Climate Change (IPCC), reducing food waste  would bring a range of benefits for health, reducing pressure on land, water and nutrients, lowering emissions and safeguarding food security.
Food waste
If you generate a lot of food scraps, and you'd normally just put them into the rubbish bin, here are some ideas of what else can be done with them...
Composting
Composting helps to reduce the amount of food waste we send to landfill. It's an easy way to experience where our food comes from and shows how valuable our kitchen scraps can be in the cultivation and harvesting cycle.
Dispose of your organic waste at one of the many Organics bins on campus.
Take your compost to your local community garden (UQ has a Community Garden at both St Lucia and Gatton) or to a green-thumbed neighbour. Brisbane City Council has partnered with community gardens around Brisbane to help residents turn kitchen scraps into nutrients for soil. Registered participants can donate their food scraps at their local community composting hub (pro tip: food scraps can be frozen, so you have more time to drop them off somewhere for composting). 
'Gift' your compostable waste to a green-thumbed neighbour! The ShareWaste network connects composters with local people in the community who do not have a compost bin of their own.
Start your own compost in your garden! The Brisbane City Council is making composting easier with their compost rebate program which provides eligible Brisbane residents a rebate of up to $70 off the purchase of eligible composting equipment. They also have lots of other resources and programs on their website here.
Love Food Hate Waste
Brisbane City Council's Love Food Hate Waste program aims to reduce the volume of food waste going to Brisbane landfill each year. You can learn about food waste and simple changes you can make to save money and create a cleaner, greener city with less waste! The BCC has a plethora of resources, tips, workshops, and blogs on their website as part of the Love Food Hate Waste program. Check them out here!
Food recovery and education
Ozharvest is a not-for profit organisation committed to fighting food waste, feeding people and protecting our finite environmental resources through food rescue, education programs and sustainability work. According to Ozharvest, Food waste costs Australia $20 billion a year, while five million people experience food insecurity every year. You can learn more about Ozharvest, their work and some fascinating food waste facts here. 
Impact
Why not try committing to these different waste-free tips for a full 24hrs, or even a full week… or better yet a FULL YEAR! See what items you have left over, between avoiding single-use plastic, recycling, composting and mending/upcycling old clothes! While a truly zero-waste lifestyle is only a dream for most of us, trying these waste-reduction behaviours for a shorter period of time is a fantastic way to learn what waste we're producing daily, how to recycle those tricky items, and different diversions from landfill. Whatever you do, remember to take photos and share them to social media to encourage your friends, family and colleagues to do the same.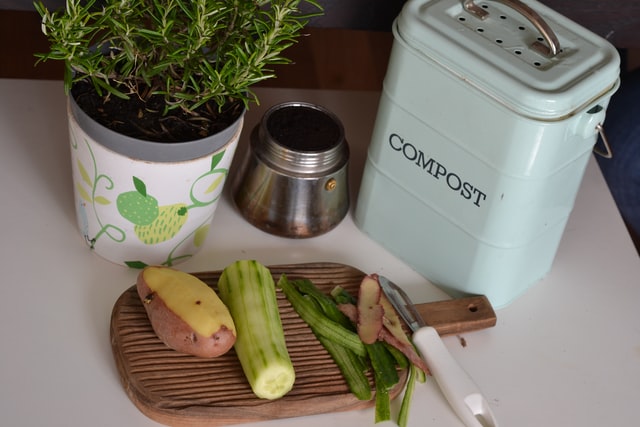 Image by Lenka Dzurendova from Unsplash
Thank you to the following sources:
https://sustainability.uq.edu.au/event/session/3569
https://www.brisbane.qld.gov.au/clean-and-green/green-home-and-community/sustainable-gardening/compost-and-organic-waste-recycling/compost/community-composting-hubs
https://www.brisbane.qld.gov.au/clean-and-green/rubbish-tips-and-bins/reducing-waste-at-home/love-food-hate-waste
https://www.qld.gov.au/__data/assets/pdf_file/0022/133771/single-use-plastics-summary-report.pdf
https://sustainability.uq.edu.au/article/2020/05/composting-101-georgia-uq-community-garden-club
https://www.compostweek.com.au/about-composting/
https://www.ozharvest.org/what-we-do/
http://www.fao.org/3/i3347e/i3347e.pdf
https://unfccc.int/news/fighting-food-waste-means-fighting-climate-change
https://ourworldindata.org/environmental-impacts-of-food#food-waste
https://www.ipcc.ch/srccl/chapter/chapter-1/
About UQ Sustainability Week 2021
Sustainability Week is an opportunity for the UQ community to celebrate and promote sustainability across UQ's campuses and sites. From August 16-20, a range of activities and events are hosted across all areas of the University, including markets, workshops, crafts and DIY, film screenings, specialist presentations, tree plantings, bird watching and garden tours, solar tours, forums and panel discussions, competitions and challenges to inspire sustainable behaviours.
Join us for the fun, check out the full program! Stay up to date by liking UQ Sustainability on Facebook or following us on Instagram. 
Important update: Based on the recent Covid restrictions, this year's Sustainability Week will be entirely online. Those events that cannot be transitioned to an online format will be postponed. Keep an eye on our social media channels, and our website for updates! (last updated Wednesday 25 August).