Watch Party - 'Coral Reefs in a World of Extreme Climate Change' Earth Day Webinar
22 April 2021

6:30pm

–

8:30pm
Save the date this #EarthDay, Thursday 22nd April 2021!
This webinar, hosted by JNF Australia, The University of Queensland, and the Embassy of Israel in Australia, will discuss coral reefs in a world of extreme climate change.
Join us to watch the webinar in-person. We will be meeting in the Steele Building (03-206), St Lucia campus from 6:30pm to enjoy some fruit and a catch up and will be tuning in at 7pm to hear from world leaders in the field as they share the most up-to-date understandings of how we can save these precious resources. Hang around afterwards for a casual discussion of what we have learned and what is on offer at UQ.
We have an amazing line-up of speakers:
Professor Maoz Fine of Marine Ecology. Bar Ilan University & Interuniversity Institute of Marine Science.
Dr. David Wachenfeld. Great Barrier Reef Marine Park Authority Chief Scientist.
Moderated by Professor Salit Kark. Deputy Director of UQ's Faculty of Science Centre for Biodiversity and Conservation Science.
If you can't join us in-person, register to watch the webinar from home! Find out more here!
Registration essential: Due to safety reasons and in line with current guidelines, registration is essential for this event.
Please note: All events and spaces are operating in line with current guidelines. We ask that you please practice social distancing at all times, and if you have travelled in the last 14 days, been in contact with someone with COVID-19, or if you are feeling unwell or experiencing COVID-19 or flu-like symptoms, please stay at home. Where relevant, you will be required to provide your contact details for contact tracing purposes.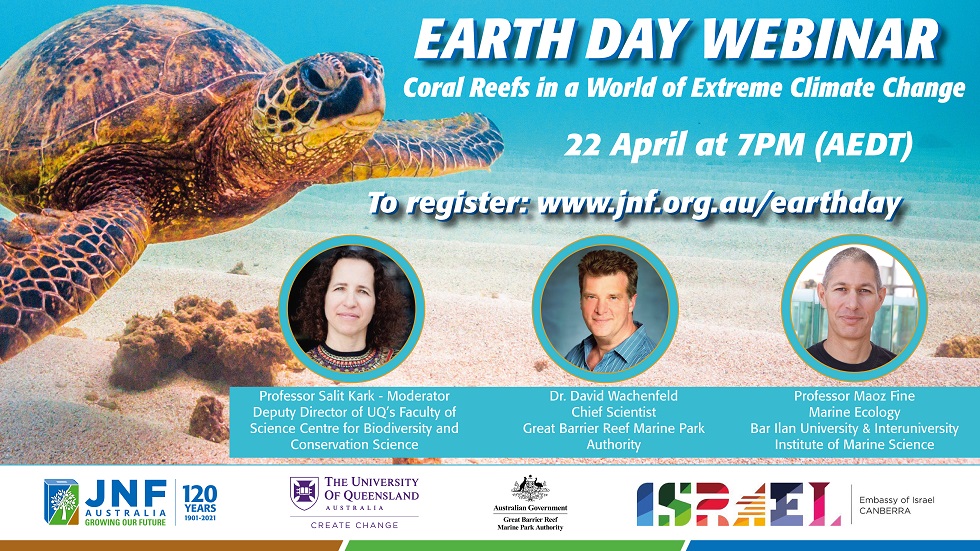 About Earth Day 2022 Celebrations
What is Earth Day?
Earth Day marks the birth of the modern environmental movement. On April 22, 1970, 20 million Americans mobilised to call for greater protections for our planet. Individual groups fighting against air and water pollution, fossil fuels, land clearing, soil erosion, the loss of biodiversity and the extinction of wildlife; all united on Earth Day around their shared common values. On this day in 1970, Earth Day achieved a rare political alignment with grassroots values which spear-headed policy change. Learn more about the history of Earth Day here. 
2022 Theme - 'Invest In Our Planet'
EARTHDAY.ORG, the global organizer of Earth Day, announced that the theme for Earth Day 2022 will be "Invest in Our Planet." Earth Day 2022 is focused on accelerating solutions to combat our greatest threat, climate change, and to activate everyone – governments, citizens, and businesses – to do their part. Everyone accounted for, and everyone accountable.
Together, we must Invest In Our Planet. Because a green future is a prosperous future.
The Earth Day 2022 theme is focused on engaging the more than 1 billion people, governments, institutions, and businesses who participate in Earth Day to recognize our collective responsibility and to help accelerate the transition to an equitable, prosperous green economy for all. EARTHDAY.ORG's campaign is focused on reframing the conversation, accelerating action, and bringing us together to understand that this is within our reach if we work together.
Learn more about the 2022 theme here.